Andrew Cuomo, the Governor of New York, has been accused of sexual harassment by Lindsey Boylan, his former advisor. Boylan served in Cuomo's administration...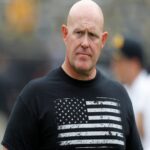 Chris Doyle, the Jacksonville Jaguars director of sports performance, resigned today from his position. Doyle was accused of stating racist remarks, belittling and bullying...
In this week's podcast, we discuss the matchup between the Brooklyn Nets and Los Angeles Lakers. Tonight, our special guest Marcus Thompson from The...
The league has been on top of players testing positive or contact tracing to keep players out of games if they have been exposed....
The Dallas Mavericks have made the decision to no longer play the national anthem before homes games this season, according to a report released...
Malik Beasley, the Minnesota Timberwolves shooting guard, was sentenced to 120 days in jail. Beasley pleaded guilty to one felony count of threats of...
Hello everyone and welcome to The Hot Streak, the new column from Chris Bullock, host of The Ball Out NBA Pod! We're kicking things off...
Miami, FL -- On a warm March evening in Miami, James Sucklings "Great Wines of Italy" was hosted at the Moore Building in the...