I do not and will not purport to understand what it's like being Black in America. While I can empathize with that plight, I...
New York
scattered clouds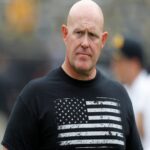 Chris Doyle, the Jacksonville Jaguars director of sports performance, resigned today from his position. Doyle was accused of stating racist remarks, belittling and bullying...
This week, the NBA named Paul George as the Western Conference player of the week. This is the second time the star forward has...
Gersson Rosas will no longer be the president of basketball operations for the Minnesota Timberwolves. The franchise announced today it has parted ways with...
Inglewood, CA --Today I had the honor and pleasure of attending the groundbreaking ceremony for the new Clippers arena, the Intuit Dome. From the...
Ben Simmons wants out of Philadelphia. Since the 76ers were eliminated in the playoffs, news has been circulating stating his time in Philly was over....
After 33 years of marriage, the Curry's are ending their marriage. Sonya and Dell Curry have been legally separated since March 2020 and have...
Hagerman, ID -- I had the pleasure of dining at a local hole-in-the-wall restaurant known as Bullzz-Eye BBQ. Good goodness. It was AMAZING! Walking...