New York, NY — The beautiful friendship between movie stars Jane Fonda and Lily Tomlin transcends once again on the big screen, starring the film "Moving on" written and directed by Golden Globe winner Paul Weitz. In this comedy, Claire (Jane Fonda) and Evelyn (Lily Tomlin) reconnect due to the passing of a dear friend from college with the common purpose of seeking revenge. Throughout the movie, we see both characters face their past and each other, while hilariously trying to plot a murder.
Weitz has never been afraid to combine dark themes with comedy, as seen in his other film "About a boy" where matters such as suicide are shared in a comedic way.
Subtle jokes and remarks are given throughout the film "Moving On", which let Jane Fonda and Lily Tomlin's true personality shine. The cast shows us their youth in their spirit by the way they express themselves. Weitz's secret is to let his actors execute in their most natural human ways.
The story takes place in California, and everything from the scenery to the background music flows beautifully in each scene.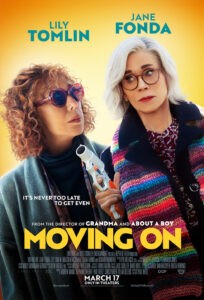 Claire was happily married but due to a traumatic event, she decided to leave her long-time love Ralph (Richard Roundtree). Because of the funeral, they had the opportunity to reconnect and realize that their feelings for each other still remained. Even though her trauma was apparent her essence still revolved around her dry humor which made her plans of murder seem unreal to those surrounding her.
Evelyn had a successful career as a musician but it wasn't until her dear friend's passing that she was brought to face her reality, finally expressing her feelings and sharing with others an unknown truth. Her sarcasm and open-mindedness made her stand out each and every time, making her a relatable character.
This is the friendship we all dream of, it shows us that through humor and sisterhood, life struggles can be dealt with in a more comforting matter.
The storyline in "Moving On" teaches us that no matter how much time passes, time doesn't heal all if we don't take it upon ourselves to do so.  Sometimes people don't understand the pain they can cause others nor the effect their actions may have, but it is our job to let go of that emotional baggage that drains us to move on. Moreover, is it possible to continue to have more of this dynamic duo going through traumatic events so that we can learn to overcome them with laughter?
"Moving On" will be in theaters, March 17.