New York, NY — "Hey Viktor!" is a comedic film written and directed by Cody Lighting, premiering at the 22nd edition of the Tribeca Film Festival in celebration of culture and humor.
A Trip Down Memory Lane: Cody's Quest for His Legacy
After 25 years after his starring debut as a child actor in the indie hit "Smoke Signals," Cody, now an adult, wants to take one last shot at creating a sequel with the help of his best friend, manager, and creative partner Kate (Hannah Cheesman).
Through faded VHS tapes, we see Cody reminisce on what he believes is his "legacy" as Viktor, only to later realize that the real legacy is his family.
Hitting Rock Bottom: Friends to the Rescue
As life continues to test him and he starts to hit rock bottom, his friends stage an intervention where he finally decides to give this project a go. This film embraces community and humor in a very dark yet relatable way.
Each character is able to express themselves unapologetically, revealing that these so-called characters are significant parts of their actual personas.
The Unbreakable Bond: Kate and Cody's Friendship
The friendship between Kate and Cody is one of the highlights of this film, as time after time, they always end up showing up for each other. No bond is stronger than one built with someone whom you can endlessly rewrite zombie-priest scripts with.
This tremendous comedy also features outstanding actors such as Irene Bedard, Gary Farmer, Simon Baker, and of course, Adam Beach, with his iconic wig that ties it all together.
The Birth of Diktor: Overcoming and Reconnecting
After many trials, Cody is torn by the fact that legally he can't create part 2 of "Smoke Signals," let alone use the name "Viktor." This opens the door for "Diktor" to be born as a representation of a new way to see and live life, allowing him to overcome and reconnect with his native community.
Hey Viktor conclusion
In conclusion, the film "Hey Viktor" demonstrates how humor can heal generational traumas and bring people together. Don't miss this heartwarming and hilarious journey of self-discovery at the 22nd Tribeca Film Festival.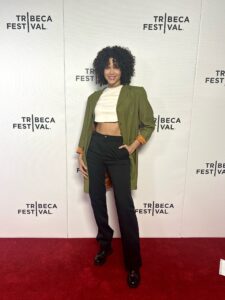 For more movie reviews and coverage, visit our Movies section.