The Denver Nuggets and their star player, Nikola Jokic, have been crowned NBA Champions after defeating the Miami Heat in Game 5 of the NBA Finals, 94-89. What makes this victory so special is the uncanny parallels between the team and its MVP. It seems almost as if destiny brought them together to achieve greatness.
A Tale of Two Underdogs: Denver Nuggets and Nikola Jokic
Denver, though a fantastic city, doesn't quite hold the same level of popularity as cities like New York, Los Angeles, or Miami. Similarly, Jokic's hometown of Sombor in Serbia is a small town overshadowed by larger cities like Belgrade, Novi Sad, and Niš.
An Unheralded Franchise and an Overlooked Draft Pick
The Nuggets have long been an underrated NBA franchise, receiving little national media attention. Jokic's own journey into the NBA reflects this, as he was drafted in the second round of the 2014 NBA Draft during a Taco Bell commercial—hardly a grand entrance for a future MVP and NBA Champion.
When Jokic's brother woke him up to share the news of his draft selection, the sleepy 7-foot superstar was initially annoyed at being roused from his slumber. Little did he know that this moment would mark the beginning of an extraordinary partnership between him and the Denver Nuggets.
A Glimpse of Destiny: The Childhood Photo
In 2000, a 5-year-old Jokic posed for a photo wearing a Denver Nuggets sweatshirt—an unlikely garment for a young Serbian child to own.
Serbian agent Misko Raznatovic shared the photo on Instagram, highlighting the incredible odds of a kid from a small Serbian town sporting gear from a relatively unknown American team at that time, the Denver Nuggets.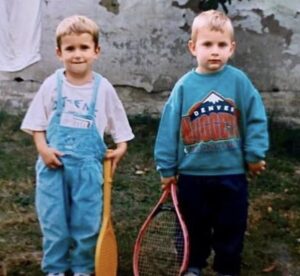 In the caption, it read: "Short story about destiny! This is Nikola Jokic, double NBA MVP, at about five years of age in his hometown of Sombor, Serbia.
Back in 2000, when this photo was taken, he is wearing a @nuggets sweatshirt – not because he loved basketball or even knew about the Nuggets – but because he got it as a present.
Chances of a kid from a small Serbian town having a sweatshirt from a lesser-known American team back in 2000 were minimal (unless we're talking about famous clubs such as @lakers or @bulls).
Chances of anyone knowing about the Nuggets in a small Serbian town were next to nothing."
Defying Expectations: The Road to Victory
Fast forward to 2023, and the Denver Nuggets' playoff run saw them triumph over popular superstars like Devin Booker and Kevin Durant.
The national media just knew the Suns were going to win.
Then the Denver Nuggets stunned the basketball world by sweeping the star-studded Los Angeles Lakers, including LeBron James, before besting the Miami Heat in a gentleman's sweep to claim their first NBA Title in 47 years.
The Perfect Union: A Story of Fate
The Denver Nuggets and Nikola Jokic's shared journey to NBA Championship glory is nothing short of remarkable. From their humble beginnings to their unlikely rise to the top, it's as if fate conspired to bring these two underdogs together to make history.
With a story so full of twists and turns, one can't help but wonder if this was always meant to be—the perfect union of an overlooked team and its unheralded star, defying the odds and proving that sometimes, destiny has a plan all its own.