West Hollywood, CA — It's February 26th, 2023, and it's a rainy Sunday at The London West Hollywood, where The Ball Out is covering a private screening of Navalny. Sunday night, I learned first-hand that the most dangerous job in the world is going against Vladimir Putin and the Kremlin.
This Warner Brothers film centers around Aleksei Navalny, Russia's famous dissident and opposition leader, but from the opening seconds of this Oscar-nominated documentary titled "Navalny."
As viewers, we saw a family man with great charisma and strength. Some have characterized him as a Mandela of our age. After surviving a poisoning, he is now imprisoned and brutalized, but still stands unbroken in his solitary confinement cell: and still mocking Putin as well as the invasion of Ukraine.
After running for president until he was blocked, and after incriminating Putin for being at hand for his poisoning, Navalny infuriated the Russian leader and is a Kremlin nightmare.
This documentary details his family life, wife and children, and experience as one of Russia's most wanted dissidents. Director Daniel Roher's vision for his film was to stay neutral, and Navalny made it difficult for him to do so because Aleksei is full of personality and charm!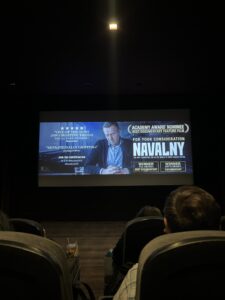 The film provides a relatively brief background of Navalny but, to Roher's credit, does challenge some of the politicians' previous alliances with nationalist causes and paints a picture of a brave man and what has led him to this point in his political career (the film was shot at the height of the Covid pandemic).
Alexei survived a 2020 assassination attempt in which he was poisoned with a military-grade nerve agent. In comes the help of journalist Christo Groze; using flight manifests and dark web data mining, Navalny and his team unravel the conspiracy of the year.
Roher and his film team are watching history unfold as an opposition leader uncovers the truth about the attempted murder by Putin and his mob!
There is a scene with a phone call that should be on any list of best documentary moments! Aleksei himself has been nominated for a Nobel Peace Prize, and Navalny, the documentary I saw Sunday, has won at the Baftas and the PGA awards as well as being nominated for an Oscar for best documentary.
Navalny review
After the screening, Christi Grozev was the moderator for the private panel discussion Q&A portion with director Daniel Roher and representatives from the film. I learned that after returning to Moscow and being imprisoned, Navalny has deteriorated to an extreme level and has not seen his family in almost two years.
The purpose of the screening today was to document further and keep his name alive. Hopefully, you will tune in to see this movie on HBO Max and other streaming platforms.
For more movie reviews and entertainment news, check out our entertainment section.