West Hollywood, CA — On a rainy Sunday, February 26th, 2023, The Ball Out had the opportunity to cover a private screening of the highly anticipated film, "Navalny," at The London West Hollywood. This Warner Brothers documentary revolves around the life of Aleksei Navalny, Russia's renowned dissident and opposition leader, showcasing his resilience and unwavering determination, despite facing immense challenges, including imprisonment and mistreatment at the hands of the Kremlin.
From the very beginning of "Navalny," it becomes evident that this Oscar-nominated documentary presents Navalny as a charismatic family man, drawing comparisons to figures like Nelson Mandela in terms of his impact. The film delves into his survival of a poisoning incident and his subsequent incarceration, shedding light on his unwavering spirit, which not only defies his circumstances but also openly criticizes Putin and the invasion of Ukraine.
Director Daniel Roher aimed to maintain neutrality in portraying Navalny's life, yet the dissident's larger-than-life personality and charm made it challenging to stay completely impartial. The documentary provides glimpses into Navalny's family life, his wife and children, and his experiences as one of Russia's most wanted dissidents. Roher's filmmaking team deserves credit for challenging the political alliances of certain politicians, offering a broader perspective on Navalny's political career, all while capturing these events during the height of the Covid pandemic.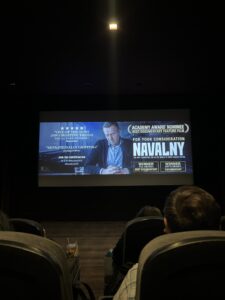 A significant turning point in the film occurs when Navalny survives an assassination attempt in 2020, where he was poisoned with a military-grade nerve agent. With the assistance of journalist Christo Groze, Navalny and his team meticulously uncover the truth behind the conspiracy, utilizing flight manifests and dark web data mining. Roher's film captures the unfolding of history as an opposition leader uncovers the plot behind Putin's attempted murder.
One of the standout moments in the documentary involves a phone call that undoubtedly deserves recognition as one of the best documentary moments ever captured. Aleksei Navalny himself has received a Nobel Peace Prize nomination, and the documentary "Navalny" that I had the privilege of watching has already achieved acclaim, winning awards at the Baftas and the PGA, while also receiving an Oscar nomination for Best Documentary.
Following the screening, a private panel discussion and Q&A session took place, with journalist Christo Grozev serving as the moderator alongside director Daniel Roher and representatives from the film. During this discussion, it became apparent that since Navalny's return to Moscow and subsequent imprisonment, his condition has significantly deteriorated, and he hasn't had the chance to see his family in nearly two years.
The purpose of today's screening was to further document Navalny's story and ensure his name remains in the public consciousness. We encourage you to watch this compelling documentary on HBO Max or other streaming platforms to gain a deeper understanding of Aleksei Navalny's extraordinary journey.
For more movie reviews and entertainment news, check out our entertainment section.