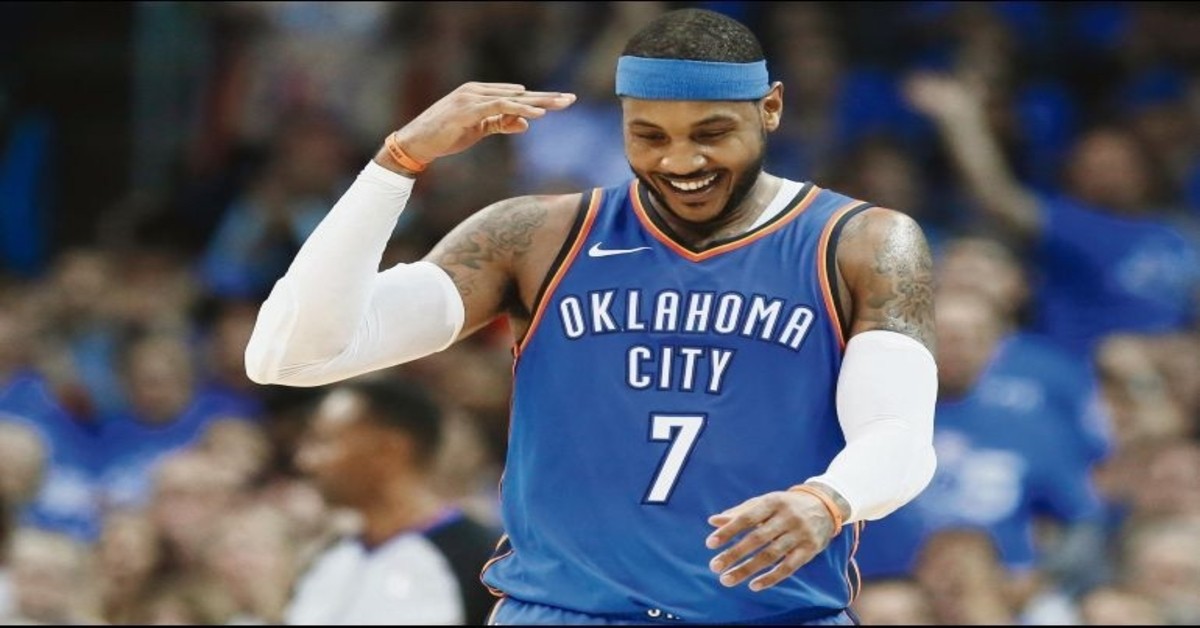 According to reports, the Houston Rockets and forward Carmelo Anthony has agreed to a deal. The 10-time All-Star will sign a one-year, $2.4 million deal, league sources said.
Last season was not a memorable one for Anthony. The career 24.1 points per game scorer averaged his career low in both points (16.2) and field goal percentage (40.4) last season as a member of the Oklahoma City Thunder.
Anthony was traded to the Atlanta Hawks from Oklahoma City on July 19 after trading his no waive clause. In addition, he would be waived by the Hawks on July 30.
Carmelo now joins a roster that you can say he has had his eye on since last year before being traded to Oklahoma City from the New York Knicks.
Anthony joins reigning MVP James Harden and All-Star guard Chris Paul. Already he has begun working out with the two this summer. However, there is one more name that Anthony shall join, and that's Houston Rockets head coach Mike D'Antoni.
These two did not have the best time together while paired in New York.
Anthony and D'Antoni were together for parts of two seasons before D'Antoni resigned in March 2012. He would later tell ESPN in a 2017 feature story that he "quit" his job with the Knicks after Anthony gave the team an ultimatum to choose between him and D'Antoni.
However, in an article written by USA Today Sports, D'Antoni says that things were many things that played in the Knicks situation and that this time "is totally different."
"In New York, when [the Knicks] gave away half the team [to the Nuggets in the 2011 trade for Anthony] and everybody expected us to win a championship, it really wasn't realistic," D'Antoni told USA Today Sports. "It put a lot of pressure on everybody, and it kind of burst the pipes.

"I think this is totally different. We've got a team that is a whole bunch of veterans that really, we've got one thing in mind, and that's to win a championship, and we have the possibility."
Carmelo Anthony is in an interesting place in his career. The 34-year-old has been known as the marquee player and scorer for the teams  he's suited up for prior to Oklahoma City and now the Houston Rockets.
Due to his history of being the go-to-guy, he does not want to take a lesser role for the embitterment of the team. Which is much of the reason why last year wasn't very fruitful in Oklahoma City.
Although, he now joins a team that was the runner-ups in the Western Conference finals last year and are looking to get another opportunity at advancing to the NBA Finals. Meaning that Anthony will have to adjust his game and maybe his role to give Houston the best chance at achieving their goal.
The losses of Trevor Ariza and Loc Mbah a Moute were devastating for Houston and although Anthony does fill a void at forward for the Rockets, defense is something him nor Harden and Paul bring to the table.
You still have PJ Tucker and you assume that Gerald Green will play the role of defending the other team's best player on a given night. However, defense was a huge factor in Houston's success last year.
Everything will not be figured out by training camp, nor early on in the season. At the moment, D'Antoni is unsure about whether Anthony will start. However, will try different combos and see what works best for the team.
"I don't know, and that's something that we'll have to work out," he said. "All I know is that we'll try different combos — preseason, early season, and the good thing is that with analytics and with gut feelings and coaches and players, we'll figure out what is the best way to play.

"And again, if everybody is on board, then it'll be, 'Hey, this is where we're the best. This is how we can win the championship.' I don't know yet, but we'll make sure we get it right as good as we can."