Yesterday, the quiet city of Jacksonville was rocked by an unthinkable act of violence. A local Dollar General store became the scene of a frighteningly calculated, racially motivated attack, leaving three innocent Black people at the store dead and a community in mourning.
This shocking incident, now referred to as the Jacksonville Mass Shooting, has sent shockwaves through the nation, sparking urgent and critical discussions about racial hatred, gun control, and the safety of our communities.
Jacksonville Mass Shooting: The Harrowing Incident
The Jacksonville Mass Shooting was not a random act of violence or a crime of opportunity. Far from it, this was a meticulously planned, cold-blooded attack. The assailant, identified as Ryan Palmeter, targeted his victims based solely on their race. It was a chilling example of racial hatred, the likes of which we are sadly all too familiar with in recent times.
Palmeter left behind a series of "manifestos" – chilling documents that clearly stated his racial hatred and intention to harm Black people. Jacksonville Sheriff T.K. Waters, in a press conference, confirmed the existence of these manifestos, further reinforcing the racial motives behind this horrifying act.
This revelation paints a terrifying picture, one that goes beyond the confines of Jacksonville and speaks to the broader issue of racial hatred festering within certain sections of our society. It poses uncomfortable but necessary questions about the roots of such hatred and the measures needed to eradicate them.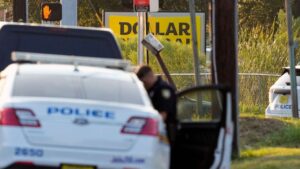 The victims of this horrific event were ordinary shoppers, people who had stepped out for their regular errands, oblivious to the impending danger. Their names, released during a press conference by Sheriff Waters, resonate with us all – they could have been our friends, our neighbors, our family. They were Marquis Brown, LaToya James, and Adrian Scott – three lives snuffed out prematurely in an act of senseless hatred.
The community's response to this tragedy has been overwhelming. Vigils have been organized, with Jacksonville residents coming together in solidarity, grief, and defiance. There is a collective call for unity against racial violence, a shared commitment to ensure that the victims did not die in vain, and that such an incident does not repeat itself.
The Shooter's Motive
Ryan Palmeter, the man responsible for this horrifying act, was found dead from a self-inflicted gunshot wound. His death, however, does not provide closure but leaves behind more questions and a community struggling to make sense of the devastation he caused.
Sheriff Waters confirmed Palmeter's motive at the Dollar General store was racially motivated, describing him as a man consumed with racial hatred. This confirmation further highlights the persistent and pervasive issue of racially motivated violence in our society. It underscores the need for education, dialogue, and legislation to address this disturbing trend.
Legal Implications, National Response, and Gun Safety
The Jacksonville Mass Shooting has, unsurprisingly, ignited a national conversation about hate crime legislation and gun control. Legal experts suggest that this incident could potentially influence future policies, serving as a grim reminder of the consequences of lax laws and regulations.
Florida Governor Ron DeSantis has publicly condemned the Jacksonville Mass Shooting. In his remarks, he described the attack as "a very cowardly act." His response to the tragedy was broadcast widely, with his statement underscoring the senseless brutality of the incident.
"This is a day of mourning for Jacksonville and for Florida," DeSantis said in his address, "The perpetrator's actions were not just cowardly but were also a stark reminder of the persistent racial hatred that continues to plague our communities."
However, the Governor's remarks have sparked a varied range of reactions. While some appreciate his swift condemnation of the shooting, others argue that more than words are needed to address such issues. Tennessee state lawmaker Justin Jones, for instance, criticized politicians' typical "thoughts and prayers" response to such tragedies, implying a need for more concrete actions
Advocates for stricter laws against hate crimes and more stringent gun control measures have found renewed vigor in their fight. They argue that incidents like the Jacksonville Mass Shooting should serve as a catalyst for change, pushing lawmakers to reconsider their stance and implement policies that protect citizens from such tragedies.
But it's not just about legislation. It's also about addressing the root causes of such hatred – ignorance, prejudice, and fear. It's about fostering a society where diversity is celebrated, not feared; where differences are embraced, not attacked.
As we mourn the loss of Marquis, LaToya, and Adrian, let us remember that their deaths should not be in vain. Let their memory fuel our pursuit of justice and equality, and our fight against racial hatred and violence. Let us ensure that the Jacksonville Mass Shooting serves as a turning point, a moment of reckoning, a call for change.
The Jacksonville Mass Shooting is a stark reminder of the work that lies ahead of us – the need for stricter laws, better education, and a more inclusive society. As we grapple with this tragedy, let us also look forward, towards a future free of such violence, where everyone can feel safe, regardless of their race.