The Allen Premium Outlets located in Allen, Texas became the site of a massacre on Saturday night. At least eight people were shot dead, including the suspected gunman, and seven victims are being treated at hospitals for their injuries. Officials say the gunman appeared to have acted alone and that the scene was contained after an Allen police officer neutralized the shooter.
According to Fire Chief Jonathan Boyd, at least nine people were taken to hospitals. "Of those that we transported, two have since died. Three are in critical surgery, and four are stable," Boyd said.
Even young victims were not spared from this deadly attack. An area medical group reported treating victims as young as five years old. Police initially began to search for a second shooter but now believe the shooter acted alone.
The scene was apparently chaotic after the shooting occurred. Video shot from above showed hundreds of shoppers exiting the area, many with hands held up. The aerial footage appeared to reveal at least three bodies covered by sheets outside the mall.
Allen Police Chief, Brian Harvey, described how the officer neutralized the shooter. "One of our officers was on an unrelated call," said Harvey. "He heard gunshots, went to the gunshots, engaged the suspect and neutralized the suspect."
Allen Premium Outlets shooting witness
According to witnesses at Allen Premium Outlets, the gunman was dressed all in black tactical gear and armed with an AR-15 style weapon. A photo obtained by CNN showed the body of the gunman lying on the ground outside a restaurant location at Allen Premium Outlets. The gunman appeared to be wearing body armor with several extra magazines attached to chest gear.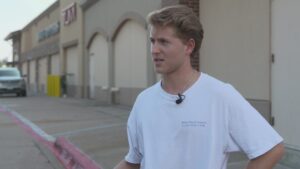 Governor Greg Abbott condemned the shooting as an "unspeakable tragedy," stating, "Our hearts are with the people of Allen, Texas."
Mayor of Allen, Ken Fulk, spoke at a news conference, stating, "We all want the victims and their families impacted by this tragedy to know that we will wrap our arms around you and we are here for you. We know you are grieving. We are grieving.
"Rest assured, the nation and the world are also grieving. Allen is a proud and safe city, which makes today's senseless act of violence even more shocking."
This senseless act of violence marks the second-deadliest shooting of the year, after the Monterey Park, Calif., massacre, in which a gunman killed 11 people in a ballroom on January 21.
The shooting has left the entire community of Allen in shock and mourning, and it highlights just how prevalent gun crime is in America. While authorities continue investigating to uncover any possible motive or connection with the gunman, the tragedy has once again added to the rising national debate and need for gun control in the country.
Shootings across the country
Just earlier this week, a deadly shooting took place in Atlanta, then before that, there was a mass shooting in Louisville at the Old National Bank that left five people dead. Then there was another recent mass shooting in Nashville.
Saturday's abhorrent mass shooting at Allen Premium Outlets in Texas has marked yet another dark day for the nation, joining two other tragic events that same afternoon – one taking place in a California town and the other occurring Ohio.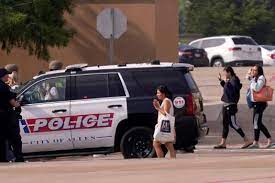 In only twenty days of May so far, 12 horrific episodes involving gun violence have taken their toll; this is set against an average annual fatality rate determined to be six on-going since 2006 by Professor James Alan Fox at Northeastern University who has been monitoring these occurrences over four decades.
A further analysis reveals 2021 already holds record numbers with approximately 1 public massacre happening each week due to high availability of firearms amongst citizens during COVID time as well as increased social polarization among Americans both emotionally and financially impacted by pandemic circumstances.
It appears we are still fighting a grim battle ahead.