Tokyo, Japan — Today was not just another day in Tokyo — it was Opening Day of the 34th Tokyo Film Festival for today's adventure. For starters, this was a unique experience during a globally odd time due to most of the international talent being unable to attend due to Covid-19 precautions, but the show must go on! 
The festival coverage is from Saturday November 30 until November 8th where there are several different categories of movie screenings to catch. The nine main sections are divided up as such: Competition, Asian Future, Gala Selection, World Focus, Nippon Cinema NOW, Japanese Animation, Japanese Classics, Youth, and TIFF (Tokyo International Film Festival) Series. 
My favorite category would be the competition because, during the span of the festival, there's a panel of judges who decide who will take home the awards of Tokyo Grand Prix, Special Jury Prize, Best Director, Best Actress, Best Actor, and Best Artistic Contribution. The competition features 15 films from around the world that are selected for screening of which were all completed after January 2021. The winners are announced at the Closing Ceremony;I can't wait to find out who the winners are for this festival.
Opening Day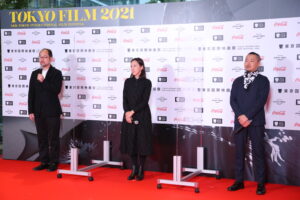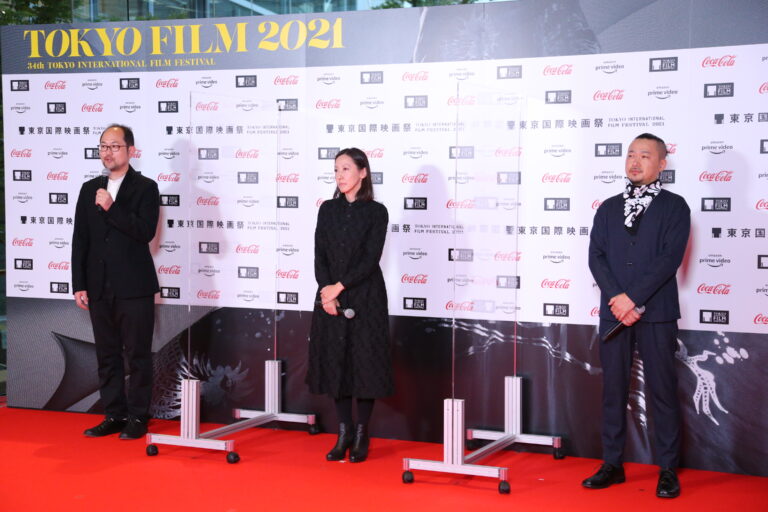 The red carpet was beautifully thrown over a huge staircase and each person was socially distanced from one another. I was curious to see if even they would be wearing masks, but luckily they weren't for the sake of the pictures. All attendees and media wore masks and temperature checks were taken upon arrival. One thing I was a little surprised about was the amount of black clothing worn on the red carpet. Japan is such a fashion capital so I expected to see more exciting patterns and colors but it seemed as though it was a subtle play on everyone's part tonight. I must have missed the memo as I wore a wild floral patterned skirt, oops!
The movie in which we had the pleasure to watch on opening night was Cry Macho. Cry Macho was directed, produced and starred Clint Eastwood. This film happens to be based on the 1975 novel "Cry Macho" by N. Richard Nash. Funny enough it was released in the United States theaters back on September 17, 2021 so you may have had the opportunity to watch it. Based on the statistics it didn't perform as expected and received mixed reviews from critics. 
I, unfortunately, was unable to see the first fifteen minutes of this film (beyond my control) but the overall message of the film was a positive one. No matter what life has given you, don't allow that to be an excuse. You have the choice to make things better for yourself and others every day with the right attitude! The cast list is short but the morals behind the story being told are big. I liked the principles we were reminded of as we watched, plus I was personally impressed by Eastwood's ability at his age on how much he brings to the table. 
I don't want to spoil it for anyone who hasn't seen the movie but if you have a hard time trusting people this movie is a good idea for you. The best part about watching a movie in Tokyo versus the United States would be that not one person in the theater moved a muscle when the credits started rolling and that was a very big first for me. We usually sprint for the door once the actual movie is over and that was a refreshing moment to experience.
Until next time my friends, Ball Out!