Los Angeles, CA — 'Charm City Kings' was one of those movies that hits you where it matters, but there were a few scenes that stood out to me the most. Young stars, Jahi Di'Allo who played the lead actor Mouse, and Teyonah Parris who co-starred as Terri, delivered an amazing movie.
Mouse meets a girl, Terri, through his boss Blax (played by Meek Mill) in a workshop he works at part-time. Because Mouse loves animals so much, he also works at an animal shelter and aspires to become a vet. He saw this girl and immediately wanted to get her number, so there was no better way to do so than give her a kitten!
As the movie progresses, he knocked on her door and surprised her with a small light brown, white striped kitten. As conversation went on, he finally mustered up the courage to ask for her number.
Terri answered, "I don't have a phone."
From the look on her face she seemed embarrassed about that. She explained to him that she wasn't staying in the city for long and that her and her mother were only staying with their grandmother for a month.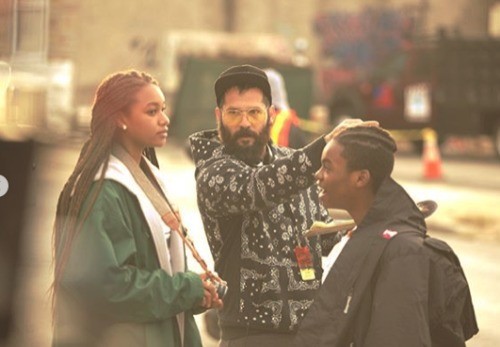 In this scene, she looked behind her to peak at the doorway, making sure her mother or grandmother weren't listening. Mouse got the memo that she was worried about them finding out she was talking to a boy, so he came up with a strategy; since he couldn't text her, he came up with a melodic whistle he would sing from the street.
Throughout the film, that became their communication. I saw this scene as pure, raw, and so genuine. Nowadays, you don't find a girl who doesn't own a phone, and you don't find a boy who continues the effort to talk to a girl!
Another scene that stood out to me was when Mouse finally earned a ride on his boss' dirt bike. Throughout the movie, he expressed the want to join the Midnight Clique, an infamous group of Baltimore dirt-bike riders who rule the summertime streets Mouse worked everyday at the workshop to fix up a dirt bike so he could own one. Blax finished his own bike and let Mouse take it for a spin, trusting him.
Of course, he had to show off the bike to his buddies, who thought it was stupid of him to work for free at the workshop just to get a bike, but seeing Mouse on the bike left them with their foot in their mouths. He then drove to Terri's house and sang his little whistle. She ran outside, slipped a helmet on, and hopped on the back.
Mouse drove all over the city. They sat under a bridge and watched the sun go down behind the buildings.
"My brother, before he went to jail, promised me he would take me to see the beach," Mouse said in the scene.
Terri felt for Mouse and began to explain to him the good things about waiting. Mouse leaned in to kiss Terri, she turned away and said, "not yet." She repeated that she was leaving in a month, indicating that she didn't want to get too close with Mouse.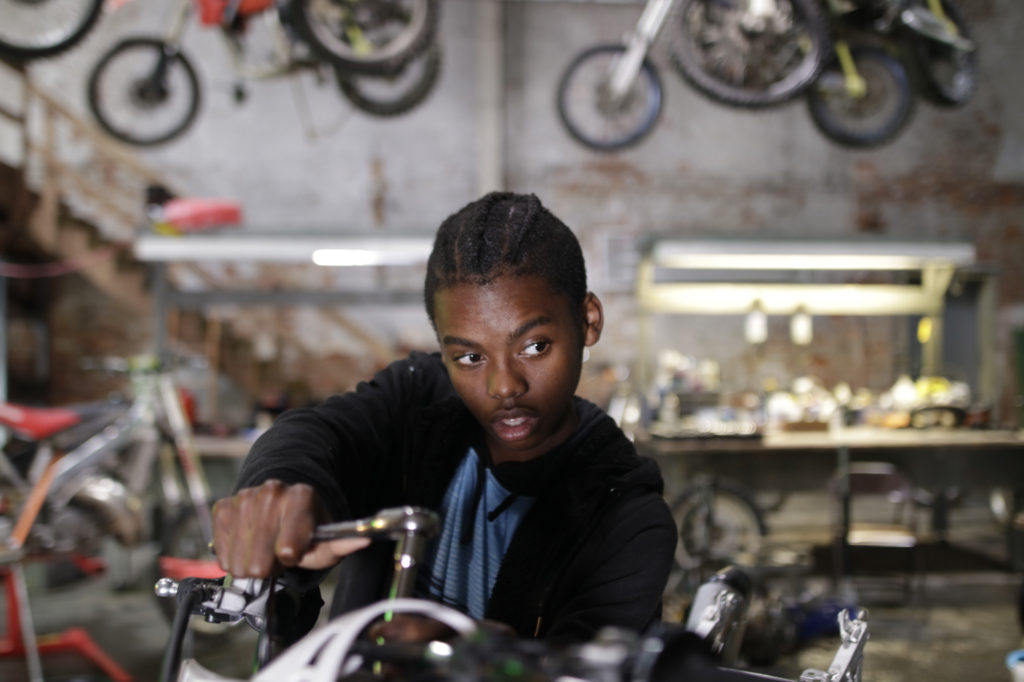 "Wait for me. I will take you to the beach," Terri promised.
This scene was very sweet and held a mature example toward young love. The message through the movie brought me way back to high school. Trusting people is a very vulnerable thing to do, it comes with the trust that they will stay loyal to your name through thick and thin.
The main character, Mouse, faced several battles with loyalty and trust. He gave into many people using his things or staying quiet on his personal situations. Due to his brother going to jail, the gangs around his city have taken Mouse under their arm trying to keep him away from the danger of the streets, but he wanted no part in the activities the gangs were doing.
Mouse's decisions occasionally took him down dangerous paths, but he learned to trust nobody but himself and fight for the things he wants/loves. Charm City Kings was inspirational movie and taught a lesson to stick true to yourself, work hard, and focus on the good things in life.
Charm City Kings has already won the award U.S Dramatic Special Jury Award for Ensemble Cast at the Sundance Film Festival. The film official opens in Los Angeles and New York April 10, make sure to get your tickets to watch it — you won't be disappointed.
By Morgan Justus