Spokane, WA — In front of a rowdy crowd on a Thursday night, the no. 3 Gonzaga Bulldogs (28-2) were celebrating more than just their 94-59 win over the San Diego Toreros (9-21). Gonzaga was also excited to honor alum Adam Morrison, whose number was raised to the rafters, joining the retired numbers of NBA Hall of Famer John Stockton (#12) and former national scoring leader Frank Burgess (#44).
But before the Zags could get to work on the Toreros, the entire McCarthey Center listened to speeches from head coach Mark Few and Morrison on his time playing as a Bulldog. Morrison made sure to thank his coaches for not only helping him while he suited up for Gonzaga from 2003-2006, but for the guidance they gave when he returned to finish school once he was done playing basketball.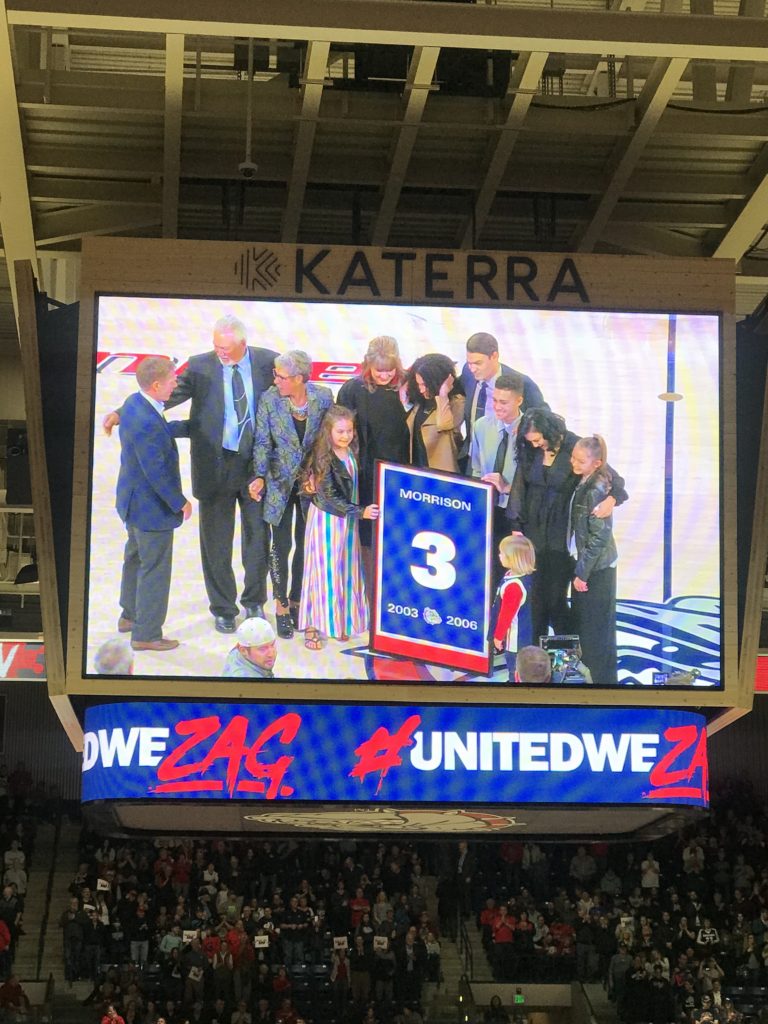 "I'll forever remember, even though all these games I've coached and been so lucky to be a part of, his first basket at Madison Square Garden. And his multiple 40-point games and buzzer beaters," expressed Few on Morrison. "His junior year as he and JJ were just putting on a show, it was absolutely must-see TV.
"Adam was just the kind of player, he was a bucket list guy and everybody wanted to see him. What I'm most proud of is the man he has become, a parent and a guy who's really looking to give back to our community," said Coach Few.
"This is a tremendous honor. I'm truly humbled. I am blessed. There's been so many great players have come through this university and I'm just humbled to be one of the first in kind of the modern era … Go Zags," shared Morrison during his ceremony.
Finally the game tipped off, although, for the third game in a row, Gonzaga started the game off a little stagnant on offense. While the team was getting good looks to the rim, they were struggling to capitalize and finish the layup. On the other side of the ball, San Diego struggled to initially score but the Toreros continued to cut through the lane until finally a cutter was open and scored a basket.
Despite the home team missing layups, Corey Kispert remained aggressive offensively with his drives to the rim or attacking from the perimeter and pickup up early fouls against San Diego. Drew Timme was another player who stood out for the Bulldogs with his solid defense in the paint. He was a solid rock as the Toreros bumped him with their attempts to get to the rim on their post moves. Timme's tough defense often times changed the shots taken by San Diego and he was often the one who came down with the rebound.
Even though the Toreros had their hands full with the aggressive drives from Kispert and Timme's defensive wall, they only trailed a few possessions midway through the first half, 30-24.
With just over three and a half mins remaining before intermission, Ryan Woolridge skied in to snag a rebound off of a San Diego miss. He quickly whipped the ball up the court to a streaking Kispert ,who threw down a dunk electrifying not only his teammates but the crowd as well. His made basket extended Gonzaga's lead to 39-27.
Back and forth play continued for the last couple minutes. The Bulldogs defense stepped up a got a stop with 8.1 seconds remaining on the clock. Coach Few used one of his timeouts to draw up a last second play for his team – they executed it perfectly.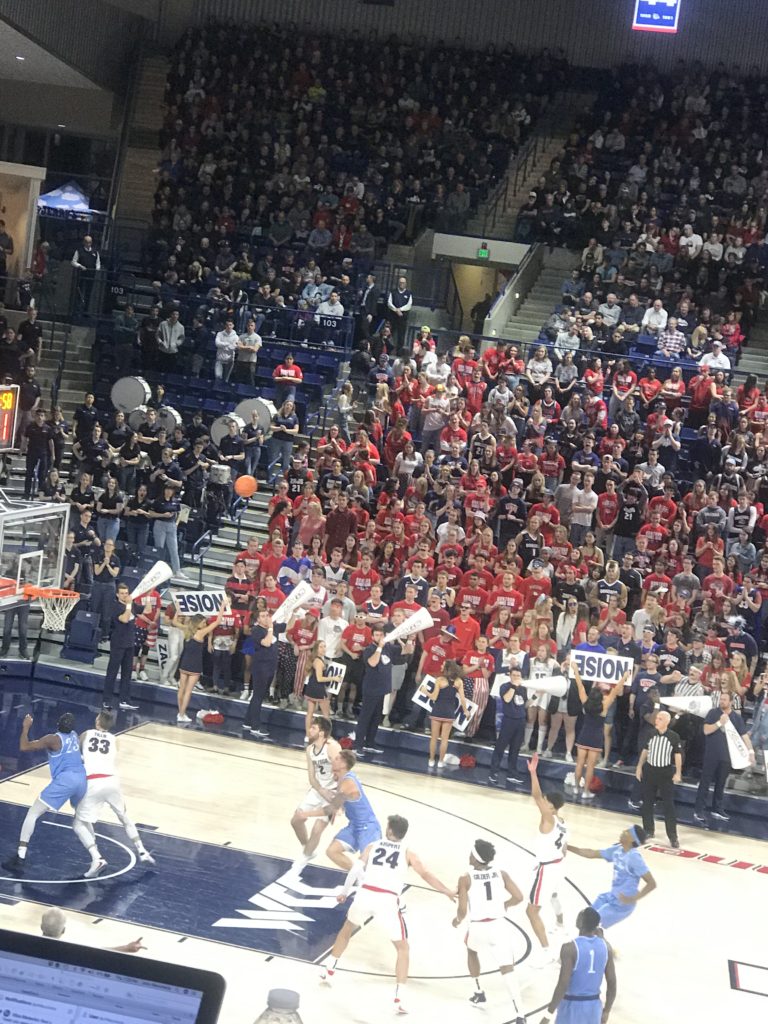 Timme pushed the ball up the length of the floor. As he got closed to the paint, San Diego's defenders reacted to stop him, but neglected to cover Admon Gilder, who was in the trail position. Gilder drilled the triple to give the home team momentum going into halftime and extend the lead to 46-34.
Killian Tillie, who was somewhat quiet in the first half, opened the Bulldogs scoring after intermission with a three of his own. Unfortunately, Gonzaga's defense still wasn't looking its sharpest yet. Players like Woolridge and Joel Ayayi were reaching too much on the perimeter or going for the steal only to miss it. Often, they were out of position, giving San Diego easy looks to the rim with a layup or shot in the paint.
Thankfully for the Bulldogs, the Toreros had their woes of finishing at the rim and couldn't cut into their deficit.  
After a few sloppy defensive plays, Gonzaga started playing with more energy and focus to lock down San Diego. With their increased defensive intensity, transition buckets grew, as did the score to 62-45 in favor of the no. 3 team in the nation.
"In the second half our defensive intensity was really, really good," stated Gonzaga's Coach Few. And we were pretty darn efficient on the offensive end."
From that burst, the game got out of control for the visiting Toreros. Whatever the Bulldogs wanted to do they could. The speed and pressure of Woolridge on the ball was hard for San Diego as he either got a steal or deflections to disrupt their offense. San Diego even tried a one-two-two press to turnover Gonzaga – that didn't work either; they only had one miscue in the second half at the very end of the game.
Joey Calcaterra scored a team-high 19 points, followed by Alex Floresca and James Jean-Marie's 11 and 10, respectfully. But they needed more defensive stops to slow down the top scoring team in the nation.
For the home team, five players scored in double figures: Filip Petrusev led the way with 21, Kispert 16, Tillie 12 points, Woolridge contributed 15 and Gilder added 12. All five starters had at least six rebounds on the night while Timme pulled down eight of his own.
Gonzaga's 35-point win secured another West Coast Conference Regular season crown; the program's eighth straight title.
San Diego will head home to host Pacific on Saturday for its next game while no. 3 Gonzaga will honor its seniors also on Saturday against Saint Mary's. Managing Editor of The Ball Out.