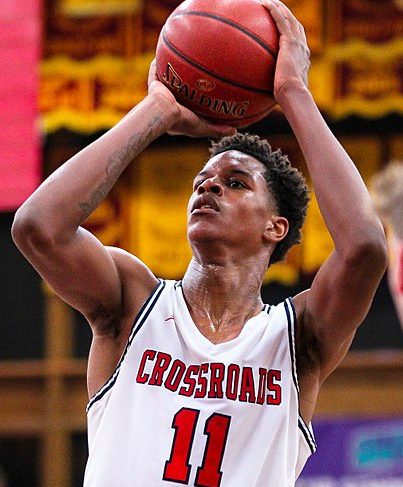 Four-star recruit and UCLA men's basketball player Shareef O'Neal, announced Friday that he will be sidelined for the entirety of his freshman season. Doctors found that O'Neal has a serious heart issue that will require surgery.
In a TMZ Sports interview, O'Neal stated that he "felt funny" during team workouts over the summer. UCLA doctors made him wear a heart monitor so that he could alert them if he was feeling funny again. He then stated that after pressing the button after a team workout, doctors discovered the heart ailment that will force him to miss the 2018-2019 season.
O'Neal says that he'll be medically redshirted and will remain enrolled in classes for this academic year. In addition, his injury is not believed to be career-ending and he expects to return to the court for the Bruins in the future.
O'Neal is the son of NBA Hall of Famer Shaquille O'Neal and is living up to the dominance that his last name carries. During his senior season at Crossroads school, the 6-foot-9-inch forward averaged 27.6 points per game and 17.3 rebounds and was rated a consensus top-40 player in his recruiting class by ESPN.
The 18-year-old freshman originally had committed to play for the University of Arizona. However, after an ESPN report linked Sean Miller to a pay-for-play arrangement involving Deandre Ayton, O'Neal decided to sign on with UCLA.
After signing with the Bruins, UCLA's incoming class ranked third behind Duke and Kentucky and were ranked in most preseason top 25 polls according to ESPN.com. In addition, the Bruins we're felt to be a major threat to for the Pac-12 crown.
Although this is tough news for the school, the O'Neal family and Shareef himself, he took to Twitter to tell his fans that he's "Blessed to be living today".
https://twitter.com/SSJreef/status/1045590212091375622?ref_src=twsrc%5Etfw%7Ctwcamp%5Etweetembed%7Ctwterm%5E1045590212091375622&ref_url=https%3A%2F%2Fwww.usatoday.com%2Fstory%2Fsports%2Fncaab%2Fpac12%2F2018%2F09%2F28%2Fshareef-oneal-ucla-shaquille-o-neal%2F1453247002%2F
O'Neal also went to Instagram to announce to everyone about his condition and that he will be back in no time.
Get well soon, Shareef.
Also, it has been reported, LSU's Wayde Sims was killed Friday morning. Sims was ivolved in a shooting near the Southern University campus during an altercation outside a Subway restaurant across from football stadium. According to Baton Rouge police, Sims, 20, was transported to a local hospital, where he died from a gunshot wound.
LSU head coach Will Wade in a statement asked for prayers for Wayde's family, all of LSU, and Wayde.
"We want to remember Wayde, what a great person he was," Wade said at a news conference. "Besides the fact he had the best impression of me on the team, he was just an unbelievable person and was continuing to grow and had just done a great job building a bridge with our team. That's what makes it so tough for all of us, and for our team as well, is everybody liked him. Anybody he came in contact with, automatically just loved him, loved his personality. He was just a blast to be around at all times."