Waco, TX — Going into Saturday, the No. 1 Baylor Bears had one loss all season and it came way back in November.
The No. 3 Kansas Jayhawks had other ideas, as they looked to avenge their only conference loss of the season (Baylor, 1/11/20). Center Udoka Azubuike has been one of the best low-post players in the NCAA this season and put together a strong performance that allowed Kansas (24-3, 13-1 Big 12) to pull off the 64-61 upset over Baylor (24-2, 13-1). The Nigerian native finished the game with 23 points, 19 rebounds (five offensive rebounds) and three blocks.
The big man logged 36 minutes in the game — a career-high — due to the foul trouble of teammate David McCormack, who picked up five fouls in only four minutes of action. Azubuike was most effective in the pick and roll game as the Baylor defense didn't have an answer when he ran to the rim.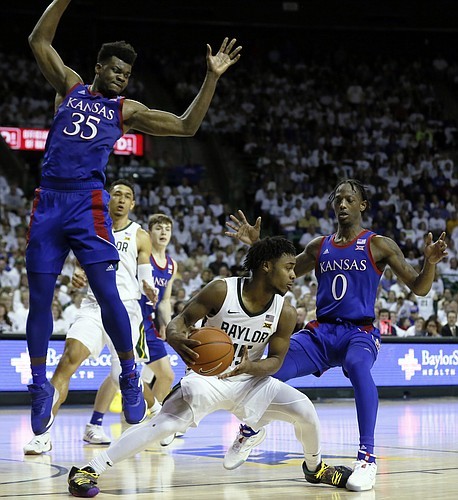 As a team, the Jayhawks' defense gave Baylor's offense problems all game long. The Bears shot 39% from the field, which was far off their season average of 43%. Baylor also left a lot of points at the free-throw line shooting 53% (8-of-15). Defensively, the Bears' defensive pressure had been holding opponents to just 38% shooting from the field, however, Kansas shot 50% in Saturday's contest. 
Out of the gates, it was a back and forth game as neither team was able to get a firm grasp on the lead. Kansas had a nine-point lead twice in the first half but Baylor always managed to respond on the offensive end to keep it close. Bill Self's team took a 20-18 lead in the first half with eight minutes to go and the Jayhawks never looked back after that, going into halftime with a 34-31 lead thanks to Azubuike, who had 13 points, eight rebounds and one block at the half.
Kansas started to run away a bit using an 8-0 run midway through the second half to extend their lead to 48-37 with just over 11 minutes to go. The Bears were able to nibble their way back and found themselves trailing by just one point with 18 seconds left. After Isaiah Moss sank two free throws for the Jayhawks, Baylor still had a chance to tie things up and force overtime with a three but sophomore guard Jared Butler missed a potential game-tying three-pointer at the buzzer, giving the Bears their first conference loss of the season.
For Kansas, sophomore guard Devon Dotson played Robin to Azubuike's Batman and finished with 13 points, three assists and had two steals. Isaiah Moss also contributed 11 points and converted on two big free throws late in the game.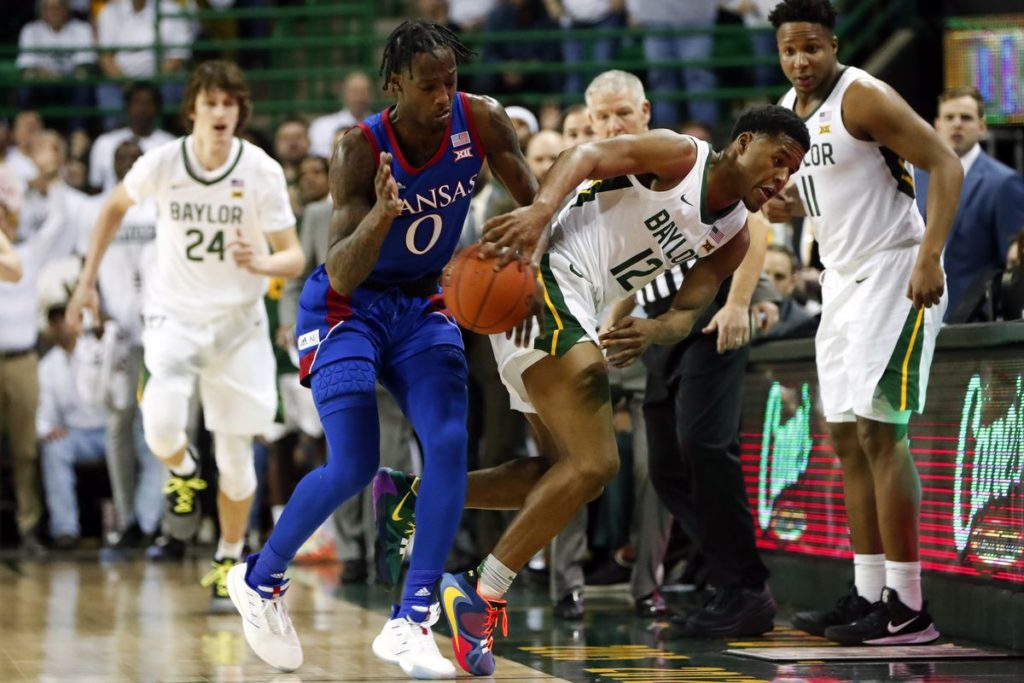 Butler led the charge for the Bears with 19 points, six rebounds and six assists. Forward Freddie Gillepsie and guard Matthew Mayer each finished with 10 points each but no one else was in double digits scoring-wise for Baylor. 
For Baylor, the loss ends their 23-game win streak in Big 12 Conference play and most likely their five-week reign on top of the AP poll. They will look to get back in the win column versus Kansas State on February 25th. Kansas' next game will be at home versus Oklahoma State on February 24th.