Welcome back everyone to another edition of Outside the Hashes. I hope you had a wonderful Halloween holiday and saw plenty of ghosts, hopefully not the kind Sam Darnold sees when he's on the field. 
Speaking of quarterbacks, this week we will be highlighting a quarterback at the collegiate level who has been putting plenty of fright into opposing defenses: Joe Burrow. 
Burrow is the starting quarterback for the LSU Tigers this season; however that was not his first college of choice coming out of high school. The four-star prospect out of Athens High School in Ohio decided to stay in-state and play for The Ohio State University Buckeyes.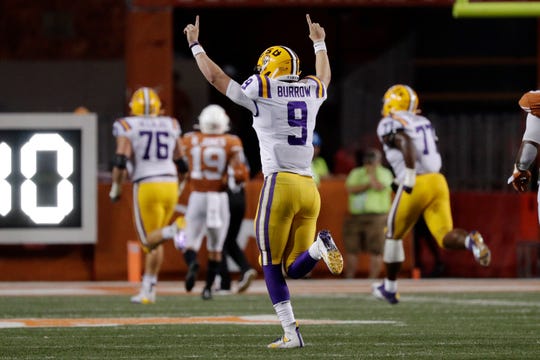 After three years of minimal opportunities at Ohio State, Burrow decided to transfer down south to play for coach Ed Orgeron at LSU. The Ohio native won the starting position in his first year and immediately made an impact for the Tigers.

He finished the 2018 season with 2,894 passing yards, 16 touchdowns and only 5 interceptions. While his stats were not out-of-this-world, he provided a spark at the quarterback position that LSU had not seen in quite some time.

Burrow led the Tigers to a 10-3 record as they had four key victories over AP Top 10 teams (Miami, Auburn, Georgia and UCF) in 2018. Burrow's most impressive performance in that first year came against UCF in the Fiesta Bowl. Early in the game, Burrow threw a bad pass which was intercepted and returned for a touchdown. During the return, Burrow took a big blindside hit from a UCF defender, which seemed like it had unlocked a new level of Burrow's game.

After that play, Burrow was on fire for the rest of the bowl game. Trailing 14-3, the quarterback led the Tigers offense to three straight drives resulting in a touchdown. LSU went on to win by a final score of 40-32 as Burrow finished with 396 passing yards and 4 touchdowns, earning the offensive player of the game honors. 
While Burrow finished the season strong, he proved to be a bit inconsistent with his arm particularly against the tougher defenses. He flew under the radar and was not named to any preseason All-American or All-Conference lists. Little did everyone know, Burrow was ready to advance his game to another level in 2019.
Burrow started the season off hot, going 23-of-27 with five touchdowns in a 55-3 win over Georgia Southern. LSU then had a big road test versus Texas in Week 2 but the second-year starter was not phased by the spotlight. Burrow finished with 4 touchdowns and 471 passing yards – setting a single-game school record – and came up with a few big plays which allowed the Tigers to come away with a 45-38 victory. 
None were bigger than the 3rd and 17 play in which Burrow stepped up into a crowded pocket and delivered a strike to his receiver Justin Jefferson while taking a big hit. The former Buckeye made a mockery of the Longhorns defense and showed an elite level of pocket awareness and decision making – not to mention, a new level of swagger after securing the victory. 
Burrow continued his hot streak through the first four weeks of the season, setting a single-game record with 6 passing touchdowns in the 66-38 victory over Vanderbilt. After a cupcake game with Utah State, the Tigers had another big match-up with the Florida Gators, a team that Burrow struggled against last season.
A very different Burrow showed up in 2019 however, as Burrow finished with a stat line of 21-24, 293 passing yards and three touchdowns as the Tigers won 42-28. Burrow did a nice job of getting the ball out quickly to his receivers which neutralized the very talented pass rush at Florida. 
The following week, Burrow etched his name into the LSU history books again as he broke a single-season record when he threw his 29th touchdown in the second half of a 36-13 win over Mississippi State. Another match-up with an SEC powerhouse in Auburn followed and although it was a different team, the same cool, calm and collective Burrow showed up. 
The quarterback threw for 321 passing yards on a career-high 32 completions plus one touchdown in a close 23-20 victory. Burrow did throw an interception in the third quarter but kept his composure leading the Tigers to a touchdown the following two possessions. That second touchdown being a seven-yard score by Burrow himself on a designed quarterback draw.
Burrow currently has a completion percentage of 78.8%, 2,805 passing yards, 30 touchdowns, only 4 interceptions and 125 rushing yards in 2019. To say this man is balling out would be an understatement, and his play has caught the attention of NFL scouts. He quickly rose from potential Day 2 draft pick at the beginning of the season to now being thought of as a lock to get picked in the top 10 overall. 
LSU's season is far from over. They have four remaining games in the regular season and of course, the big one is a matchup at Alabama on November 9th. Both teams enter the game undefeated, both with potential first-round picks up and down their roster and both with quarterbacks who are playing at a stellar level.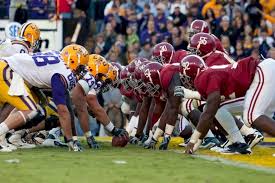 Shades of their 2011 match-up ring a bell as it was the last time both teams were undefeated and were ranked first and second in the AP poll during their match-up. The Tigers won what was labeled as "the Game of the Century" 9-6, which also happened to be the last time LSU beat Alabama on the gridiron. 
The Crimson Tide currently have an eight-game win streak over the Tigers largely in part to the offensive pressure they have put on them in recent years. While LSU's defenses have been very good, they lacked a playmaking quarterback who could make big throws into tight coverages or take off and scramble for a first down when needed. 
It's not like LSU did not have any offensive talent either. Players like Leonard Fournette, Odell Beckham Jr., Jeremy Hill, Jarvis Landry and Derrius Guice among others played throughout the years; but none of their quarterbacks could make a big play against the Bama defenses. This year could be a different story if Burrow continues to play like he has all season. 
His decision making, game awareness and his swagger has been far superior to any quarterback that has come through LSU over the past 10 years, maybe all-time depending on how he finishes the season. Burrow might be that hero LSU had been longing for who ends their drought versus Alabama and takes the Bayou Bengals on a National Championship run.