Toronto, ON– The Golden State Warriors escaped Scotiabank Arena and head to Oakland with the series tied at a game apiece after a super duty Game Two performance. After a sluggish start, the Warriors came back to defeat the Toronto Raptors, 109-104.
 Kept it Close
 That first half was not a great one for the Warriors. Toronto did much of what they had done in Game One against Golden State and it was equally as effective. Toronto's ball movement, as well as player movement, would absolutely outmatch the two-time defending champs.
Toronto was scoring any way they wanted to in that first half. In their half-court offense, the Raptors would do an outstanding job making the pass that lead to the extra pass that eventually lead to an open jumper or a backdoor cut. Golden State did a horrible job rotating and getting to the open man.
The Raptors would also take advantage of Warriors big man DeMarcus Cousins in pick-and-roll situations, getting him into foul trouble early and getting to the line a total of 13 times in the first two periods combined. Also, Golden State got a lesson in track-and-field as Toronto scored 10 points on the fast break.
What saved Golden State was Toronto didn't convert on all of their opportunities in the late stages of the second frame. Toronto had gone on a big run as well as lead by as many as 12, thanks to Golden State turning the ball over nine times in that first half. But the splash bros also came to play.
Klay Thompson would get things going early in the game, scoring 11 of the team's first 13 points. He finished the half with 18 points on 70 percent shooting and eventually got help from Stephen Curry late in the second quarter as the sharpshooting dynamo would pitch in 16 points. With that, Golden State only found themselves down by five going into halftime, 59-54.
Second Half Turnaround
 This is the fifth consecutive game in which Golden State has been down by double-digits prior to going into halftime. However, this is the fourth time that they have comeback after trailing going into the third quarter. This wasn't a comeback, it was Golden State showing the heart of a champion.
Basketball has two halves. It didn't seem that the Raptors remembered that, at least for the first five minutes of the third period. The Warriors would begin the frame on an 18-0 run. In addition, what killed them in the first half of action, good ball movement and tenacious defense, they were now exposing Toronto with that game-plan.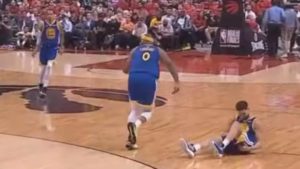 Curry and Thompson would combine for 48 points on 47 percent shooting before Thompson left with a hamstring injury late in the game. Draymond Green, who is the heart and soul of this team, lead the attack with a near triple-double (17 points, 10 rebounds, nine assists). The team also did an outstanding job making the right reads on offense as they finished the game with 34 assist.
You could see after the huge run that they we getting back to their old style of basketball. In addition, defensively they snapped out of their first half funk and executed on their assignments. The Warriors defense made it difficult for Toronto to score or causing them to take hurried shots.
 Strength in Numbers
Say what you want, but the Warriors are in desperate need of two-time finals MVP Kevin Durant. This team is really banged up now and really don't have that third scorer in the half court set they can go to that can make his own plays. Yet, you have to applaud the others that stepped up in a big way in Game Two.
Excluding Green, Curry and Thompson, the others contributed 44 huge points in the win. Cousins came up big as the fourth scorer for the Warriors, finishing with 11 points, 10 rebounds and six assist. For a guy that hasn't played since going down with that quad injury, you aren't asking him to score, but you're asking him to make the most of his time. He did just that. He's an all-star, yet, he's an out of shape all-star currently. However, was just what the doctor ordered.
Andrew Bogut, who didn't play Game One, was also huge with six points and played next man up after Kevon Looney was declared out after taking a bad fall in the first half. Quinn Cook contributed with three huge three-pointers to help Golden State keep the lead and ol' reliable Andre Igoudala finished with eight points, and iced the game with a timely three to give Golden State a 109-104 win and help tie the series at one.
Both teams will suit up for Game Three on Wednesday in Oakland at 9 p.m ET on ABC.