Los Angeles, CA — On Monday June 3rd, I attended the AMC Century City to watch an exclusive screening of 'X-Men: Dark Phoenix' hosted by FOX. The AMC Century City is a beautiful location with many neighboring stores and restaurants. I was greeted with my ticket and led to movie theater 10 to watch the highly anticipated new movie. With my ticket came a complimentary popcorn and drink which really put me in the movie mood!
As the theater started filling with movie goers, I started to get more excited for the film. The lights went down and the movie began.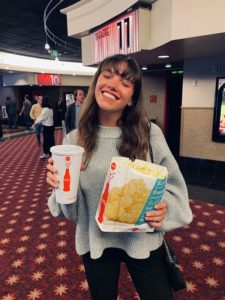 There were so many brilliant actors in the movie such as Sophie Turner, Jennifer Lawrence, James McAvoy, and Jessica Chastain. As one of X-Men's most popular characters, Jean Grey — played by Sophie Turner — this movie was all about how she turns into the Dark Phoenix and how her family of mutants must stop her to save mankind.
Directed by Simon Kinberg, 'X-Men: Dark Phoenix' was incredibly entertaining with all the visual effects and portrayal of all the powers. Each of the actors and actresses had outstanding performances in what was an emotional roller-coaster with constant action and surprises that leave your jaw-dropping.
But, there was also a surprise during the playing of the movie that wasn't connected to watching 'Dark Phoenix'..
Flashing white lights and the exit sign lit up in the theater and the movie was paused. A fire alarm was pulled in the middle of the screening! The theater had to be guided out like an actual emergency. Thankfully, though, it was a false alarm.
With chuckles aside, I went back to my seat to await the movie. Yet, once again, the flashing lights started up. Fifteen minutes later, all viewers in the theater were escorted to a different screening room due to technical issues.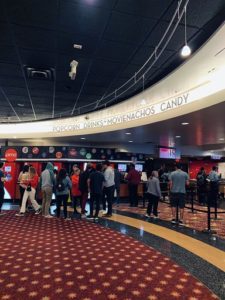 This was all so strange and so unlike any movie experience I have ever had. The audience and I were all very easy going with process, though. But, most of the audience had left, due to the wait of the movie . I noticed the crowd becoming smaller and used my scrappy instincts to get a better seat to finish out 'X-Men: Dark Phoenix" strong.
That's right! I made it smack dab in the center. As expected, the movie picked up right where it left off before the alarms went off.
Despite the interruptions we had and not being able to tell you exactly what happens but know that the ending does not disappoint!
Watching 'X-Men: Dark Phoenix' made my Monday night. Make sure to get your tickets and go see it when it officially hits theaters on Friday, June 7.