By Lauren Jbara
Ann Arbor, MI — It has been known that the Big Ten East title would come down to next Saturday's game against No. 10 Ohio State and No. 4 Michigan. But one week before that game, the Wolverines made sure today's match-up against Indiana would not spoil their playoff chances. They came out on top of the Hoosiers with a 31-20 win in front of over 100,000 fans.
Michigan was able to move the football in the first half but never had the push to get over the goal line. More than half of the Wolverines points rested in the hands (or feet) of true freshman Jake Moody, who found out seconds before the game he would get the start over Quinn Nordin. Moody was able to make history by setting a Michigan record with the most field goals converted in one game (six).
"It feels amazing. Everybody put me in position to do it," Moody admitted after the game. "Offense did really well marching down the field… I feel pretty good."
Michigan quarterback Shea Patterson smiled and nudged Moody during the press conference saying, "He's a sniper. He did a heck of a job."
The second half was a different story. The Wolverines were able to show how elite they were defensively despite many prominent injuries. Wolverines' defensive end Chase Winovich went down on a late hit in the third quarter.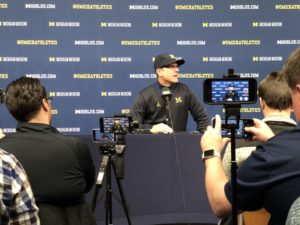 "Things are progressing well with Chase. X-rays were negative at the stadium. Took him to the hospital as well. (Tests) came out negative," shared Michigan's head coach Jim Harbaugh after the game.
However, Harbaugh did not say if Winovich would be available next week against Ohio State.
Midway through the fourth quarter, senior running back Berkley Edwards was carted off the field after a collision to the head and neck area.
"He looked good when he left the stadium," said Harbaugh. "He did have a pretty good size concussion. He was taken to the hospital for precautions. He's talking, responding and moving."
Although Michigan struggled in the red zone, Patterson ended the game throwing 16 of 28 for 250 yards and one touchdown. Michigan rushed for 257 total yards, 101 of them coming from Karan Higdon.
Following the win, redshirt Jared Wangler expressed his happiness to end senior night with a win and being a Wolverine.
https://www.instagram.com/p/BqTXh-6nBP5/
With senior night now over, the Wolverines are looking forward to its final regular season game against the Buckeyes next week.
"Everybody in the entire country knows what this week is so we're going to attack it," stated Rashan Gary after the game.
If Michigan beats Ohio State on Saturday, the Wolverines will face Northwestern in the Big Ten Championship. Should the Wolverines win that game, it is likely they earn a berth in the College Football Playoff.
Michigan heads to Columbus to face Ohio State next Saturday. That game is at noon on Fox.
Podcast: Play in new window | Download