Dallas, TX — After securing a three-game winning streak, the Dallas Mavericks (7-8) made it four in a row on Saturday night as they hosted the reigning champions, Golden State Warriors (12-5). Dallas won with a final score of, 112-109.
Although Stephen Curry and Draymond Green were out with injuries for Saturday's game, the Mavericks had to rely heavily on their starters and bench to play four quarters of tough defense and display efficient offensive scoring. Even without key players, Golden State still is loaded with offensive scoring power.
The Mavs managed to successfully capitalize on their physicality offensively and took a 25-22 first quarter lead. The Warriors would have a tough go in that first quarter as they turned the ball over six times and technical fouls were called on both Kevin Durant and head coach Steve Kerr.
Despite a slow start, Golden State looked to their bench to help maintain an offensive rhythm. The Warriors managed to take a seven-point lead in the second quarter when Damion Lee hit a three-pointer. Dallas would stay in the fight with Harrison Barnes and Dennis Smith Jr., as they pushed their way through the paint to draw fouls from Kevon Looney and Jonas Jerebko.
Even though Dallas put up its best efforts to contain the Warriors offensively, Golden State took a 59-57 lead going into halftime. Durant led the way with 18 points and Klay Thompson's 13 points. The Mavs were faced with a monumental task to play with poise in the second half to pull off a win.
After being down eight points in the fourth quarter, the Mavs held their ground as they contested shots and drove to the basket. Maxi Kleber's two blocked shots brought the crowd to their feet. Several "Luka" chants broke out, as Luka Doncic, who finished the game with 24 points, nine boards and four assists, became the rookie force that the Warriors could not stop. In addition, Smith Jr.'s pass in transition to Dorian Finney-Smith for a layup that brought the game to 107-106 with 1:45 to go, highlighted the trust this team is building.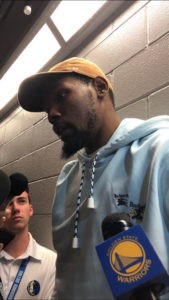 When the buzzer sounded, the Warriors had 24 assists to the Mavs 16. They also had out-rebounded and tallied more blocks than Dallas. However, the 112-109 score declared Dallas the winners of Saturday's game.
Considering the close battle between both teams throughout the game, coach Rick Carlisle commented on the battle down the stretch that was a victory in itself.
"When you play a great team like that, that can make a breathtaking play at virtually any moment, you have to hang in there and keep playing," he said. "When we went down six or seven in the second half, everybody on the bench kept encouraging each other. We got the crowd back into it with hard and unselfish play, and we found a way."
During the post-game presser, Doncic's team-high of 24 points also caught the attention of Durant and he had a lot of good things to say about the rookie.
"He's polished. He's skilled. You can tell he's already a played professional basketball, already," stated Durant. "They got a great guy in him to lead this franchise."
With this being their fourth consecutive win, the Mavericks have something to celebrate. This is the first time seeing Dallas play a complete game in terms of their overall togetherness and poise for all four quarters of a game this season.
The Dallas Mavericks will take on division leaders, Memphis Grizzlies, on Monday, Nov. 19. The Warriors will have to find their groove as they look to take on the San Antonio Spurs on Nov. 18.