Denver, CO — The fashion world made its way to Denver, Colorado Sunday evening for Denver Fashion Week. An entire week full of glitz and glam that showcases local and national designers.
Denver Fashion Week kicked off its first show of the week with local designers in Colorado. Local designers Toppings Designs, Rachel Marie Hurst and Steve Sells all took to the runway to show off their personal designs in Denver Fashion Week's first set of shows.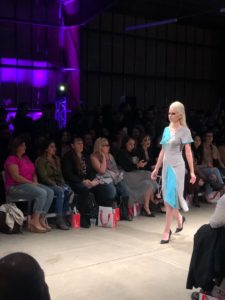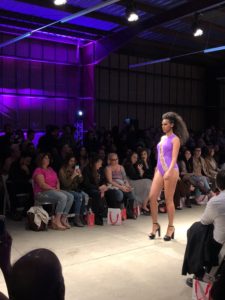 Toppings Designs opened the night with styles and colors that caught the eyes of the entire audience. Each model strutted down the runway in neon colored clothing with slicked back and high hairdos. The models looked fierce with intense makeup to match their bold attire. Designer Duane Topping is a retired US Army veteran who is using fashion to find the light in the darkness of PTSD.
"I found peace in the creative process, and if nothing else, it has taught me you don't have to dwell on labels and hide your true self," Topping said.
Preceding the end of Topping's Designs, the models all walked out with their designer, Duane, to give an important message:
"This is how we rise up!"
The next designer to make an appearance on the DFW runway was Rachel Marie Hurst. This designer came to the audience with a much different vision. Models were seen wearing pastel-colored, bubbly, soft and whimsical outfits. Rachel Marie Hurts' designs made the audience feel as though they were in a dream or fairytale.
Rachel Marie Hurst is publicly known for the style that is, "Feminist AF!" according to their Instagram page.
The final designer to make an appearance at the first night of Denver Fashion Week was Steve Sells Studio. This designer took the runway by storm with it's jungle-like, abstract, strong designs. An array of shapes, patterns, and colors proved to be a bold statement by the designer. Models were seen with slicked back hair and intense makeup which complimented their bold outfits.
One spectator raved about Sells' line and the excitement of seeing her friend model his work.
Models started with very plain patterned designs to begin their portion of the show, but as the music became more intense, so did the outfits. Steve Sells Studio had a story to tell, and it was laid out for us on the runway.
No one individual outfit told a story. However, following the sequence of outfits that made an appearance on the runway, there was a statement being made.
Although they were all unique in their own ways, Steve Sells Studio was arguably one of the strongest competitors to make an appearance this evening.
Denver Fashion Week will continue throughout the week with model workshops, but the next show will take place on Thursday, Nov. 8th, with a Street Style Fashion Show.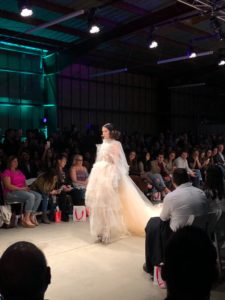 Podcast: Play in new window | Download