Welcome to November ladies and gentlemen!
Welcome to The Triple Double, and I can tell you right now…I'm going to be a little heated. But before I begin, I want to thank my senior editors for giving me this platform. This has been a joy to be able to speak my mind, and it has also been a source of catharsis. This last week was one of the most emotional weeks of my life, and I almost didn't write this column. But with some kind words and inspiration, I decided that I needed to move forward and do something that gives me peace of mind: writing.
Hope you got your cleats on because we're about to dig in.
1) MARYLAND DESERVED EVERYTHING THAT HAPPENED THIS PAST WEEK
The University of Maryland fired head football coach DJ Durkin on Wednesday, just one day after reinstating him after an "investigation" into allegations of misconduct among his staff.
But before you go congratulating them for doing the "right" thing, this wasn't their choice. Nor was it their initial plan.
(If you're interested in the timeline of events that led to this, it is laid out in chronological order here.)
On May 29, 19-year-old Jordan McNair was hospitalized after suffering from a heat stroke and exhaustion during a team workout. He died on June 13, which led to internal investigations into McNair's death and allegations of a toxic culture, fronted by Durkin and head strength and conditioning coach Rick Court. As a result, two staff members were placed on administrative leave, followed by Court and then Durkin in early August.
In that time, Court resigned and the school accepted full responsibility for McNair's death (as it should have). However, on Tuesday, the University System of Maryland (USM) Board of Regents announced that Durkin would be reinstated. Multiple reports came out that Loh was firmly against the decision, but would have been fired if he did not reinstate him. In the same news conference, Loh announced that he would be retiring as president at the end of the academic year. That same day, Durkin returned to a team meeting, where a group of players walked out in protest.
That led to a tweet from one of McNair's closest friends, Terrapins offensive lineman Ellis McKennie:
Every Saturday my teammates and I have to kneel before the memorial of our fallen teammate. Yet a group of people do not have the courage to hold anyone accountable for his death. If only they could have the courage that Jordan had. It's never the wrong time to do what's right. pic.twitter.com/AaZVmLGTtS

— Ellis McKennie (@ellismckennie) October 30, 2018
The decision, as one would expect, was met with widespread criticism from McNair's family, the Maryland student body (who planned to hold a rally in protest on Nov. 1) and Maryland Gov. Larry Hogan, who criticized board chairman James Brady. On Oct. 31, Loh, without consulting the board of regents, fired Durkin, who seemed to be surprised. To put the coffin in the nail, on Nov. 1, Brady announced he would be resigning from his post, effective immediately.
So here is where I'm scratching my head.
First…how in the holy hell did anyone in charge think that bringing Durkin back was a serious possibility? Durkin oversaw a culture of bullying and shaming, yet he's talking to the parents of high schoolers and promising them that he will take "good care" of them. He had a kid die ON HIS WATCH. There's no coming back from that.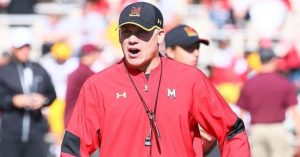 Second, while I understand Loh's position, he could have done the right thing the FIRST TIME and just fired Durkin. Sure, the board of regents would have fired him for that. But at the least, Loh's conscience would have been clear. It would have been up to the board to deal with the media nightmare that would have ensued as a result, and deservedly so.
Third, I have zero sympathies for Brady, or the board, or the athletic director. All of them chose a paycheck over a human life. I'm going to quote a Bible verse, and I think it's one that many would understand here:
1 Timothy 6:10: For the love of money is the root of all evil: which while some coveted after, they have erred from the faith, and pierced themselves through with many sorrows.
They were so concerned with having to pay Durkin $5.5 million (the amount owed per his buyout) that they were willing to let him remain the public face of their football team. They allowed him to go back to practice and stare at those young men, some who were close friends of McNair, right in the eyes and maintain his power trip.
As far as I'm concerned, if the reinstatement had held up, I wouldn't have faulted the Big Ten Conference if they had stepped in to condemn Maryland. Among the travesties that have occurred in college sports this season…this was the biggest.
2) WNBA PLAYERS GO ON FULL COURT PRESS
As I wrote in an earlier story last week, the WNBA Players Association opted out of their Collective Bargaining Agreement that was set to expire after the 2019 season.
For those who have been following the situation and aren't women's basketball fans, all they see is the surface: this is a money issue, and they don't pull in enough to justify getting paid as much as the men do.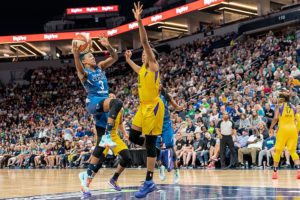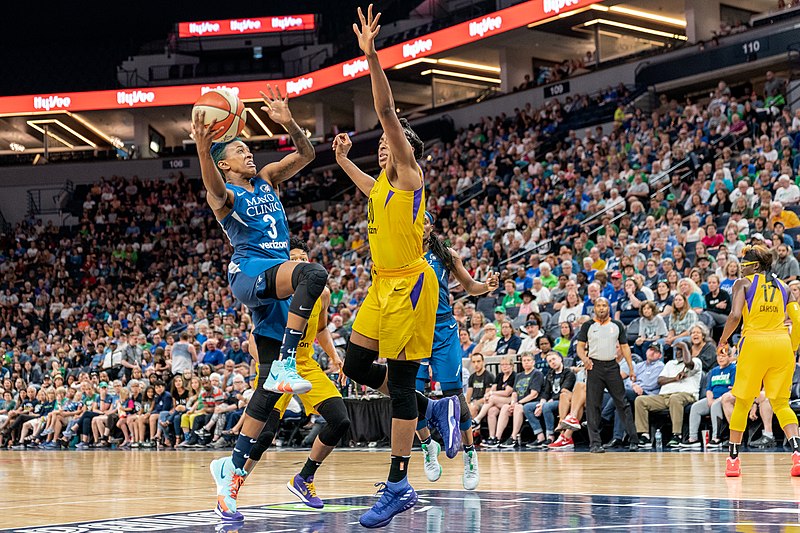 But for those who religiously follow the WNBA, they know what the real battle is about: the battle for a better league in the future.
As it stands, the players get close to 20 percent of the league's revenue. But it goes deeper than that. As Los Angeles Spark forward and player president Nneka Ogwumike will tell you, it's about transparency and a better quality of life.
In a Players' Tribune piece called "Bet on Women", Ogwumike laid out the difficulties behind the scenes.
"You probably don't know this, but as players, we never get to see the numbers. We don't know how the league is doing. As the kids say nowadays, we just want to see the receipts," Ogwumike wrote. "This is not purely about salaries. This is about small changes the league can make that will impact the players. This is about a six-foot-nine superstar taking a red-eye cross-country and having to sit in an economy seat instead of an exit row. Often with delays."
"Imagine the last time you took a red-eye business trip and you sat in the middle seat with your knees all cramped up, and how shook you were for that entire rest of the day. And now imagine that, after you land, you have to go out and compete against the best in the world that night."
NBA players travel on chartered flights, which unlike regular commercial flights allow them to stretch and relax. They also get a cut of their jersey sales; WNBA players do not.
Ogwumike made a greater point in another interview with Bleacher Report, where she mentioned the lack of investment from the league itself:
"What we're discussing and fighting for is a lot more intricate than simply pay us more. It's a lot deeper than that. It's infrastructural. Why is this so hard for people to understand? It's kind of business 101. You're not going to make money off a product that you don't invest in. We are the product. The W is the product. And the investment is not there."
Among the things that players are asking for are better marketing for both players and the teams (look no further than the league store and try to buy a jersey; you'll see their point), better travel conditions, and better scheduling. Last season, the leagues had to play a truncated schedule due to the FIBA World Cup; that meant the teams had to play 34 games in less than 100 days. As a result, four players suffered season-ending ACL injuries.
Granted, the WNBA does not make the same amount of revenue the NBA makes. That's fine, you can use that argument all you want. But in a time where attendance is increasing, the amount of marketing opportunities has increased (airing games on Twitter, first-ever video game appearance) and the competition is at an all-time high, there is no reason for not wanting to give the players a better standard of living.
3) CROWN JEWEL? HOW ABOUT CROWN BUST
I could go all day about how WWE is behind the times in regards to what the consumer wants, but this is more than just about that. This is a civil rights and financial issue.
If you weren't aware, the WWE has a 10-year deal with Saudi Arabia to host pay-per-views in the country, of which the WWE will receive between $20 million to $40 million a show. Now, that by itself isn't necessarily bad. From a financial standpoint, it makes sense.
But that isn't what we're harping about.
In the first PPV under the agreement, the "Greatest Royal Rumble" in April, no women were involved with the event due to the country's strict rules about women competing freely in sports. Considering that the current roster of female wrestlers is the deepest and most talented that WWE has ever had, they weren't even allowed to fly to the event. It wouldn't be a hard stretch to think that the backlash behind this decision was what prompted WWE to create the first-ever women's PPV, "Evolution", as a proper response (and honestly, while I loved the PPV, there was no real promotion or build-up for it, which led to a lackluster showing. That isn't fair to the women at all.)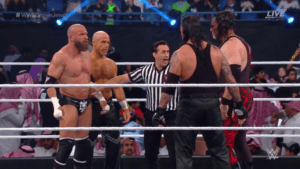 The second problem is where it hits home for journalists like myself. Former Washington Post contributor and writer Jamal Khashoggi was killed inside the Saudi Consulate in Istanbul in early October and over the weeks leading to Crown Jewel, multiple explanations were given before the Saudi government finally admitted that the murder was premeditated. What that tells me is that the Saudi Royal Kingdom does not welcome criticism. That smacks our First Amendment rights square in the face.
With a company like WWE that loves to toe the line with its promos (scripted or not), that they were still willing to do business with Saudi Arabia after the admission is beyond sketchy. And it wasn't just fans or government officials who spoke up about it. Two of the company's biggest talents, Daniel Bryan and John Cena, refused to wrestle at Crown Jewel over the optics of the crime. As a result, they were written off in separate storylines and replaced with Bobby Lashley and Samoa Joe, respectively.
To add insult to injury, the event itself was marred with matches and results that no one wanted. The "Heartbreak Kid" Shawn Michaels came out of an eight-year retirement to team up with his buddy Triple H to face The Undertaker (53 years old) and Kane (51 years old and currently the Mayor of Knox County in Tennessee). Brock Lesnar, a part-timer who is currently training for his UFC comeback, won the WWE Universal Championship against Braun Strowman, who is arguably the man right now with Roman Reigns battling leukemia.
WWE could have afforded to host this PPV elsewhere or cancel it altogether considering the extreme fan backlash and an overall lack of interest. That it continued despite that says one thing and one thing only: it's all about the money.
And that right there…is just a damn shame.
4) SHOUTOUTS TO SOME FELLOW FAMILY
Before I say goodbye, for now, I wanted to give a shout-out to a couple of fellow writers from The BallOut: Noah Alvarez and RJ Saunders. Both joined the publication during the early summer, and have been hustling non-stop since to give you guys great content.
Earlier in the week, Noah debuted his new column, called "Between the Hashes". RJ recently revamped his old podcast, now called "Off the Bench", and I tell you…both are straight fire. Please take a chance to check them both out when you have time.
Thank you for reading this edition of "The Triple Double" and until the next one, please do yourself a favor: hug your loved ones tight and always make time for them