Welcome to the first ever edition of the "Outside the Hashes" column.
I am excited to share my hot takes with you on topics that may or may not make you uncomfortable. October was one of the busiest sports months of the year as all five major professional sports were going on the in the United States (yes that includes MLS, don't @ me). Without further ado, let's get started.
1) Baseball's Newest Villain
There's a famous line in the movie Dark Knight that goes, "You either die a hero or you live long enough to see yourself become the villain."
Well, all-star infielder, Manny Machado became the ladder after quite an interesting postseason. And by interesting, I mean ugly.
Before this season, Machado had a small history of starting conflict out on the diamond. Remember the time in 2014 he threw his helmet at Josh Donaldson for tagging him too hard? But he played for a small market team in the Baltimore Orioles, so no one really paid much attention to it.
The talented third baseman was traded from Baltimore to the Los Angeles Dodgers at the deadline in 2018. The Dodgers were without their young star Corey Seager and wanted an all-star caliber player to fill that void. With Machado, the Dodgers wound up winning their division and taking care of the Atlanta Braves in the NLDS. However, trouble began to brew as the Dodgers faced off against Milwaukee in the NLCS.
In game two of the series, Machado was knocked for his lack of hustle on a simple groundout to short. He said in the press conference afterward, "I'm not that type of player to be 'Johnny Hustle' and run down the line and slide into first…that's not who I am."
Well, he must have had a change of heart in game three. The superstar was at first base in the bottom of the second when Cody Bellinger hit a tailor-made double-play ball to second base. The infielder made the throw to Brewers shortstop Orlando Arcia and Mr. 'I don't hustle' Machado comes in hot, reaching with his arms for the shortstop's legs as Arcia jumps out of the way unable to make a throw. No runner interference call was made.
However, just two innings later, Machado found himself again at first base with his teammate Bellinger hitting another ground ball that looked to be two outs. The incoming throw kept Arcia to the side of the bag, yet Machado ended up reaching one more time for the shortstop's leg and was called for runner interference this time.
Manny Machado has a second controversial slide and this time, upon review, umps decided he violated the new slide rules.

(via @MLBReplays)https://t.co/AzrItAwMpG

— Yahoo Sports MLB (@MLByahoosports) October 16, 2018
In game four, things got worse. After a ground ball hit to Arcia, Machado decided to drag his left foot and clip Jesus Aguilar's foot running pass the bag. Machado was out by a step and a half and the move upset Aguilar. He had some words for the shortstop and the benches cleared after the altercation. The Achilles is left vulnerable in plays like that, so teams don't take it too lightly when you clip the first baseman's foot.
Machado was back to his antics again in the World Series against the Red Sox, a team he has history against. In game four, Machado was up to bat and clipped catcher Christian Vasquez on his mask during his backswing. If that's any other player, we overlook that, but Machado has a history of doing that too. In fact, he did it again in the series during game five clipping Vasquez's mask again after he struck out. Not to forget, Machado also spiked soon-to-be series MVP Steve Pearce at first base after Rafael Devers made an incredible stop and throw from third.
If Machado backed up his cheap shots with his play, it'd be one thing, but the superstar had a miserable postseason hitting .218 and striking out 19 times. He went cold in the World Series and hit .182 against the Red Sox, proving not be worthy of what the Dodgers had to give up. Machado was set to receive a huge payday this offseason and he still might get it – but plenty of general managers are going to ponder if the theatrics are worth the on-field production.
2) The Clingy Ex that can't Accept a Breakup
Congratulations Minnesota, you played yourself.
Before the NBA season had started, star shooting guard Jimmy Butler had requested to be traded as it became apparent he was no longer happy with the Timberwolves. Instead of letting go and moving on, Minnesota jumped into a state of denial.
Minnesota shopped Butler around to other teams but they set an unrealistic price and teams quickly turned away. So Minnesota's front office hung on to the toxic relationship between them and their star player – so much so, they gave Butler the freedom to do what he wanted.
The shooting guard went on to call out darn near every player on the Timberwolves roster at a practice with ESPN reporters present on Oct. 10th, embarrassing the franchise showing they had little to no control of the situation.
Still, Minnesota decided to hold on.
Butler cooled off after that incident but went through the motions leading up to the opening weeks of the season. He appeared in all but one of the Timberwolves first seven games, but as of Oct. 31st, Butler had enough. Shams Charania of The Athletic reported that the shooting guard will sit out Wednesday's game against the Utah Jazz and could continue to sit as part of an "extended absence" to force Minnesota's hand.
At this point, if this does not help the Timberwolves move on from their start shooting guard I don't know what will. Butler has mentally checked out and no longer wants to be a part of the organization, while Minnesota scrambles to get a grip on the situation and hold on for as long as they can.
A lesson to all you young lovebirds reading this, do NOT be a Minnesota.
3) The 'Legion of BOO(s)ze?'
This title is a triple meaning. Since Halloween just passed, we have to get in the spirit here at the Ball Out (1)
Remember the Jacksonville Jaguars? Yes, the team that was a touchdown away from going to the Super Bowl last season. Well on Oct. 28th they had a game against the Philadelphia Eagles in London, but they made the national headlines the day before their game.
Four defensive players for the Jaguars were arrested on Saturday for failing to pay their tab at a local nightclub. Reports say that their bill was close to $64K and the players tried sneaking out until security caught them.
Now, I know what you are thinking. 'The Jaguars play in London all the time, the people over there love them.' Well, apparently London does not love them enough, hence why their defense could use a new nickname that is played on from the Seattle Seahawks old unit (2).
Remember the Jaguars? Yes, the team that was so close to beating the New England Patriots in last year's AFC championship. Well, they are now 3-5 in the 2018 season and became sellers at the trade deadline, sending off former first-round pick Dante Fowler Jr. to the Los Angeles Rams.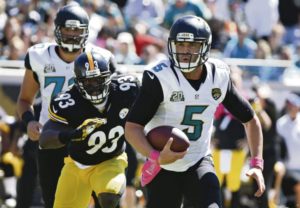 The Jaguars had one of the best defensive units last year and had the opportunity to upgrade their quarterback position this off-season. Kirk Cousins and Case Keenum were both free agents to go along with a talented quarterback draft class that featured Josh Rosen, Baker Mayfield, Lamar Jackson, and Sam Darnold. Instead, Jacksonville said Blake Bortles is our guy and we are going to give him a new contract.
Well, that turned out to be a mistake. Bortles is having an awful 2018 campaign and was benched for backup Cody Kessler in their Oct. 21st loss to the Houston Texans. Bortles has turned the ball over 14 times this year and that is deserving of a lot of boos from their fans. (3)
Thank you again for taking time out of your day to read this column.