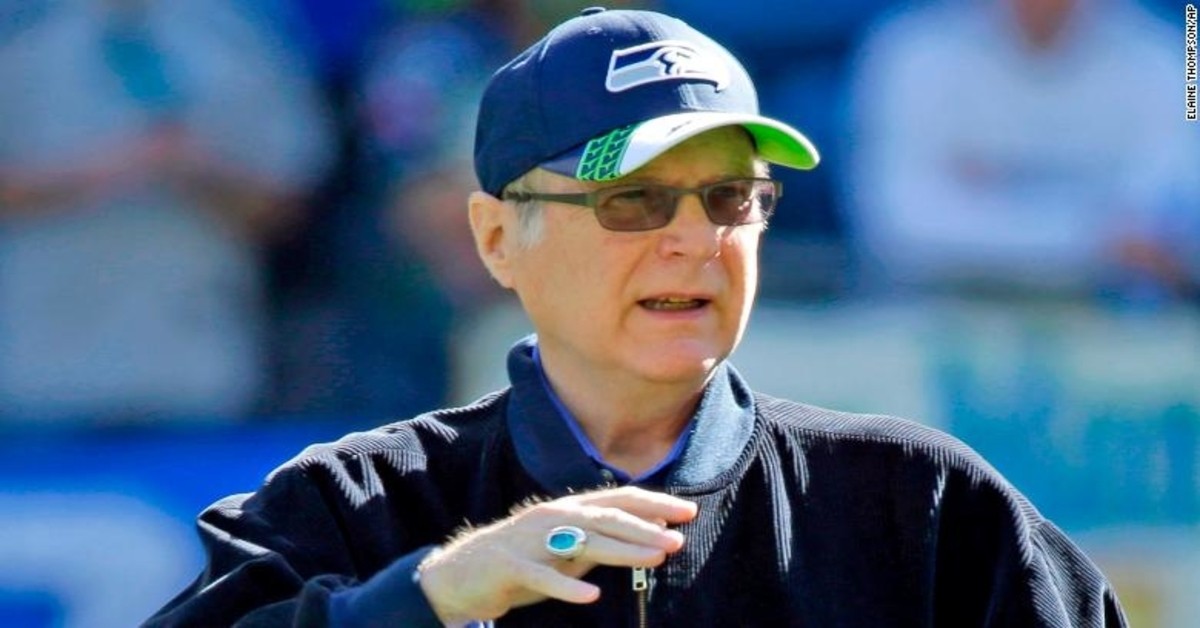 Paul Allen was the owner of three different professional sporting teams: Seattle Seahawks, Portland Trail Blazers and  Seattle Sounders FC (co-0wner). Allen also was the co-founded Microsoft with Bill Gates. His family announced today, he passed away at the age of 65 from complications from non-Hodgkins lymphoma.
"My brother was a remarkable individual on every level," Allen's sister Jody said in a statement. ""While most knew Paul Allen as a technologist and philanthropist, for us he was a much-loved brother and uncle, and an exceptional friend. Paul's family and friends were blessed to experience his wit, warmth, his generosity and deep concern. For all the demands on his schedule, there was always time for family and friends. At this time of loss and grief for us – and so many others – we are profoundly grateful for the care and concern he demonstrated every day.
Adam Silver, the NBA's commission stated the following on Allen's passing:
"Paul Allen was the ultimate trail blazer – in business, philanthropy and in sports.  As one of the longest-tenured owners in the NBA, Paul brought a sense of discovery and vision to every league matter large and small.  He was generous with his time on committee work, and his expertise helped lay the foundation for the league's growth internationally and our embrace of new technologies.  He was a valued voice who challenged assumptions and conventional wisdom and one we will deeply miss as we start a new season without him.  Our condolences go to his family, friends and the entire Trail Blazers organization."
Seattle was owned by Allen since 1997. It was through his ownership that the Seahawks were able to stay in Seattle. He had been with Portland since 1988. Earlier this month, Allen disclosed the disease had reappeared; he received treatment for it back in 2009.
Players from the Blazers and NFL echoed the same sentiments as Jody: Paul Allen was more than an owner.
We miss you.
We thank you.
We love you. pic.twitter.com/rxkn1IjJ0R

— Portland Trail Blazers (@trailblazers) October 15, 2018
Mr. Allen, thank you. A brilliant mind, a giving heart and an unforgettable legacy. Thoughts and prayers to your friends and family. May you Rest In Peace. It was an honor knowing you. pic.twitter.com/n8QL0r2W4W

— Meyers Leonard (@MeyersLeonard) October 15, 2018
Deeply saddened by the passing of @PaulGAllen. I'll miss him greatly. His gracious leadership and tremendous inspiration will never be forgotten.

The world is a better place because of Paul's passion, commitment, and selflessness. His legacy will live on forever.

— Pete Carroll (@PeteCarroll) October 15, 2018
Statement from Microsoft CEO Satya Nadella on the passing of Paul Allen: pic.twitter.com/1iLDLenLKz

— Microsoft (@Microsoft) October 15, 2018
The NFL's commission, Roger Goodell released the falling statement:
"His passion for the game, combined with his quiet determination, led to a model organization on and off the field. He worked tirelessly alongside our medical advisers to identify new ways to make the game safer and protect our players from unnecessary risk" Goodell said in a statement. Managing Editor of The Ball Out.