First, what a gutsy and tough performance by the Miami Heat to dismantle the Boston Celtics, 103-84, and become only the second team ever in NBA history to make it to the NBA Finals.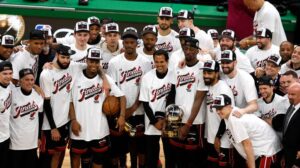 Jimmy Butler, who won the Larry Bird Eastern Conference Champions MVP, was a force of will — unlike Jaylen Brown — throughout the series and refused to let his team lose.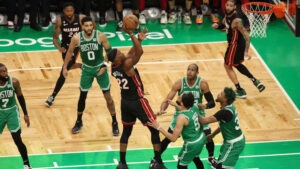 In spite of the win, Butler's tenacity shown the postgame conference:
"Nobody's satisfied. We haven't done anything," said Butler. "We don't play just to win the Eastern Conference. We play to win the whole thing."
"The confidence level he can create for everybody on the roster is incredible," Miami Heat head coach Erik Spoelstra said on Bulter. "He has a hard edge, and he's gnarly, but he knows how to have soft touch just to give someone some confidence at the right time."
However, the story of this game was how the Celtics — and most notably Jaylen Brown — crumbled, choked, and failed to meet the moment in tonight's Game 7.
A Disastrous Performance Not to Be Forgotten
This disastrous performance by Boston is not on head coach Joe Mazzulla and not on superstar Jayson Tatum (he turned his ankle on the first possession of the game and was clearly not himself); this was on every other starter not named Derrick White (who was the reason why tonight was a Game 7) — especially Jaylen Brown.
"We let the whole city down," said Brown. "I expected to win today and move on. That's what my focus was on. That's what my focus has been on. We failed. I failed. And it's hard to think about anything else right now, to be honest.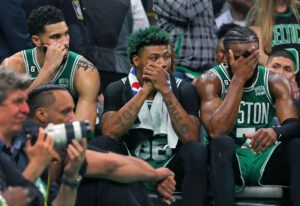 "Just a terrible game when my team needed me most. My team turned to me to make plays, etc., and I came up short. I failed. I give credit to Miami, but just a terrible job."
The Name That Echoes For Boston's Disappointment: JAYLEN BROWN!
Again, I will emphasize his name again: JAYLEN BROWN! With Celtics legends like Paul Pierce, Rajon Rondo, and Isaiah Thomas, one would surmise that there was no way a star like Jaylen Brown would not meet the moment, not him, right?
Let's discuss Brown. Tonight, he showed that he's not worth the supermax contract he's up to receiving by making 2nd team All-NBA. If you are that guy, or as the new popular term, "HIM," you find a way to outduel Caleb Martin from the Heat.
The Undrafted Rookie Who Outshone the Star
Yes, that's right, the undrafted rookie from Nevada was by far better than Jaylen Brown at TD Garden. Brown had eight turnovers; think about that for a second. EIGHT turnovers. That's careless basketball; there's no other way to dissect it.
But, if he plays up to his ability, with the raucous home crowd, the Celtics win easily tonight.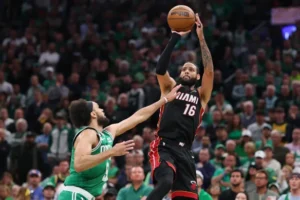 The Unforgivable Game 7 Stat
Think about this stat for a second. Jaylen Brown is only the fifth player since 1977-78 with 8+ turnovers in a Game 7. That's appalling, bad, and inexcusable for a player of his magnitude.
A Tale of Two Players: Caleb Martin vs. Jaylen Brown
Here's another fascinating stat. In this series: Caleb Martin scored 135 points on 88 shots, while Brown scored 133 points on 134 attempts; that's abysmal for Brown.
"As happy as I am, the job's not done," Martin said.
A Glimpse into the Celtics' Future: Trade Brown?
That's the million-dollar question! Do they run it back or do something different? After getting outclassed last year in the NBA Finals, albeit against the Golden State Warriors, and this epic disaster of losing to the No. 8-seed.
Remember, the Heat BARELY even made the playoffs after struggling in the play-in; Boston needs to shake up the roster and move on from Brown if they are going to build around Tatum.
Tatum was adamant after the game that he wanted one thing: keep Jaylen Brown in a Celtics uniform.
"It's extremely important."

Jayson Tatum on importance of Celtics keeping Jaylen Brown as he is up for a contract extension pic.twitter.com/NgMo6zP7FM

— Celtics on NBC Sports Boston (@NBCSCeltics) May 30, 2023
NBA Finals: Can the Heat upset the Nuggets?
Miami caught Boston off guard by taking advantage of every moment, while Boston didn't. But let's talk about Denver Nuggets; the antithesis of Boston in every way. They are much more focused, determined, and ambitious, taking no game or moment lightly.
They've only lost three games this playoffs, and in the Western Conference finals, they swept the Lakers. And with Nikola Jokic, potentially the best player in the league, and Jamal Murray (who is not Brown), a rising star who can single-handedly change the course of a game, the Nuggets are big and deep.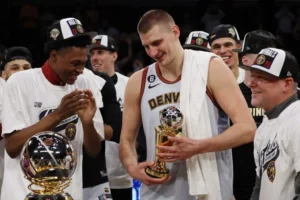 Furthermore, they have exceptional coaching, unlike the Celtics, at least for the time being. I believe Denver will beat Miami in five games