Wow, wow, wow! Derrick White!
I'll say it again, Derrick White!
A Jaw-Dropping Finish: Derrick White Saves the Day
In an unbelievable turn of events, White tipped in a layup with just 0.1 seconds left on the clock, lifting the Boston Celtics past the Miami Heat with a thrilling 104-103 victory.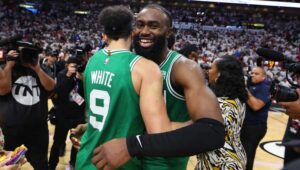 Even TNT's Ernie Johnson, during the postgame interview, couldn't believe what he had just witnessed. Neither could Celtics guard Jaylen Brown, who responded, "I don't, but we here."
Exactly, that's how I feel!
DERRICK WHITE SENDS THE EAST FINALS BACK TO BOSTON FOR GAME 7!

HE WINS IT FOR THE CELTICS AT THE BUZZER 🚨#TissotBuzzerBeater | #TimingEmotions pic.twitter.com/ybUb5CT6l1

— NBA (@NBA) May 28, 2023
A Wild Ride: Boston's Rollercoaster Second Half
After taking multiple double-digit leads in the second half, the Celtics allowed the Heat to come back every time, and it almost ended up being fatal.
The final sequence began with Jimmy Butler, who had been struggling throughout the game, getting fouled by Al Horford for what initially looked like a two-point shot.
However, things quickly went from normal to wild when Celtics head coach Joe Mazzualla challenged the foul call, only for the referees to change the free throws from two to three after realizing Butler was behind the three-point line.
The Unimaginable Happens
With only three seconds left, White struggled to find an open teammate to inbound the ball to.
Jayson Tatum was smothered by Butler and Max Strus, while Jaylen Brown was also well-covered. Finally, White inbounded the ball to Marcus Smart, who attempted a turnaround three.
Although it looked like a bad shot, it was actually genius, as it left just enough time for White to follow up and tip the ball in with only 0.1 seconds left on the clock. Even Brown admitted, "At that point, I'm in full prayer mode."
Playoff Jimmy and Bam Adebayo Fall Short
Despite Butler's clutch plays in the fourth quarter, his reluctance to force his will upon the game, combined with Adebayo's passiveness, allowed Boston to push the series to a Game 7.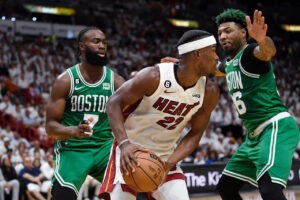 Heat head coach Erik Spoelstra expressed determination for the upcoming showdown, stating, "At this time right now, I don't know how we're going to get this done, but we're going to go up there and get it done."
Looking Ahead: A Game 7 Showdown
White's miraculous last-second tip-in not only shocked the Miami Heat and even his own teammates but also set the stage for an epic Game 7 showdown. The Celtics have all the momentum since Game 3.
With both teams hungry and desperate for a trip to the NBA Finals, it's anyone's guess who will come out on top. As Celtics fans revel in their team's unbelievable win, the anticipation for the decisive match continues to build.
Prediction
I believe the Boston Celtics are going to make history and be the first team in NBA history to come back from 0-3 down to win the series!