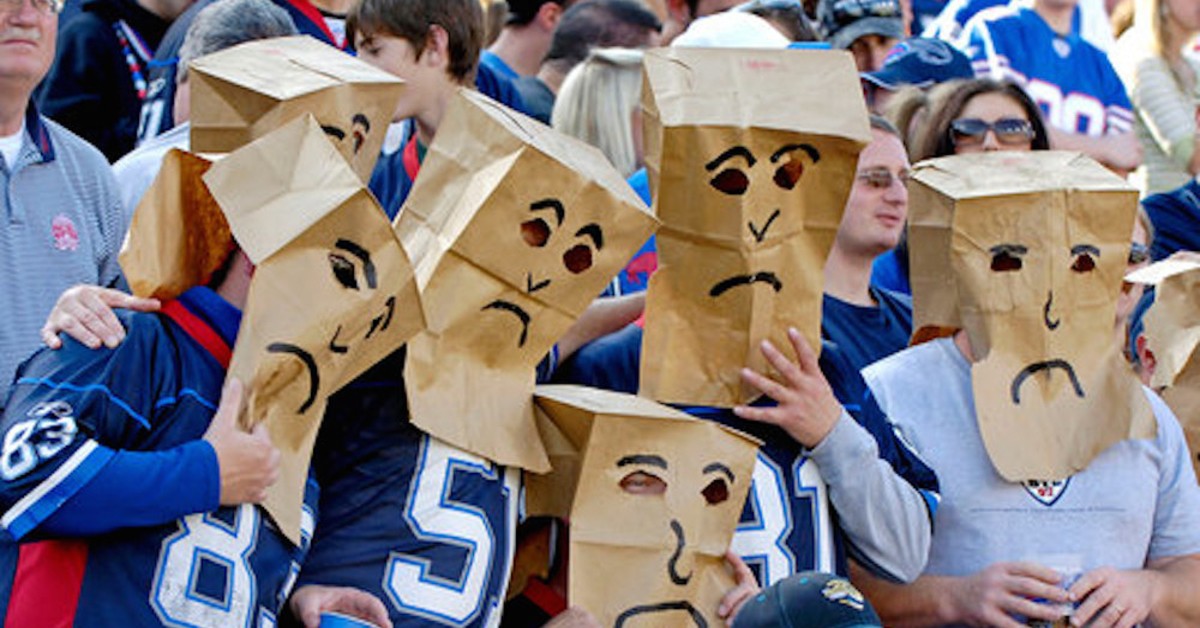 Ladies and gentlemen welcome back to the "Triple Double"!
It feels like forever since I've had a chance to interact with you, but so much has gone on over the last week in sports that it was time to get back to work. And I have to begin with possibly the most embarrassing sports moment ever.
your 2018 buffalo bills! https://t.co/582Mhx0chh

— bomani (@bomani_jones) September 16, 2018
1) WELCOME TO YOUR NIGHTMARE, BUFFALO
Congratulations are in order for the city of Cleveland, Ohio.
You are no longer the most miserable sports town in America, though you're not completely off the hook. The city of Buffalo, New York get the honor of sharing that award with you.
You had an NBA team (the Buffalo Braves) for eight seasons, and most of that era was marred by low turnout, coaching overhaul (sounds familiar Sacramento Kings fans?) and an owner whose main rival was Canisius College (trust me, you'll want to read this story). Ultimately, the team moved to San Diego for six years before becoming the now-Los Angeles Clippers.
Then, you have the Buffalo Sabres. Their last division title was in 2010, the last conference championship was in 1999, and they have lost both their appearances in the Stanley Cup Finals (1975, 1999). As it currently stands, they are one of 10 active NHL teams that have never won a Stanley Cup. And that wouldn't be so bad…except seven of those teams are less than 30 years old (Atlanta/Winnipeg, Columbus, Florida, Minnesota, Nashville, Phoenix, and San Jose).
And last but not least, you have the long-suffering Buffalo Bills. For starters, they are the only team in NFL history to lose four consecutive Super Bowls, a fate so insane that POLITICO wrote a very articulate piece on how it is tied to the Oklahoma City bombing of 1995. It gets better.
Last season, the Bills became the last North American professional sports team (we're talking MLB, NBA, NFL, and NHL) to make the playoffs in the 21st century…a 17-year streak that ended in a 10-3 smacking by the Jacksonville Jaguars. But wait, there's more. They couldn't be content with the team that helped break the streak, so they went and imploded from the inside out.
Tyrod Taylor? Gone. The entire offensive line? Gone for various reasons. In the draft, the Bills moved up five spots in the first round to draft Josh Allen, a guy who only completed 56 percent of his passes at Wyoming and was named honorable mention in the Mountain West Conference. With more polished options such as Josh Rosen and Lamar Jackson still on the board, they still felt Allen was the more NFL-ready prospect.
They signed AJ McCarron in free agency only to trade him to the Oakland Raiders, which left them with Nathan Peterman…a second-year quarterback who threw five interceptions in the first half against California's laughingstock, the Los Angeles Chargers (as a Chargers fan, I can attest that we are the team that everyone makes fun of).
The Bills, not wanting to throw Allen to the wolves completely, decided to start Peterman in Week One against the Baltimore Ravens because that was such a great idea. Peterman decided to reward the Bills' good faith with a 0.0 quarterback rating, the first starter in three years to pull off such a feat. This left no choice but to start Allen in Week Two. But this isn't even the worse of it.
In the middle of Sunday's 31-20 loss to the Chargers, this happened:
Very UNIQUE #Breaking news: @buffalobills' @vontaedavis RETIRES at halftime of game after pulling himself out #WOW #BILLS #NFL

— The Ball Out (@theballoutmedia) September 16, 2018
Yes, you read this right: Vontae Davis, a 10-year veteran who just signed with Buffalo in February, retired in the middle of the game.
While his reasons for retiring were understandable (health, mentality), it is unprecedented for any athlete to just retire in the middle of a game. And while his statement said one thing, the underlying overtone can't be dismissed: Davis didn't want to waste what was left of his career on a sorry team. And honestly, looking at the rebuilding this team is going through and their schedule (I see maybe one winnable game, and even that is looking doubtful), I'd be skeptical about suiting up for the Bills, too.
To all the Buffalo sports fans, this is going to be a long year. I hope you have your coat.
2) CLEVELAND'S GONNA CLEVELAND
Don't worry, Cleveland Browns fans. This column wasn't going to end without showing some love for you. Or was it?
After showing signs of hope in the offseason, the Cleveland Browns started the 2018 season with a 21-21 tie against the Pittsburgh Steelers, a game that could have gone either way to be fair. And to be honest, this was actually a moral victory for them: the tie put them at their best start since the 2004 season, and it was the first time since Week Nine of the 2015 season that they didn't have the worst record in the league.
But then there was Sunday. The Browns were up 12-3 with 6:43 left in the third quarter when kicker Zane Gonzalez caught a case of the wobbly foot. The first miss was an extra-point attempt after a Carlos Hyde touchdown. The second miss came early in the fourth quarter when he missed a 44-yard attempt to put Cleveland up 12.
As head coach Hue Jackson said after the game, he didn't see anything unusual with Gonzalez's demeanor going into the game that would cause such a hiccup.
"Kicked well in practice," Jackson said. "Didn't make them in the game. I didn't see down. Zane's a competitor. I didn't feel like he was down, but here it is, you've got to make the kicks. We all know that. He knows that."
The hiccups didn't end there, however. After the Saints scored 15 straight unanswered points to take an 18-12 lead, the Browns scored on an Antonio Calloway touchdown catch with 1:16 left in the game. But Gonzalez, with a chance to put the Browns ahead, missed wide left.
The last miss, though, had to be the worst of them all. The Browns, with 21 seconds left and down three, managed to march all the way up the field from their own 25-yard line to the Saints' 34-yard line. Jackson decided to try his luck with Gonzalez…from 52 yards out. Gonzalez missed wide right, and the Saints escaped with a 21-18 win.
The Browns attempted to contact former Dallas Cowboys kicker Dan Bailey for their kicker position, but even he didn't want anything to do with the team. Bailey ultimately signed with the Minnesota Vikings this morning. To add salt to the already gaping wound, the Browns traded embattled wide receiver Josh Gordon to the New England Patriots earlier today after he injured his hamstring in a promotional photo shoot.
The team had at least four years where they had could have cut their losses with Gordon for much more serious reasons (he was banned from the NFL for two full seasons due to multiple violations of the substance abuse policy), but they decided that a hamstring injury was the last straw. Really? It's public record that Gordon is an addict, there's no secret there. But it's also known that when he is engaged and focused, Gordon has the God-given ability to be a complete game-changer on the field.
That being said, the Browns enabled him in a way to continue his behavior for a majority of his career. Had they acted sooner, this could have spurred him to get his life together sooner. And now, he has been traded to a team that is well-known for reclamation projects. If Gordon is able to fall in line with "the Patriot Way" and stay on top of his game, then the 2019 fifth-round pick they gave away for him will be well worth it. Then Cleveland fans will again be scratching their heads asking where they went wrong.
The Cleveland Browns made too much headway in the off-season to be as bad as they are showing now. For the sake of their fans, I do hope that the team does better. But I can almost assure that no matter the outcome at the end of the season, Hue Jackson will be gone. And then there will be more roster overhaul. Cleveland fans deserve better.
3) WHY AREN'T YOU WATCHING THE WNBA?
I'm just going to put this out there now, and you can come into my Twitter mentions later if you want:
If you're not watching the WNBA, you are a hater. Period. It's not even a question if you are a so-called basketball fan.
Through June, the WNBA had seen a 36 percent increase in viewership in adults age 18 to 49, a 29 percent jump in men in that age group and a 50 percent increase in women.  The WNBA Finals did just as well this year, as it was up 30 percent in ratings and 20 percent in viewership from last season's finals. The Game Three series finale was the most-watched Game Three in four years.
Look at it from this perspective as well: while the league is still fairly small with 12 teams, parity is growing. You have a team in Las Vegas that has a future legend-in-the-making in A'ja Wilson. You have the champion Seattle Storm, which is going to be scary for years to come with their foundation of MVP Breanna Stewart and Jewell Loyd.
And last but not least, we saw the Washington Mystics (who played their first season in 1999, the same year the Buffalo Bills lost in the "Music City Miracle" make their first-ever Finals appearance. With Elena Delle Donne and Kristi Toliver as their one-two punch, this shouldn't be their last appearance, either.
The increased marketing (an exclusive deal with Twitter to air games through 2019 and their first-ever appearance in a video game with NBA Live 18) has opened doors to a league that had been struggling since its inception to gain traction with viewers. And it shows as the talent level is increasing along with the entertainment value.
While it still has a long way to go before it catches up with the "Big Four" of sports, the WNBA is making strides towards becoming a serious alternative for those who miss basketball during the summer.
If you're a purist basketball fan and you appreciate a team-first approach, the WNBA is the perfect sport for you. While they have their individual stars (Delle Donne, Wilson, Candace Parker, Maya Moore, etc.), the league as a whole is driven by team success. There is no emphasis put on one singular player as much as it is on teams as a whole, as can be attested with the Los Angeles Sparks and Minnesota Lynx during their epic rivalries in the 2016 and 2017 WNBA Finals.
If you like seeing history in the making, don't worry, the league has you covered as well. At least five WNBA records were tied or broken this season, though none were as impressive as the show that Dallas Wings center Liz Cambage put on in July. In a 104-87 whooping of the New York Liberty on July 17, Cambage broke the all-time single-season record for points scored in a game with 53. But the most impressive part of that: she went 17-of-22 from the field (including 4-of-5 from three-point range) and also had 10 rebounds and five blocks. You don't see that often, even in the NBA.
So, I leave you with this final statement, and I say this with the utmost respect.
To quote my favorite sports writer, Bomani Jones, "listen to me now, believe me later on."
Stop being a hater and start watching the WNBA. You'll appreciate basketball a lot more. Before joining The Ball Out, Chris Bullock was part of SB Nation's Swish Appeal for nearly three years, covering everything women's basketball. Chris has had the honor of doing live coverage of the WNBA Finals, the NCAA Tournament, and also was given his own column, "The Triple Double". A self-described "foodaholic", Chris lives in the San Diego area with his wife and two daughters, and also hosts his own podcast, "Conscious Cravings", where he speaks about his experience as a mental health advocate.