Kansas City, KS — Where there is smoke, there is flavor. The World Series of BBQ at the Kansas Speedway provided an endless amount of flavor.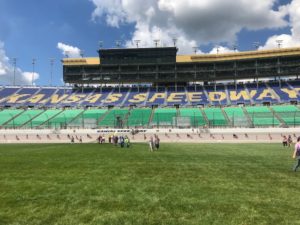 If you thought you have had the best BBQ food in your life, then you might be mistaken. Because the food at this event was out of this world.
People showed up nights before the event in their RVs to get themselves prepared for the competition. Contestants from all over the world including Australia, London, and even Holland, came to show off their grilling skills. Cooking anything from pork, chicken, ribs, and even dessert. Yum!
While at the event, I had the lovely pleasure of getting some behind the scenes action of what it takes to make some of the best BBQ there is known to man.
Myron Mixon, one of the world's best BBQ chefs, attended this event and allowed me to see his process of how he preps his meat. It was quite possibly one of the coolest experiences I have ever had.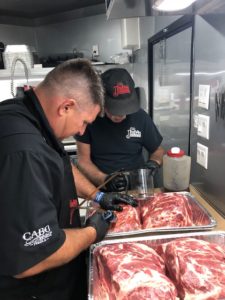 Other celebrities, such as Chris Lilly, Kelly Wertz, and Tuffy Stone attended this big grill off event.
Throughout the day, judges tasted food from thousands of restaurants around the world. The judges tried to choose their favorites in hopes of crowning a Grand Champion.
After a long weekend of great tasting food, the winner of the 2018 World Series of BBQ was Bunch of Swines from London. They would be the World Series of BBQ's first international winner to ever be crowned the grand champion. That's crazy!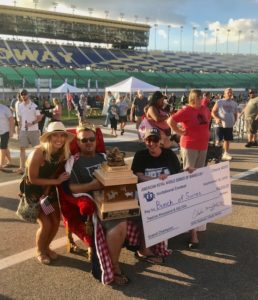 They won $12,000 and a big trophy to showcase in their restaurant.
Once the event is over, the community takes the leftover meat and donates it to the homeless shelters in the area. They try to donate at least 25 pounds worth of protein every single year to the shelters.
Who would have thought that I would have witnessed history being made when attending this event? Surely enough, you'll be surprised in the best way possible when attending an event like this.
Not only is this event a big deal nationwide, where thousands come together for some great food, but it's an amazing community to be a part of. The volunteers that helped put this together made sure every single person felt like family.
So next time you find yourself craving BBQ food, make sure you head down to Kansas. If you like eating as much as you possibly can, listening to live music, and meeting some of the world's biggest celebrity chefs, then this is the place for you!