There will be a lot of first this in this year's Super Bowl.
For starters, we'll have a first time Super Bowl champion among the starting quarterbacks, who will introduce the new era of play callers in the league. Also, we'll have a team winning their first championship in quite some time. It's crazy to think about. Yet, it's what makes football such a unique sport.
Both teams, the San Francisco 49ers and Kansas City Chiefs, are tough match-ups, however, stack up against each other very well. We'll go through what makes each team special and what they need to do to win the ballgame against their adversaries.
San Francisco 49ers Offense: Running, running and more running
San Francisco is a team that is very committed to their run game for one simple reason… they're very good at it. In their conference championship game against Green Bay they were so unstoppable with the run, quarterback Jimmy Garoppolo only had to throw the ball eight times in the contest. Coach Kyle Shanahan has done a great job utilizing the weapons he has in the ground game.
In their last two games, the 49ers have ran the ball for over 180 yards . This season they've ranked second in rush attempts (498) and yards per (144.1). This is being led by their backfield stud Raheem Mostert, who has been on a clinic in these playoffs and had a breakout game against the Packers (29 carries, 220 yards, four touchdowns).
If San Francisco wants to win the Super Bowl, they're going to have to continue with the game plan of running the football — if that's what Kansas City is willing to give them. However, there's a strong doubt about that.
Kansas City Chiefs Defense: No Running in the Hallway
The Chiefs has been a team in these playoffs that have stopped the run rather well. In addition, have to be confident about being able to stop Mostert in his tracks, because they put the clamps on a guy who was probably the league's most unstoppable force in the backfield this season in Derrick Henry.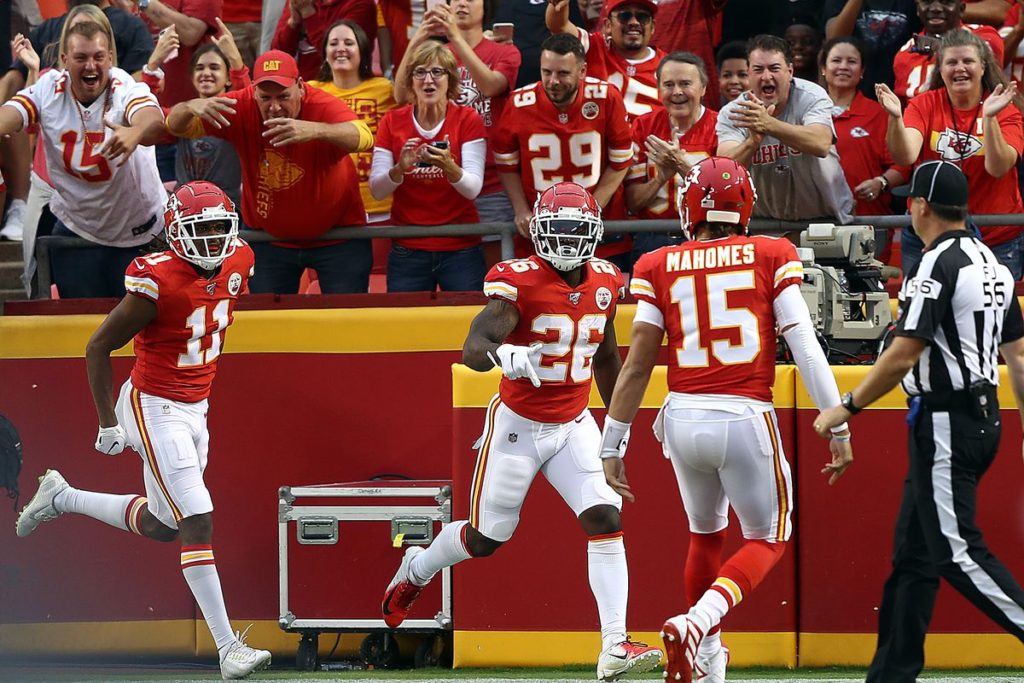 Kansas City in the last two games leading up to the Super Bowl, have only given up 89.5 rushing yards per game. This season, they allowed 128.2 yards per game. This is a team isn't going to allow you to just run the football. We rave about the San Francisco defense and rightfully so. They're very good. However, this Kansas City team can make things difficult on their opponents as well. If they stop the run, that puts the ball in Garoppolo's hands and leaves him making the decisions.
Win for the Chiefs right? Well, it depends on how you look at it.
San Francisco 49ers Offense: We're Due
Here lies an interesting stat: There have been seven games this season where San Francisco's quarterback has thrown for over 250 yards. In those seven games… San Francisco is undefeated.
Now this could come as a blessing to some if your a 49ers fan much in large part because Garoppolo and tight end George Kittle are both due for big games in these playoffs. In the two playoff games this man has played, he's only caught four balls for a grand total of 35 yards. So you feel that he is due.
In addition, with guys like Debbo Samuel and Emmanuel Sanders also on your squad, you have the pieces to where if the Chiefs stop the run, you trust your quarterback to make the plays.
Yet, there's a problem here.
Kansas City Chiefs Defense: Bring the Heat to Miami
The Chiefs when it comes to pass defense are a tough out. They are eight in the league in yards per game and had 16 interceptions on the season, which is good for 15th in the NFL. So, guys like Daniel Sorensen, Tyrann Mathieu, Charvarius Ward and Bashaud Breeland, they don't give up to many plays.
Here will be something to keep an eye on if Kansas City does this: Pressure.
They ranked 26th in the league in pressure and 11th in sacks. Where does Garoppolo struggle? Being put under pressure. The man has a passer rating of 102. Yet, when put under pressure, that drops down to about a 68… significant drop off. If you're able to put pressure on him, get around an offensive line who was ranked around the middle of the pack this season, cut off the passing options, Frank Clark will be at the dining area ready to eat during the Super Bowl.
Clark has recorded six sacks in his last four games and you know he wants more. In addition, this is a Kansas City squad that ranks 11th in the NFL in terms of sacks. Getting to the Quarterback has to be an important thing marked on the scouting report for Kansas City.
Now let's flip the record over and play the other side
Kansas City Offense: Take Us Home, Mahomes
We're witnessing a guy in Patrick Mahomes, who's probably the guy that will hold the torch as the league's best quarterback for the next 7-10 years. He's been nothing short of spectacular.
In this postseason, Mahomes has yet to throw an interception. Much of that is because he has a nice offensive line protecting him and are tied for third in terms of fewest sacks allowed. This will be beneficial to him because unlike the Chiefs defense, San Francisco's defensive line doesn't apply pressure all that much.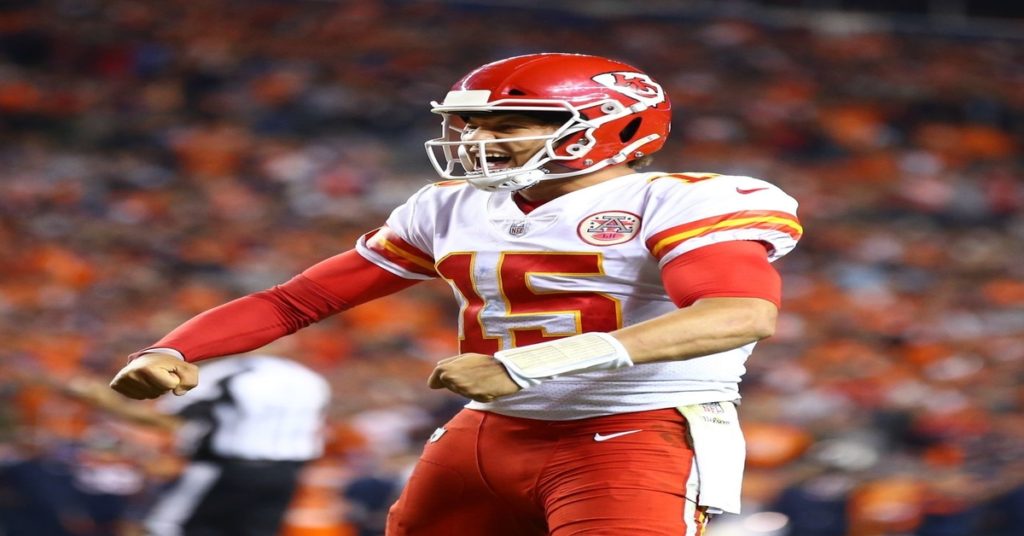 Another great thing that Kansas City has been able to accomplish is third down conversions. As a team they complete 47.6 percent of their third downs which is a league best.
In addition it's great to have the track stars, I mean, wide receivers that he's been blessed to have. Tyreke Hill, Sammy Watkins, Travis Kelce, Damien Williams, etc. Mahomes has a litany of guys at his disposal.
But… if there's one thing he can't forget, it's that he's facing the number one defense in the National Football League.
San Francisco Defense: Stop the Big Plays
Mahomes has been raved about and for good reason. However, this 49ers defense is something to behold. They have four first rounders on that defensive line. Making it hard for teams to shift in protection because if you go one way, you're now opening the gap for someone else to get in. So pick your poison.
This defense against Green Bay sacked the quarterback three times. They are tied for the 5th most sacks in 2019. That stat tells you they get to the quarterback and don't need to pressure often to do it. In addition, they're also great at stopping what the Chiefs are great at doing, third down plays. They ranked 3rd in the NFL in third down defense.
That's just their front lines. That secondary is magnificent. In addition, they of course are led by Richard Sherman.
This is a defense that is going to have to shorten the game as far as yards go for the Chiefs. They don't need anyone telling them that because they already do that. This is a defense that only allow 169 yards per game on the pass. Kansas City loves to pass and make big plays. If San Francisco plays their cards right, which you don't doubt them, they will shut all that down.
They're number one in not giving up plays that go for 20-plus yards. It just doesn't happen with this ball club. And that speaks volumes cause they allow the fewest yards to opponents tight ends, they allow the second fewest to running backs and they allow the fourth fewest to receivers. You aren't going to just pass all over the place on this team.
So, if they look to be successful, they're going to have to make Mahomes uncomfortable. They can't let him run though because he will. No, he's not Russell Wilson or Lamar Jackson. But he has had four games with over 50 rush yards. That extends plays. You don't want that if you're San Francisco.
What can we expect?
Both teams can put points on the board if you allow them to, yet I find this to be a tough decision as to who will win the Super Bowl. These two teams stop what the other can do as a secondary plan. The only thing they're similar in is that both are horrible in the red zone.
San Francisco can't stop people from scoring in their red zone and Kansas City isn't the best red zone scoring team. Will the Super Bowl be a defensive battle? Don't expect it to be. However, this will definitely be a game of who slows down who first.
For me… I think Kansas City will just be a little too much for San Francisco. I feel that this will be a good game. However, one team will show their hand at the wrong time and the Niners will be that squad.
Final of Super Bowl
Kansas City 35
San Francisco 31