Jacksonville, FL — Jacksonville Jaguars' wide receiver Chris Conley and cornerback Jalen Ramsey got into a bit of an altercation, which ended with both of them on the ground.
The fight lasted for only a couple of seconds before both were separated. But it seemed that as temperatures continue to elevate in Jacksonville, so did the tempers.
"It's really hot," said Jaguars offensive lineman Will Richardson Jr. after practice. "That's when tensions start to flare, we get to talking and it leads to a little bit extra sometimes. But at the end of the day, we're just out here to get each other better and just know that it might get a little talkative, but we never let it get to that extra point."
However, when you think about it, "fight" that many saw, is the "fight" that fans want to see from their team this season — not only in training camp. Something head coach Doug Marrone plans on giving the fans as they continue to support this team.
"We hope that we can get that support," he said. "We know that we have to earn it. The people in this town are awesome. We are going to [do] everything that we can to give them what they deserve."
The Jaguars season is going to come down to one key word: Consistency.
Today, the Jaguars had a good showing today at practice. When you have both sides of the ball giving great energy, Richardson believes it only helps the team in the long run.
"Everyday we're trying to make each other better," Richardson said. "Try to compete and keep the competition at a high level, so therefore when we go out and play against these good teams, we allow ourselves to play at that up-tempo going against each other."
Now here's where the inconsistency hit. During 7-on-7 and for a few plays during 11-on-11 drills, Nick Foles looked great and was slicing up the defense. You could then see the defense have this feeling of, he's not completing another pass.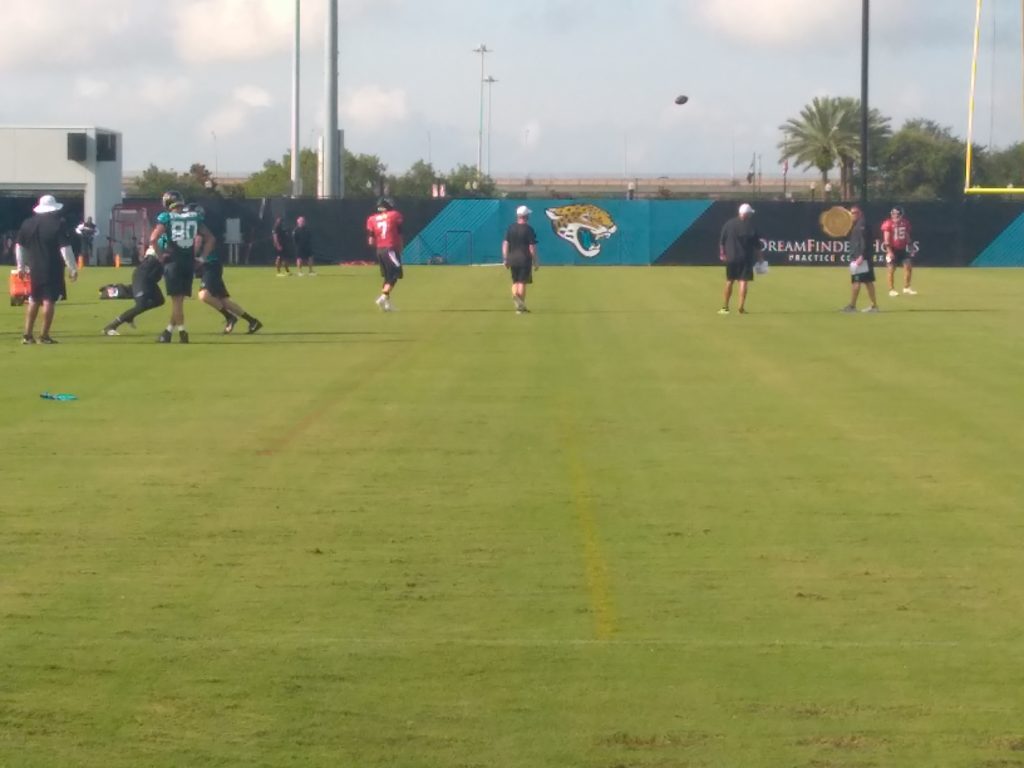 Once the defense turned it up, Foles couldn't complete as many passes as he did to begin practice. The defense is looking in great shape right now. It's just the offense that needs to work on the consistency. They look ok, but there are still questions lingering.
It seems that many of the first string guys are not going to play this upcoming preseason game against the Eagles. However, Marrone did touch on the fact that the starters may suit up for the game next Thursday against the Dolphins, so that he can implement the schedule that he does during the year with his players.
"The players come in at a certain time, the reps are going to be exactly what we're going to do during the year," he said. "It's a run. So if there's any issues, we can clean those up."
That's where the consistency will play a big part. The reps that these players get during practice and in preseason. Mindset plays a role too. And you have to love that after practice defensive ends Calais Campbell and Josh Allen stayed late to work on pass-rushing moves.
In addition, running back Leonard Fournette's maturity is phenomenal. In addition, he had a great day in the reps he got rushing the football. Richardson couldn't be more happy with the leadership Fournette is showing.
"[He's] willing to step up and talk and admit that last year wasn't his best," he stated. "This year he's about to change things around and he's right here with us by our side."
Without question the guys who are going to be the bread and butter of this offense is Fournette and Foles. It's been said that to have a successful season you need a a good running back, a good quarterback and a good offensive line. Many question the line, however, Richardson believes that the line is ready to push the team through.
"Our coach preaches that our quarterback is the man of the show, the running back is going to carry us and we are going to lead them," he said. "They carry us and take us all the way but they don't have their foundation without us. We think of ourselves as the foundation of the offense."
Podcast: Play in new window | Download