Good morning and a belated Merry Christmas to all of you!
Before starting this week's Triple Double column, I want to give a special thank you to the editor-in-chief and founder of The Ball Out, Mike Robinson. We go back now about three and a half years, when he recruited me to write for SB Nation's Swish Appeal. He has been a steadfast believer in me and my abilities, and I am thankful that he brought me in with his team to The Ball Out.
I also want to give a shout out to you, the readers and followers of this column and our website. It's been a great ride since this started in March, and I look forward to sharing more awesome columns with you in 2019. That being said, let's begin!
THE NEW YORK JETS AND JIM HARBAUGH?
The New York Jets have suffered their third straight season of double-digit losses, and it wouldn't be a surprise if head coach Todd Bowles paid for that with his job.
And now, with the season wrapping up, reports are running rampant that the Jets are interested in none other than University of Michigan head coach Jim Harbaugh. Of course, the team is firmly denying it:
That's exactly what you expect a team to say when they aren't trying to make it an open secret that their current head coach is on the hot seat. But I think it's safe to say that not only is Bowles keeping an eye on the situation…so is Michigan. And I'll give you a clue as to why they should be…the number four.
Not only is four Harbaugh's number while he was a quarterback, but it is also the number of years he has served at his last two stops as head coach (Stanford – 2007 to 2010; NFL's San Francisco 49ers – 2011 to 2014). Guess what? Harbaugh just finished his fourth season as the head coach of Michigan. And it's not like he finished on a high note: despite finishing 10-2 and qualifying for the Peach Bowl, he lost to blood rival Ohio State for the fourth straight season in a game that cost them a berth in the College Football Playoff. It would have been one thing is it was a close loss, but Michigan lost 62-39 in a game that was nasty from beginning to end.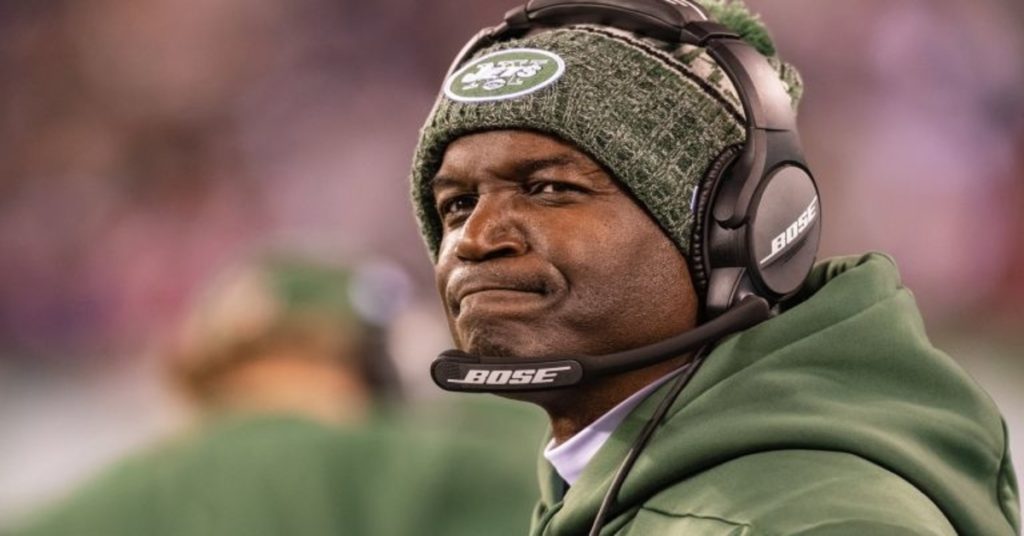 Michigan is also losing linebacker Devin Bush and running back Karan Higdon to the NFL Draft (both have elected to sit out of the Peach Bowl), and is also losing defensive tackle Aubrey Solomon (transferring to Tennessee). While prized quarterback Shea Patterson has decided to stay, there is a lot for Harbaugh to lure him back to the NFL.
The Jets have a young talent in Sam Darnold that will be in his second season as the starter; if there is anything Harbaugh can contribute to his development, it would be more than he is currently getting now. Harbaugh is a "quarterback whisperer" of sorts: he made current Washington Redskins QB Josh Johnson into a pre-season All-American while head coach at the University of San Diego, turned Andrew Luck into the no. 1 overall pick while at Stanford, and also brought out the best in exiled QB Colin Kaepernick while with the 49ers.
Second, the Jets are in a diminished AFC East conference. Yes, they are going to finish last again but at least now you can see the light at the end of the tunnel. The New England Patriots are weaker than they have been in recent years, and the Buffalo Bills and Miami Dolphins don't necessarily install fear into opposing teams. In Harbaugh's four seasons with the 49ers, he took the team to two NFC championship games and a Super Bowl appearance. If anyone can turn the Jets from losers to winners, Harbaugh is the guy.
As of press time, Harbaugh has denied that he is leaving Michigan. But I think if the Jets offer the right price (or a couple of NFC teams that will have openings…(cough) Arizona and Green Bay (cough), they could lure him back to the professional level.
2) JACK JOHNSON: A BLACK AMERICAN ICON
In the world of boxing, we have seen plenty of black boxers stake their claim as the best in the sport: Evander Holyfield, Floyd Mayweather, Jr. , Lennox Lewis, Mike Tyson and of course, Muhammad Ali.
But none of them made history in a way that Jack Johnson did. On this day in 1908, Johnson stood toe to toe with Tommy Burns, then the world heavyweight champion, in Sydney, Australia. In a fight that was stopped after 14 rounds by the police, Johnson became the first-ever black world heavyweight champion. This fight was not only symbolic in how the fight came to be, but the aftermath of it.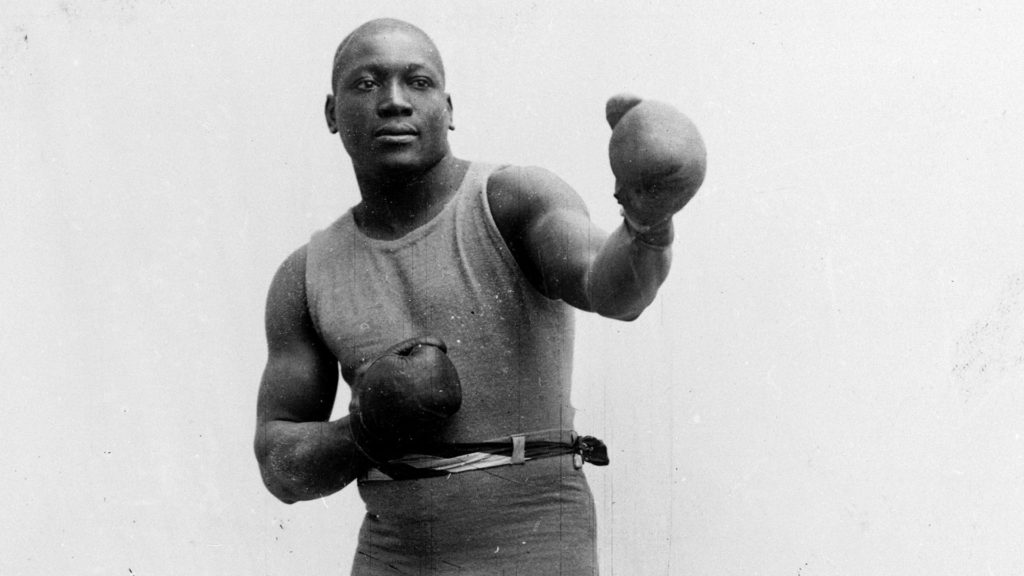 For nearly seven years, Johnson dominated over a sport that until then had been primarily for white men (until Johnson had won, blacks could fight white men in other competitions, but the world heavyweight title was off limits). In his time as champ, he defended the belt eight times, winning six by either decision, KO or TKO. He also faced controversy, which haunted his legacy through his death.
In 1912, Johnson was arrested for violating the Mann Act for his relationship with Lucille Cameron, a white woman. The act, passed in 1910, barred "transporting women across state lines for immoral purposes"; Cameron was allegedly a prostitute. After being found guilty by an all-white jury and sentenced to 366 days in prison, Johnson fled the country with Cameron, living in exile in Canada, Europe, South America and Mexico before eventually coming back to the United States. Johnson ended up serving 10 months of his prison time at the United States Penitentiary, Leavenworth in Kansas.
Nearly 97 years after his release, Johnson was granted a posthumous presidential pardon by President Donald Trump in April (Johnson died in 1946 at the age of 68). While Johnson may not be considered among the greatest of all time, his influence was and still is heavy throughout the sport: Ali (considered the greatest boxer to ever live) said Johnson was his biggest influence as a boxer from a social standpoint, and Mayweather's style of defensive boxing was championed by Johnson first.
3) A SEASON OF GIVING
The theme behind this column was giving, and in the first two segments I gave analysis and historical lessons. In this last segment, I shall give you the gift of food in the form of a dessert recipe.
When I'm not working in retail management or writing, I am a baker on the side. My specialty is cheesecake, and I have had co-workers and friends who have placed orders with me over the past decade. This season, I felt festive, so I decided to branch out and try a new recipe.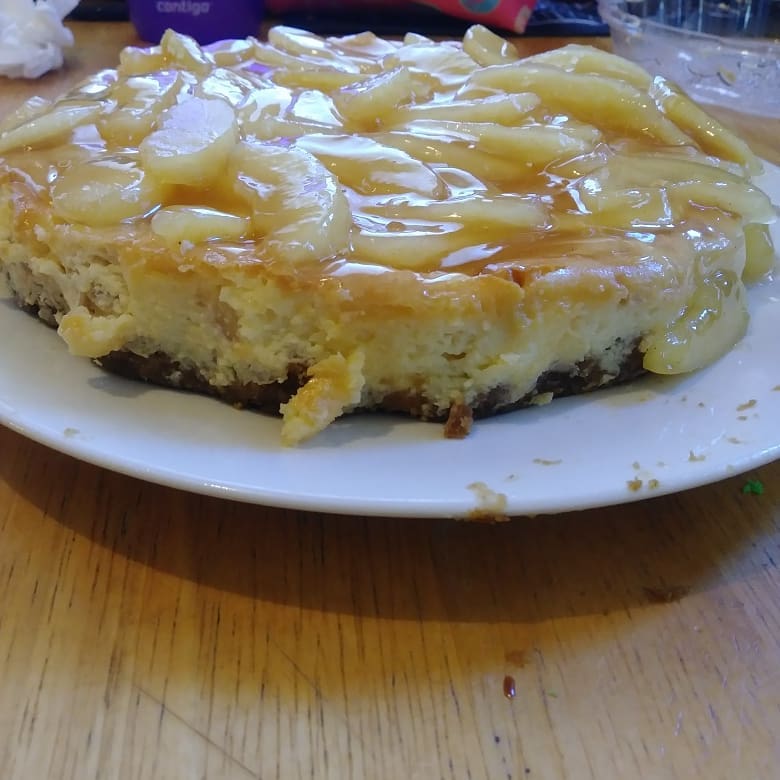 The Tennessee Apple Cider Cheesecake was inspired by a daydream at work. You're probably wondering, "why is it Tennessee Apple Cider?" The secret lies in a specialty liquor that is only available during the winter season: Jack Daniels WinterJack Tennessee Cider, which is the traditional bourbon blended with apple cider liqueor.
For the batter, I cut up an entire Jonagold apple and soaked it in the cider for 17 hours. This allows the apple to absorb the cider flavoring without it being too strong. The cider itself isn't strong; you'll finish off half a bottle before you even notice you are tipsy.
After the soaking, I cut up the apple pieces and mixed it into the cream cheese batter. Once it is mixed, I placed it in the oven at 350 degrees for 55 minutes then let it cool. The next step was the apple topping. For this, I took a can of apple pie filling and put it into a pot. From there, I took about 1/4 can of cider and poured it in with the filling, then added a bit of honey.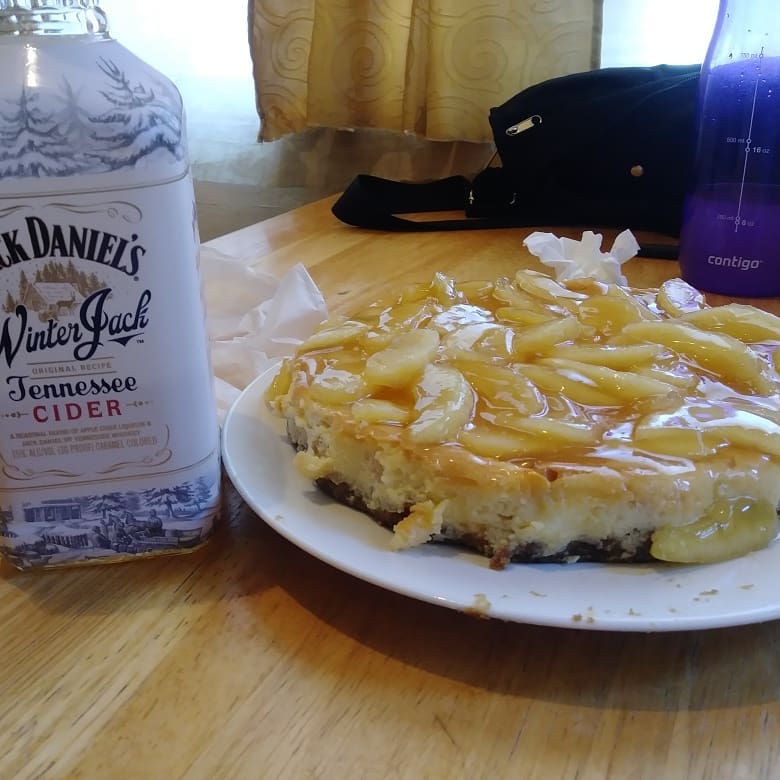 Once that was done, I let the mixture simmer over a low heat for about 15 minutes, then topped the cheesecake. From there, I let it cool overnight and took it to work as part of our potluck. The end result was a flavor-packed dessert with tender apples that capture you with each bite: everyone at work said it was solid gold.
I look forward to keeping this recipe for future functions, as well as something to pass on to my children. The kitchen is like my personal church; when I'm baking I feel like I am a pastor delivering the sermon of soulful baked goods.
Thank you so much again for following "The Triple Double" and The Ball Out. I look forward to an action-packed 2019. Before joining The Ball Out, Chris Bullock was part of SB Nation's Swish Appeal for nearly three years, covering everything women's basketball. Chris has had the honor of doing live coverage of the WNBA Finals, the NCAA Tournament, and also was given his own column, "The Triple Double". A self-described "foodaholic", Chris lives in the San Diego area with his wife and two daughters, and also hosts his own podcast, "Conscious Cravings", where he speaks about his experience as a mental health advocate.