Atlanta, GA— If there was any doubt that the LSU Tigers' Joe Burrow was this year's Heisman trophy winner, he answered that question all game long.
Behind his spectacular and historic performance, the No. 1 team in the nation, LSU (13-0) notch their 12th Southeastern Conference championship. Defeating No. 4 Georgia (11-2), 37-10. 
LSU's Dominance
The Tigers have been on fire all year and without question were the lone powerhouse of the SEC. They not only took down Georgia in convincing fashion, but they also defeated Auburn, Alabama and Florida. With this win, LSU will possibly be the only team in their conference in the playoff.
This was a bunch that came into this contest as the nation's second-highest scoring team being the Ohio State Buckeyes. However, you would've thought even this red hot ball club would've had some trouble against a Georgia defense, who was ranked second in points allowed in the entire country.
Before this contest, the Bulldogs only allowed one ball club to score over 20 points on them and that was South Carolina… almost two months ago. So, you knew this wasn't a team that was going to lay down. This was their third straight SEC title game appearance and their playoff lives were essentially hanging in the balance.
But it didn't seem to matter at all.
LSU racked up 481 yards on Georgia's defense. Albeit an injured bulldog defense, who lost three key players in the game, linebacker Walter Grant (concussion), Quay Walker, (Shoulder) and Tyrique Stevenson (Leg). However, even if they did play, you don't get the belief that the No. 4 team in the country could've done anything to a team that was trying to make a statement to the other teams that will join them in the playoff.
Defensively this was a Tigers team who was just as special. Jake Fromm who many thought would be looked at as a first round pick potentially, made you question if he should stay an extra year in college. He finished 20-for-42 for a grand total of 225 yards. 
He has now failed to complete even half his passes in five straight games. Not all his fault. His guys didn't convert on what would've been big plays for Georgia. Running back D'Andre Swift didn't look 100 percent, and the rushing game only averaged 2.4 yards per rush attempt.
In addition, they were without one of their premiere receivers, Lawrence Cager. Plus they were without George Pickens, who was suspended for a half after an altercation he had in the game prior to this.
However, for a player that led this bulldog team to a national championship appearance as a freshman, he didn't look amazing. Much in large part to the spectacular LSU defense holding their offense to 286 total yards.
This wasn't just a title game for LSU… this was a warning for what's to come.
Just give Burrow the Heisman now, would you?
Burrow individually added onto what has been already a memorable season for him in Mercedes-Benz Stadium. There was simply nothing that the No. 4 team in the land could do about what can confidently be said at this point… this year's Heisman trophy winner.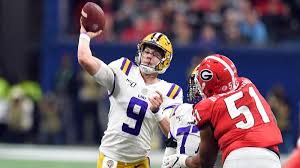 He had already set the league's single-season passing mark before his toe touched the leather Saturday in Atlanta. Yet, in this game he was simply in his bag of tricks as he was on his way to being named the game's Most Valuable Player. Finishing with a remarkable 349 yards on 28-for-38 passing and four touchdowns.
It was like watching Picasso going to work.
Now every Heisman winner has to have a Heisman moment. You're at the point of the season where although numbers are good, you have to do things that make you stand out above the other candidates.
Burrow, late in the third quarter, gave us that moment. 
Georgia brought the house, so fast, I don't know if other quarterbacks could've evaded the pressure like he did. Burrow spun to his left to get away from lineman Travon Walker, to only then come back around and avoid Walker a second time, then deliver a pass to Justin Jefferson while on the run, who took the ball into Bulldogs territory.
Then finish the drive by linking up with Terrace Marshall Jr. for a four-yard score to which at that point made the score 27-3 and basically decided the game at that point.
Heisman moment… check.
UP NEXT
The LSU Tigers make their first College Football Playoff appearance since the format began in 2014. They will learn the semifinal seed and destination on Sunday on ESPN. On the opposing end, many believe that Georgia will play in the Sugar Bowl for the second straight year.