Springfield, MA — The 2018 Hall of Fame class was officially inducted on Friday, September 7. Thirteen players and basketball figures were inducted into the Hall of Fame after their illustrious careers.
The all-time leader in three-pointers made, the first openly gay executive, the first ever WNBA No. 1 overall pick, and a man who broke the color barrier at the University of North Carolina. The Basketball 2018 Hall of Fame class will indeed be one to remember.
On a night that was filled with tears, laughter, and appreciation, 13 new members were inducted into the Naismith Memorial Basketball Hall of Fame in Springfield, Massachusetts. Here is a list of all the members of the 2018 Hall of Fame Class:
Ray Allen
Grant Hill
Steve Nash
Jason Kidd
Maurice Cheeks
Charles "Lefty" Driesell
Charlie Scott
Dino Radja
Katie Smith
Tina Thompson
Rod Thorn
Ora Mae Washington
Rick Welts
The first nominee to get inducted was Grant Hill. Hill was the third overall pick by the Detroit Pistons in 1994 and won co-Rookie of the Year award along with Jason Kidd. In his speech, Hill thanked his college coach Mike Krzyzewski for teaching him to believe in himself. Hill was a two-time all-American and two-time national champion while at Duke.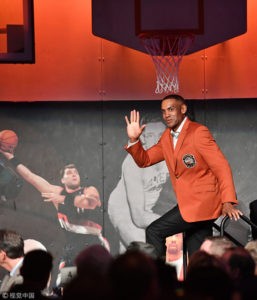 Rod Thorn was the next inductee to be recognized. Thorn is well known for being the general manager of the Chicago Bulls when they drafted Michael Jordan in 1984. He credited Jordan for much of his success and said, "I know I would not have a Wikipedia page without you."
Thorn was also the general manager of the New Jersey Nets from 2000-2010 and helped the team land fellow inductee Jason Kidd in a trade with Dallas.
Maurice Cheeks followed Thorn and he gave an emotional speech thanking his mother for all that she had done in his life. Cheeks played 16 years in the NBA and was a part of the 1982-83 championship winning 76ers team.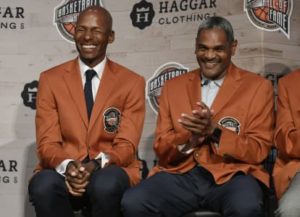 Katie Smith was the next player to be recognized. After growing up in Ohio, Smith did not venture far for college as she attended Ohio State and became the first female athlete to get her number retired at the university. Smith went on to play for the ABL and WNBA and eventually became the first player to win a championship in both leagues. She was named Finals MVP after the Detroit Shock defeated the San Antonio Silver Stars 3-0 in 2008.
The next inductee to be recognized was Rick Welts, a long-time front office executive in the NBA. Welts publicly came out as gay in 2011, making him the first openly gay executive in any professional sport, while working with the Phoenix Suns. Welts read a future letter to himself from when he was younger and was working as a ballboy for the Seattle Supersonics.
Charles "Lefty" Driesell, a man referred to as the "greatest program builder in the history of basketball," followed Welts. Driesell was the first coach to win 100 or more games at four different programs: Maryland, Davidson, Georgia State, and James Madison.
Former Tar Heel basketball player Charlie Scott followed Driesell, and of course, he had to take some shots at the fellow inductees who went to Duke. Scott was considered a legend at the historic Rucker Park before becoming the first black athlete to receive a scholarship to play at the University of North Carolina in 1967.
Following Scott, was the honoring of the late Ora Mae Washington. Washington was both a professional basketball and tennis player. In 1971, Washington passed away and was buried in her Virginia hometown.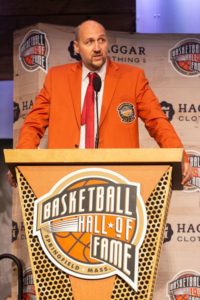 International star Dino Radja was the first non-U.S. born player to be honored in this draft class. Radja spent a majority of his career playing professionally in Europe, but did play three seasons for the Boston Celtics from 1993-1997.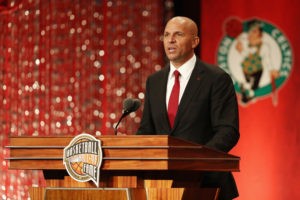 Former NBA champion, Jason Kidd, followed Radja and had some choice words for Dirk Nowitzki. He joked around and pointed at Nowitzki in the crowd saying, "I carried you, I know," referring to the title the Mavericks won in 2011. Kidd split the Rookie of the Year award back in 1995 with fellow inductee Grant Hill and finished his career being a 10-time NBA all-star.
Following Kidd, was the first ever number one overall pick in the WNBA, Tina Thompson. Thompson was selected by the Houston Comets in 1997 and led the Comets to four straight WNBA championships. She was the WNBA's leading scorer up until 2017 and currently sits in second all-time in points scored. She gave an emotional speech Friday night, thanking her family for the strong support system they have been.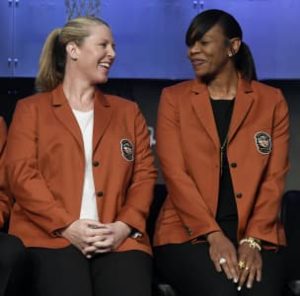 This class had a lot of great point guards and Steve Nash was another phenomenal floor general that got inducted this year. Nash was a two-time league MVP and really helped the Phoenix Suns become an offensive powerhouse for much of the 2000's. In his speech, he gave the audience a story on how he fell in love with the game of basketball at age 13 thanks to a group of friends and his former coaches.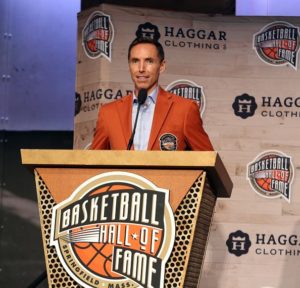 Last, but not least, is the current all-time leader in three-pointers made (2,973), Ray Allen. Allen started his career with the Milwaukee Bucks in 1996. He then played for the Seattle Supersonics, Boston Celtics, and Miami Heat for the rest of his career. Allen was a 10-time all-star and was one of the key catalysts in helping the Celtics win a championship in 2008 and the Heat win a championship in 2013. He thanked Reggie Miller in his induction speech, acknowledging him as the player he modeled his game after and wanted to be like.