Good morning, and welcome back to The Triple Double!
I had planned on releasing this column last Wednesday, but so much had gone on in the sports world that releasing it then wouldn't have done it justice. But with possibly the biggest story of the year happening this past Sunday, the time is now, so let's dive right in!
1) TIGER WOODS HAS OFFICIALLY RETURNED
We shall begin this section with a quote from DJ Khaled:
"Stay focused and secure your bag, because they want you to fail and they don't want us to win."
In the years since Tiger Woods' apparent demise in 2014 (when he was last no. 1 in the world golf rankings), the game of golf had supposedly past him by. He had dropped out of the list of top 1,000 golfers, his back was shot, and his personal life was not in the best of shape. But in 2018, we started to see signs of life in not just the game, but the man himself.
Woods won his first tournament when he won THE TOUR Championship, then came close to winning the PGA Championship in the same year. Even the most casual of golf fans began to tune in again, desperate to see if the man who was once claimed to be "the successor to Jack Nicklaus" still had some magic left. Then this last weekend came.
As Woods shot a 67 in the third round on Saturday to climb to a two-shot margin of the lead, the whispers began:
"Will he fold?", "Can he actually pull it off?"
And then the Sunday morning sun arose…and Tiger kept up. Francesco Molinari, the leader, began to crack. On the 12th and 15th holes, Molinari hit the water; on the latter hole, Woods got his second shot onto the green then birdied to take the lead at 13-under. He wouldn't fold, and as he dropped his final putt, the world saw Woods celebrate on a way that he hadn't in well over a decade. He hugged his mother, Kutilda, and embraced his son Charlie as he ran up in his dad's signature black hat and red shirt.
Even Woods himself was in awe of how he managed to win, saying that this was a pressure cooker from beginning to end.
"Just unreal, to be honest with you," Woods said. "Just the whole tournament has meant so much to me over the years. Coming here in '95 for the first time and being able to play as an amateur. Winning in '97 and then come full circle 22 years later, to be able to do it again. And just the way it all transpired today.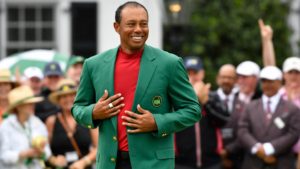 "There were so many different scenarios that could have transpired on that back nine," Woods continued. "There were so many guys who had a chance to win. Leaderboard was absolutely packed, and everyone was playing well. You couldn't have had more drama than we all had out there, and now I know why I'm balding. This stuff is hard."
To give perspective to the last time Tiger Woods won the Masters (2005):
a) this writer was just finishing up his freshman year of college;
b) YouTube had just started; and
c) Hurricane Katrina struck the southeastern shores, flooding 80 percent of New Orleans and leaving over 1,600 people dead.
The Tiger that the world saw on Sunday was not the man of cockiness and certainty that cloaked him in his earlier career; the Tiger that donned the Green Jacket yesterday was a man who had been humbled by life, with an understanding that nothing was guaranteed. After an emergency spinal fusion surgery last year, to come back and win his fifth Masters and first major in a decade, this was not just the redemption story that he needed, but the world of golf did as well.
2) THE MAGIC IS GONE IN LOS ANGELES
Yes, that is correct.
The partnership of Los Angeles Lakers owner Jeanie Buss and then-president of basketball operations Magic Johnson came to a sudden end last Tuesday evening, as Johnson stepped down from his position during an impromptu press conference before the team's regular-season finale against the Portland Trail Blazers.
"It's a difficult decision, I cried before I came here," Johnson started off saying. "I am about to cry now. It's hard when you love an organization the way I love this organization. It's hard when you love a person like I love Jeanie [Buss]. I don't want to disappoint her."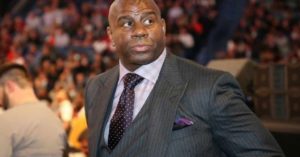 Johnson made the decision earlier Tuesday morning after a conversation with Buss, though he did not tell her about his decision informally. He would reveal to ESPN's Rachel Nichols that he didn't tell Buss face-to-face because he feared she would talk him out of it. He also hadn't informed general manager Rob Pelinka or any of the players on the team beforehand.
While Johnson said that his decision had nothing to do with the future of now former head coach Luke Walton, he also said that he didn't want Walton's job to come between him and Buss's personal relationship (Buss has been a clear supporter of Walton). Although Johnson has acknowledged to Nichols that he was prepared to let Walton go before ultimately deciding to step down himself.
"But you know … it was going to be tough for her, because she loves him, loves me," Johnson said of the dynamic between the three. "And I was already saying, you know what? Really, Earvin, are you really happy? So when I decided I wasn't, I didn't want to put her in a position like this. And so this was the right move to make. And I've never been so relieved." (note: Walton was relieved of his head coaching duties last Friday, and was hired by the Sacramento Kings the following day.)
For what it's worth, the Lakers handled this with class, releasing a statement thanking Johnson for his contributions.
"There is no greater Los Angeles Laker than Earvin Johnson. We are deeply grateful to Magic for all that he has done for our franchise – as a player, an ambassador and an executive. We thank him for his work these past two years as our President of Basketball Operations and wish him, Cookie, Andre, EJ and Elisa all the best with their next steps. He will always be not only a Lakers icon, but our family. As we begin the process of moving forward, we will work in a measured and methodical fashion to make the right moves for the future of our organization."
I'll never be one to tell anyone to do something that doesn't make them happy. And it was apparently clear that Johnson wasn't happy in the role; he groused that he wanted to be more of an ambassador and didn't like all the "backstabbing" and "whispering" behind closed doors when it came to dealing with other teams in the league (one can't help but think he's calling out the New Orleans Pelicans here).
However, when you have been given carte blanche to do whatever you saw fit with the most marketable team in the league…you have to carry a certain type of class. I'm not saying that Magic Johnson doesn't have class; he has quite literally been the face of the Lakers for a good part of nearly 40 years (sorry Kobe, you were never the no. 1 Laker in the hearts of die-hard fans) and usually handles everything he does with grace and nobility. But on a professional level, not even giving your boss a one-on-one meeting to hand over your resignation is a classless move.
Allow me to explain why: Johnson was hired in February 2017 and given the keys to the franchise by Buss. During his time as the president, he traded away D'Angelo Russell (a move that needed to be done at the time but looks bad in hindsight now), drafted Lonzo Ball and signed LeBron James. Yet, Johnson's tenure had more to do with what he didn't do.
Even with the star power attributed to Johnson, he failed to convince Paul George to don the purple and gold (George decided to stay in Oklahoma City), and then failed miserably in an attempt to trade for New Orleans center Anthony Davis (which you can blame multiple people for, but Johnson gets the lion's share since he was the public face behind it). Johnson famously said last summer that if he couldn't get marquee free agents to come to the Lakers within the next two years that he step down. Well, he left one year earlier than expected, and did so at literally the worst possible timing.
This summer's free-agent pool is considered amongst the deepest (if not the deepest) in league history due to the talent that will be available. Toronto Raptors forward Kawhi Leonard, Golden State Warriors forward Kevin Durant and Boston Celtics guard Kyrie Irving are among the multiple big names that are expected to get courted by almost every team in the league this season, and the Lakers needed a big-name acquisition to pair with James if they plan to even make a dent in the Western Conference. Not having organizational structure can be a huge drawback for the more business-minded players, as they tend to avoid signing with franchises with instability at the top; a problem the Lakers have been dealing with for the better part of a decade now.
Magic Johnson will always be considered "Mr. Laker" as a player and as an ambassador for the team. But as president of the team, it is safe to say that he failed the organization and left them to fend for themselves at a time where they needed him the most.
Thank you guys so much for tuning into the latest edition of "The Triple Double". Be prepared for another edition in two weeks, where we will dive into baseball and look at the first full month of action.
Before joining The Ball Out, Chris Bullock was part of SB Nation's Swish Appeal for nearly three years, covering everything women's basketball. Chris has had the honor of doing live coverage of the WNBA Finals, the NCAA Tournament, and also was given his own column, "The Triple Double". A self-described "foodaholic", Chris lives in the San Diego area with his wife and two daughters, and also hosts his own podcast, "Conscious Cravings", where he speaks about his experience as a mental health advocate.