Hello friends and welcome to another installment of the Off-Balanced J. I'm excited to share my thoughts with you in regards to the happenings in the NBA this week.
I won't lie to you, this may have been the funniest and craziest week all season. From arguments, disagreements and ripped jerseys. However, there's two things I want to get into quickly. Hope you enjoy them.
I'll start with this.
Be Careful Trading Kuzma
I was watching the LA Lakers win their seventh-consecutive game against the Dallas Mavericks on Friday night. The team was completely dominant in the absence of Anthony Davis. Yet, what was probably more talked about than anything in that contest was not just LeBron James' historic performance, which was phenomenal. However, the play of Kyle Kuzma.
He finished with 26 points on 40 percent shooting in 34 minutes. In addition, as I'm watching the contest, there are questions on my mind…
Why does Los Angeles want to trade this guy again?
Why isn't he apart of the Lakers future plans?
I get it. We haven't seen that performance from him where he gets buckets on a consistent basis, he didn't shoot outstanding from the field against Dallas. Yet, Kuzma has been one of those guys that has had to do somethings we've all have had to do in our lives and the vicissitudes that come with it. Adjust. 
Kuzma has been dealing with an injury he suffered with team USA. Also, he's playing with James and Davis. Two of the top-five players in the league that also have personal chips on their shoulders.
It's hard when you're a guy that plays in rhythm to get comfortable when you have two behemoths trying to prove something themselves. He looked more comfortable out there in the starting lineup Friday than coming off the bench.
A career 16.5 points per game scorer is averaging 12.4 points on 42 percent shooting this year. I think the Lakers expected Kuzma to be Lou Williams. Because they haven't gotten that, they want to trade him.
Two names being heard have been Robert Covington from the Minnesota Timberwolves and Bogdan Bogdanović of the Sacramento Kings.
I wouldn't have a problem with Bogdanović going to the Lakers. By plenty of accounts, he's better than Kuzma. However, if he were to come in and let's say his 14.5 points per game is goes to 11.5 and he comes of the bench. Was the trade a bust?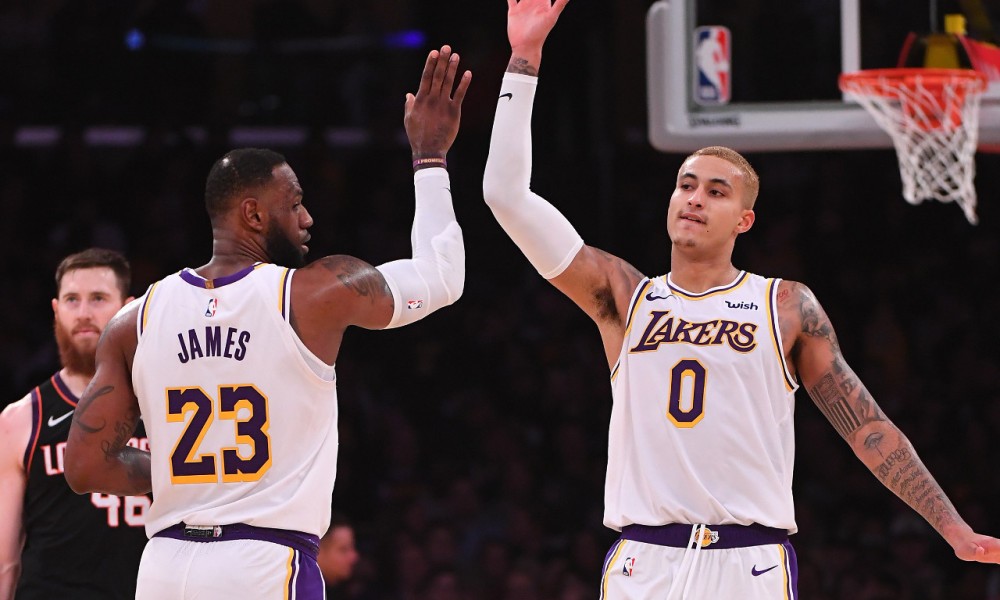 If LA wants to trade for anything, they need to focus on their weaknesses. Playmakers to help take the load of LeBron. Over 70 percent of LeBron's points are unassisted. He doesn't have a secondary playmaker. Rajon Rondo has underperformed in that area. Maybe look to sign Darren Collison.
But, I wouldn't be so quick to trade Kuzma. This guy can help win you ball games when Davis is out. However, he himself has to be comfortable in a role that he's not comfortable in right now. Put him in a position on this team to be lethal… you have your third star.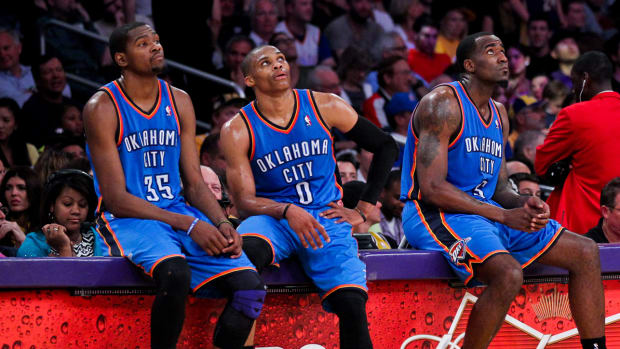 Durant and Perkins Twitter Thunder
I've taken Kobe Bryant's mindset. If I can't definitively win an argument, it's better to not argue. Somethings, no matter how hard you try to defend yourself, you can't sway people.
Former teammates Kevin Durant and Kendrick Perkins went Mano y Mano on Twitter after Perkins called their former teammate Russell Westbrook the greatest Thunder player. 
I disagree with that. So does Celtics analyst Marc D'Amico.
After their exchange… it was time to insert Durant.
Then came the parting shot from Perkins
Digesting this, Perkins was speaking for the "get off my lawn" NBA player or fans that will never forgive Durant. Weakest move? I don't know if I'll go that far. Yet, I've been on the boat of not liking the move in going to Golden State.
However, in a league where you can get traded by an organization that says they'd never trade you at all and when they trade you they don't lose sleep… I get it. Still sits weird with me for the fact that you were up 3-1.
Now Gilbert Arenas added in an element defending Durant's move. 
Things could've changed if you keep James Harden. You're the dynasty if you keep all three of them. All have been multiple time all-stars, multiple NBA first team recipients, one became a champion, and all three have one MVP under their belts. 
Smart move Sam Presti.
For Durant to have done this and Perkins well isn't tasteful. It's funny. Maybe an early candidate for NBA moment of the year. But not tasteful.
However, let's not act like Perkins didn't know what he was doing either. Whether he wants to say he meant it in a certain way or not… come on.
Westbrook better than Durant?
Numbers and longevity wise in Oklahoma City… maybe. Yet, you can only talk about that for so long. What people will factor in is "loyalty". That's always going to get Durant goat. That makes me say why argue? You left, got your rings and are cemented as a champ.
Kevin must understand that THIS argument he'll never win… EVER! Maybe if he would've went somewhere else, the bleeding wouldn't have been as bad.
… Maybe