Paolo Banchero is one of the top athletes in the country and a pivotal piece to Duke's offense. However, the preseason ACC Player of the Year has found himself in some legal trouble. Banchero and teammate Michael Savarino — who is the grandson to head coach Mike Krzyzewski — were arrested on Sunday for suspicion of DWI (driving while impaired).
Savarino was arrested for the DWI after highway patrol pulled him over for a stop sign violation. After showing signs of impairment, officers arrested him. In addition, Savarino had a blood alcohol content of .08.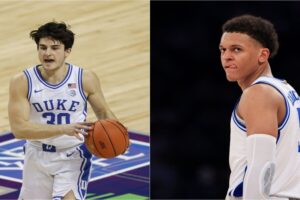 As for Banchero, he was charged with aiding and abetting DWI for sitting in the back seat of Savarino's car on Sunday. He was released on site of the traffic stop.
Banchero will appear in court on Dec. 8 while Savarino will attend his on Dec. 9.
"We are reviewing a legal matter involving two members of the men's basketball team," Krzyzewski said in a statement. "Any further actions as a result of this situation will ultimately be determined by the Vice President/Director of Athletics and University officials."
Duke does play tonight against Gardner-Webb, however, at this moment it is unclear if Savarino and Banchero will suit up tonight.
Depending on the next steps, if Banchero misses any games, the Blue Devils will need to find someone to make up for the work the freshman forward has been contributing. Thus far this season he has been averaging 19.3 points and 8.7 rebounds per game.