Lexington KY — Another year, another college basketball season approaching. No school in the country knows how to kick off the season quite like the University of Kentucky!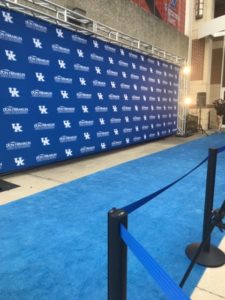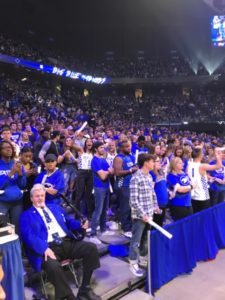 Friday night, Kentucky held their annual Big Blue Madness event which highlighted the men's and women's basketball teams. The Rupp Arena roared all night long with over 23,000 fans in attendance to see what talent would be gracing the court during the 2018-2019 basketball season.
Kentucky fans chanting a cheer
After personally experiencing the event, there is no question as to why fans make this event such a priority.
The night began outside of Rupp Arena on The Blue Carpet. Here VIP and specials guests, such as Kenny "Sky" Walker, Jack Givens, and even former Miss Kentucky Maria Montgomery, walked across the carpet. Every individual was greeted by cheering fans who arrived early.
Following the special guests, Kentucky's Women's Basketball team arrived in style. The Lady Wildcats were dressed to impress, but will their performance this season match their style?
Finishing the 2017-2018 season just under .500, fans are wondering what is next for this veteran group of players.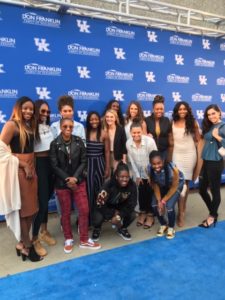 "This season we're just trying to win!" explained junior guard Jaida Roper on the team goals. "We're trying to win everything! We're working real hard, so we are just trying to put that to use on the court and get some dubs for the [fans]."
Shortly after the women's team entered the building, the stars everyone had been waiting for pulled up in a decked-out bus – the Men's Basketball team. The fans went crazy as the young men struck poses for the cameras and captured the moment on their own phones. The Blue Carpet more so resembled a Hollywood red carpet than a college basketball event!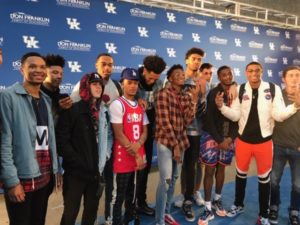 The young Wildcats' team only has three upper-classman on the roster this year, one including stand out post-graduate transfer, Reid Travis. Reid transferred to Kentucky with a Stanford degree under his belt and a dream-like ending to his college career awaiting him.
"I love it. I don't think there is much for that I could ask for," chuckled Travis as he reflected on the atmosphere around Kentucky basketball. "For Madness, for this many fans to come out and just the excitement about the whole season and the program – it's something I've never been around. So, for me to end my college career in a place like this – I couldn't ask for more."
The Blue Carpet was cleared and players and fans entered Rupp Arena to view a show that did not disappoint. From the player entries and court showmanship to the performances and indoor fire flames, extending all the way to the electric energy that the fans provided.
Kentucky definitely did it BIG for Big Blue Madness.
https://www.instagram.com/p/Bo2shVsh8KT/?taken-by=theballout