One of the best weekends of the year is finally here: Super Bowl LV baby!
This year it will be the Kansas City Chiefs vs the Tampa Bay Buccaneers. Patrick Mahomes vs Tom Brady. A match made in heaven…for the viewers at least. Will Tom Brady pull off an upset and get his seventh Super Bowl ring? Or will Andy Reid and his stacked Chiefs team take another title for themselves?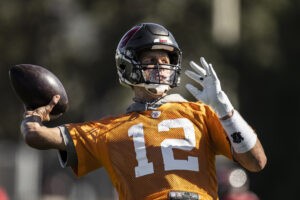 Both teams will have their work cut out for them. Who do I think will walk away with a win? Let's dive in.
In week 12 when both teams faced off, they had a combined 960 total offense, 51 points, and six touchdowns. WHAT. Yeah, those are some big numbers I'd say. Mahomes threw for 359 years and truly destroyed the Bucs defense. However, I think this game will come down to a defensive battle. Tampa's defense, led by Devin White, Jason Pierre-Paul, Shaquil Barrett, and Davonte David have really come together this postseason. But, when you watch the Chiefs play a team like the Bills and have that much momentum in a game like that… it's dangerous.
Something else that will help the Bucs defense is that Chiefs OL Eric Fisher is not playing this week due to an injury. This is a huge loss for Kansa City. Mike Remmers — who hasn't played a snap at left tackle since 2016 — will step in and face Tampa. Jason Pierre-Paul and Saquil Barrett have the potential to make that a very difficult job especially with Tampa's pressure rate and blitz rate.
Now let's change gears and talk about the Chiefs' offense for a second — Tyreek Hill in particular. In week 12 Hill had a career-high of 269 receiving yards and three touchdowns on 15 catches. If the Bucs want to win come Sunday, that cannot happen. Tampa Bay shows a little bit of vulnerability with downfield passes which is basically Hill's middle name, let's be real.
Another thing to keep in mind is coaching. Both of these coaches are very aggressive and offensive-minded. Neither one of them will play it safe or back down. Both are veterans and both have successful track records. Andy Reid has led the Chiefs to five consecutive AFC West titles and also has a chance for his team to be the first franchise to repeat as Super Bowl Champs since the Patriots in 2003-2004. On the opposing sideline, Tampa's Bruce Arians will make his first appearance as a head coach in the Super Bowl on Sunday and hopes to walk away with his first win with the greatest of all time, Tom Brady.
In my opinion, this will be a high scoring game. A close game. Within five points close.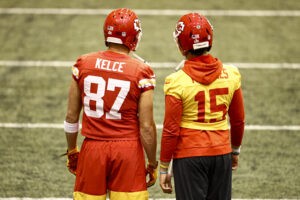 I personally want Tampa Bay to win because #GIG'EM (Mike Evans) but I think Mahomes and his offense will get the best of the Buccaneers' defense especially when you have guys like Travis Kelce and Tyreek Hill out there.
Wait…have I not mentioned GRONK yet??? Honestly, no real explanation here besides the fact you just have love for Rob Gronk. He is never not fun to watch. He also surprised a front-line nurse with Super Bowl tickets this week and I mean…love. it.
This one is HARD guys. Anyone else on the fence about who they want to win? Just me? Regardless, this will be a game for the ages. We will all remember this as one of the best games to go down in Super Bowl history. Whether you're rooting for the GOAT in Brady or rooting for the next upcoming GOAT in Mahomes…you have to appreciate the level of this game we will be watching this weekend.
Cheers to Super Bowl LV y'all!