CAPITOL HILL — The world celebrated history as Joe Biden and Kamala Harris were sworn in as the 46th President and Vice President of the United States.
Biden, the former Vice President during Barack Obama's term serves as a familiar face in American politics. Biden is a person who represents a return to a more stable, promising future. His inauguration speech held two main themes: unity and a return to the democracy our nation was founded upon.
"To overcome these challenges – to restore the soul and to secure the future of America – requires more than words. It requires that most elusive of things in a democracy: Unity. Unity."
He also addressed being President to all Americans even those who openly oppose the goals he campaigned for — not just those who voted for him.
"I will be president for all Americans. I will fight as hard for those who did not support me as those who did," Biden said. "To all those who supported our campaign, I am humbled by the faith you have placed in us. To all those who did not support us, let me say this: Hear me out as we move forward. Take a measure of me and my heart," he expressed in his Inauguration speech.
President Biden comes into office at a crucial and desperate time.
The Democratic Party, and even former members of the Republican party who could not condone Donald Trump's unconstitutional actions are embracing a promising new era in American politics. Four years under Trump's presidency included a prominence of white supremacy in office, environmental destruction, student debt, mass shootings, and lies. Most of his staff have been pardoned, Trump was impeached twice, and has been banned from almost every social media platform that exists.
President Biden addressed the wrongdoings of the White House coup that occurred on January 6, and acknowledged there is a lot of work to be done in terms of unifying this divided nation. However, he believes that it is possible for us to come together as Americans.
"And here we stand, just days after a riotous mob thought they could use violence to silence the will of the people, to stop the work of our democracy, and to drive us from this sacred ground. That did not happen. It will never happen. Not today. Not tomorrow. Not ever. And I pledge this to you: I will be a President for all Americans."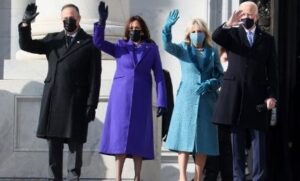 As his inauguration speech continued, the 46th President called for a moment of silence and prayer for those impacted by Coronavirus. More than four hundred thousand Americans have lost their lives due to COVID-19, a pandemic that a nation with as many resources as the United States handled poorly. 
"To those 400,000 fellow Americans – mothers and fathers, husbands and wives, sons and daughters, friends, neighbors, and co-workers. We will honor them by becoming the people and nation we know we can and should be. Let us say a silent prayer for those who lost their lives, for those they left behind, and for our country."
Malls and airports are open, but morgues and hospitals are turning folks away due to overcapacity. The vaccine rollout has been disastrous, with millions of Americans unsure if they will live to receive treatment. Biden resonated with voters when he opened up about the tragedy and loss he has faced in his personal life. 
Also sworn in today during the inauguration was Biden's vice president, Kamala Harris. The new vice president represents a fresh perspective and representation as she is the first Black, Asian, and female to hold the position. For hundreds of years, women were told there was no place for us in a presidential position. While I do not necessarily agree with all of her past decisions, knowing that women of color are able to see themselves hold office cannot be understated. One can anticipate more representatives of gender identities, sexualities, and socioeconomic demographics will seek careers in politics. 
After attending a Zoom conference with Dr. Jill Biden last week, I cannot emphasize enough how poised, nurturing, and engaging the new First Lady is. She blew air kisses and gave words of affirmation and praise to her former employees that were on the call. Her demeanor is similar to your favorite elementary school librarian or best friend's mother. She opened up about her son's battle with opioids, another issue plaguing our nation that the Biden administration intends to address. Her character is the polar opposite to Melania Trump, who offended nearly nothing to the American public during her time as a first lady. 
In 2017 I worked for several political PACS and nonprofits, who sought to fundraise and lobby against all of the cruel and bizarre acts Trump tried to pass. Every day a new crisis came up, most of which have been forgotten by the new weekly scandals. While the Biden-Harris administration are still politicians who will be evaluated and criticized, I have so much hope and relief for the next four, or possibly eight years of America's future.