For the second time in his Presidential term, the House of Representatives has voted to impeach Donald Trump.
Trump is being charged with inciting the attack on the US Capitol building on Jan. 6. This vote by the House makes Trump the first president to be impeached twice. The first time the House impeached him was in 2019 over his handling of Ukraine. However, months later in 2020, the Senate acquitted him.
Despite the impeachment today in the House, the Senate will not convene until next week as U.S Senate Majority leader Mitch McConnell won't call for an emergency meeting to impeach Trump.
There were 10 Republicans who voted to impeach the sitting president.
Liz Cheney (WY) Anthony Gonzalez (OH) Jaime Herrera Beutler (WA) John Katko (NY) Adam Kinzinger (IL) Peter Meijer (MI) Tom Rice (SC) Dan Newhouse (WA) Fred Upton (IL) David Valadao (CA)
McConnell stated the following on his decision to not call for an emergency meeting in the Senate: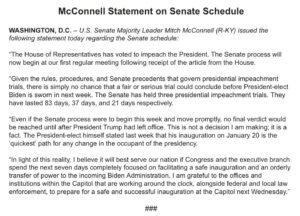 Donald Trump has just become the first US President to be impeached twice following a vote in the House of Representatives https://t.co/bDsmp7JAMe

— CNN Breaking News (@cnnbrk) January 13, 2021
More details to come as the story develops.