[fusion_builder_container hundred_percent="no" equal_height_columns="no" menu_anchor="" hide_on_mobile="small-visibility,medium-visibility,large-visibility" class="" id="" background_color="" background_image="" background_position="center center" background_repeat="no-repeat" fade="no" background_parallax="none" parallax_speed="0.3″ video_mp4="" video_webm="" video_ogv="" video_url="" video_aspect_ratio="16:9″ video_loop="yes" video_mute="yes" overlay_color="" video_preview_image="" border_size="" border_color="" border_style="solid" padding_top="" padding_bottom="" padding_left="" padding_right=""][fusion_builder_row][fusion_builder_column type="1_1″ layout="1_1″ background_position="left top" background_color="" border_size="" border_color="" border_style="solid" border_position="all" spacing="yes" background_image="" background_repeat="no-repeat" padding_top="" padding_right="" padding_bottom="" padding_left="" margin_top="0px" margin_bottom="0px" class="" id="" animation_type="" animation_speed="0.3″ animation_direction="left" hide_on_mobile="small-visibility,medium-visibility,large-visibility" center_content="no" last="no" min_height="" hover_type="none" link=""][fusion_text]
"My philosophy is very simple: when you see something that is not right, not fair, not just – say something, do something, get in good trouble, necessary trouble." – U.S. Rep. John Lewis.
In a time where the meaning of 'Black Lives Matter' has taken on a new level of significance, "John Lewis: Good Trouble" brings us back to the beginnings of where the movement began.
The Dawn Porter-directed film is a chronological timeline of the life of U.S. Representative John Lewis (D – Georgia), who was one of the most influential figures in the Civil Rights Movement of the 1960's. Lewis, who was raised in Troy, Alabama, recalled his childhood and referenced it a lot in the movie – even going back to his hometown farm where his remaining family still resides. His brothers and sisters talked in the movie about how Lewis was always into his studies and knowing early on that his ambitions were far more than that of their small town.
Lewis mentions how at the age of 18, he wrote a letter to civil rights leader Martin Luther King, Jr., for a scholarship recommendation. King invited him to his office in Birmingham.
"When I arrived to his office, I got so scared. He said 'are you the boy from Troy?' I said 'yes sir, I am John Robert Lewis', I gave him my full name," Lewis recalled with a smile and hearty laugh. "Every time he saw me since, he'd refer to me as 'the boy from Troy'".
As a student of King's teachings, Lewis became an early advocate for civil rights and equal treatment for Black citizens. He helped organize sit-ins at segregated lunch counters in Nashville as part of the Nashville Student Movement, one of them being the Nashville Sit-Ins. This movement was eventually responsible for the desegregation of lunch counters in downtown Nashville. Lewis recalled this moment while in his office.
"You come to this point, this feeling that if you don't do everything you can to change things, then they do remain the same," Lewis said. "You only pass this way once, you got to give it all you got."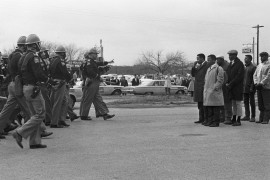 At the age of 21, Lewis became one of the first Freedom Riders – a group of 13 people, seven white and six Black who attempted to ride the Greyhound bus from Washington, D.C. to New Orleans in an integrated fashion. Scenes from the movie show the struggles of the Freedom Riders and the violence they encountered at the hands of angry mobs. Lewis himself was arrested and assaulted as a result.
However, despite the daily threats, Lewis refused to give in. His dedication to the cause led him to being named the chairman of the Student Nonviolent Coordinating Committee at the age of 23. As one of the "Big Six" leaders – and the youngest – he helped to organize the March on Washington where Dr. King gave his powerful and timeless "I Have a Dream" speech.
Lewis's tenacity and dedication to the rights of Black people inspired all races and during the movie, you see many young politicians such as Rep. Alexandria Ocasio-Cortez, Rep. Ayanna Pressley, Rep. Rashida Tlaib and more pay their respects to the civil rights hero.
"The radicalism of the Civil Rights Movement – the social radicalism, the civic radicalism, all of that inspired a lot of the conclusions and beliefs that I have today," Ocasio-Cortez said in the film. "And I know that if John Lewis, as a 19-20 year old hadn't done what he did, I would not be here today."
One of the more powerful scenes in the film comes from Election Night 2018, when Lewis and his staff are sitting in a suite watching the results unfold. You saw the disappointment in his face when Sen. Ted Cruz (R) beat Beto O'Rourke in Texas, even though it was only by three percent in a traditionally red state. Even as a 78-year-old, Lewis was active and as spry as a man half his age, getting ecstatic when he saw that the Democratic Party took control of the House for the first time since 2010.
The movie also listed off some of his most noted accomplishments as a Congressman, such a co-sponsoring such bills as the Family Housing Act, Fair Housing Amendments Act, Brady Handgun Violence Prevention Act, National Voter Registration Act and the Fair Minimum Wage Act.
The ending goes back to Lewis, as he gives the viewers worthwhile words of encouragement while also calling for action.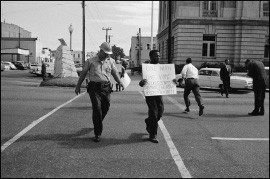 "We will create the beloved community. We will redeem the soul of America. There may be some setbacks, some delays – but as a nation and as a people, we will get there. And I still believe that we shall overcome."
Overall, this movie is very stirring; it will make you cry because of the pain and suffering, it will make you angry that the same injustices Lewis and others went through are still present today. But, for those who are Black, it will make you proud of who you are.
"John Lewis: Good Trouble" is currently slated for a July 3 release through Magnolia Pictures.
[/fusion_text][/fusion_builder_column][/fusion_builder_row][/fusion_builder_container]