[fusion_builder_container hundred_percent="no" equal_height_columns="no" menu_anchor="" hide_on_mobile="small-visibility,medium-visibility,large-visibility" class="" id="" background_color="" background_image="" background_position="center center" background_repeat="no-repeat" fade="no" background_parallax="none" parallax_speed="0.3″ video_mp4="" video_webm="" video_ogv="" video_url="" video_aspect_ratio="16:9″ video_loop="yes" video_mute="yes" overlay_color="" video_preview_image="" border_size="" border_color="" border_style="solid" padding_top="" padding_bottom="" padding_left="" padding_right=""][fusion_builder_row][fusion_builder_column type="1_1″ layout="1_1″ background_position="left top" background_color="" border_size="" border_color="" border_style="solid" border_position="all" spacing="yes" background_image="" background_repeat="no-repeat" padding_top="" padding_right="" padding_bottom="" padding_left="" margin_top="0px" margin_bottom="0px" class="" id="" animation_type="" animation_speed="0.3″ animation_direction="left" hide_on_mobile="small-visibility,medium-visibility,large-visibility" center_content="no" last="no" min_height="" hover_type="none" link=""][fusion_text]
SEATTLE, WA –  A peaceful Wednesday morning turned contentious as Mayor Jenny Durkan ordered the police to evacuate protesters from the area called the "Capitol Hill Organized Protest" (CHOP) and to remove the fences that diverted traffic.
The CHOP (originally known as CHAZ, or Capitol Hill Autonomous Zone) was established on June 8, at the peak of massive protests across the country against racism and police brutality following the death of George Floyd, a black man suffocated by a white cop in Minneapolis. The occupants closed the streets and seized a police building vacated in those days to avoid further confrontation.
But in the course of the nearly month-long occupation, there had been four shootings (leaving two dead), which prompted Durkan to make the decision to tear it down. Durkan, a Democrat, initially supported the protest but in the decision to end it, she cited that the violence within the zone had gone too far, stating that their First Amendment rights "do not require the city to provide limitless sanctuary to occupy city property, damage city, and private property, obstruct the right of way or foster dangerous conditions".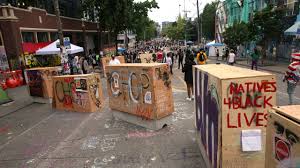 At 5:00 a.m. a strong contingent of officers appeared with anti-riot equipment and forced the so-called occupants to leave. Images broadcast on television showed police officers, many of them wearing riot gear, facing dozens of protesters in the area known as the Capitol Hill Occupied Protest (CHOP). The officers, who were wearing helmets, macanas, and rifles, stood shoulder to shoulder on various streets while others formed a fence with their bikes, using it to drive protesters away from the center of the area. Police removed protesters' tents and made sure no one stayed in the restrooms.
One of the organizers of the protest, Derrek Allen Jones II, said that some protesters tried to stay but were taken by surprise by the intervention of the agents, who were "trampling everything in sight and turning the tables".
"People were trying to hold their own but you could see the officers literally breaking into people's beds while they were still sleeping," Jones said. "And they literally said, 'If you don't go out, we are going to force you to go out or arrest you'".
The Seattle Police reported on Twitter that 32 people had been arrested at 9:00 am for disobeying an order to disperse, obstruction, assault, and an illegal procession of weapons.
"Police continue to provide perimeter security for city crews that provide services and perform environmental cleanup," the department wrote on Twitter.
[/fusion_text][/fusion_builder_column][/fusion_builder_row][/fusion_builder_container]