By Cayla McMorris
Minneapolis, MN — It was an extremely emotional environment on Friday at the City Hall Rotunda in Minneapolis, as notable figures of the black community gathered for a press conference bringing awareness to the brutal police killing of George Floyd.
Former NBA star Stephen Jackson, actor/singer Jaime Foxx and social justice activist Tamika Mallory all gave heartfelt statements regarding not only George Floyd but about other black men and women who have been subjected to police brutality across the country. Minnesota Timberwolves players Karl-Anthony Towns and Josh Okogie were also in attendance.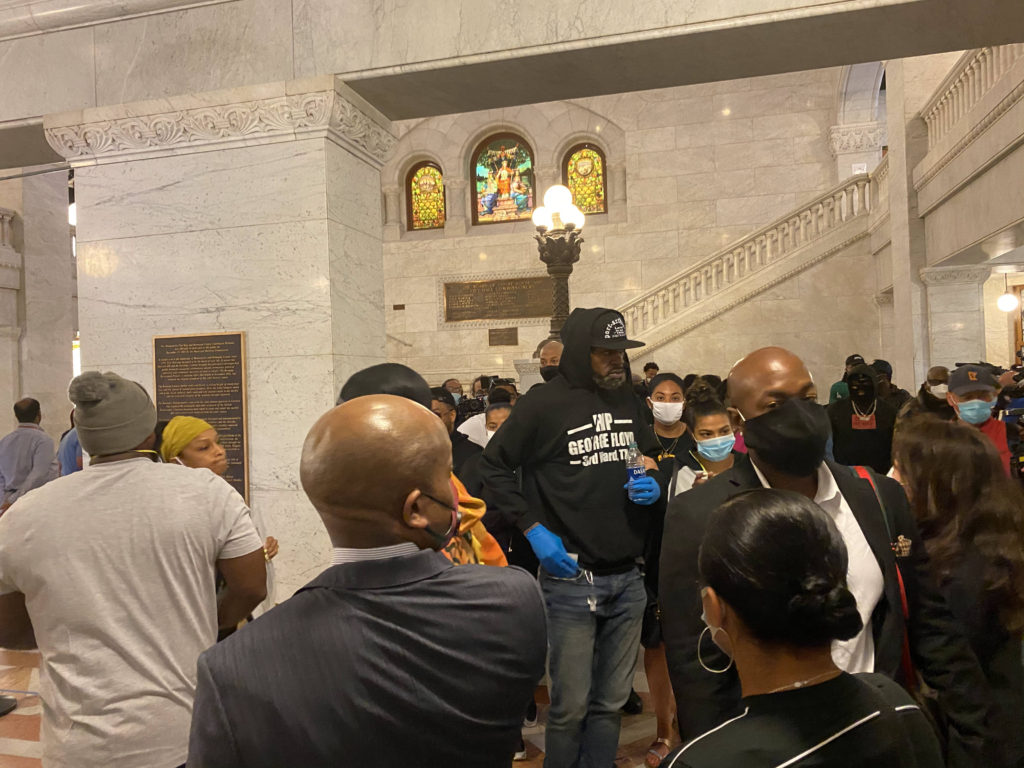 During the press conference, news broke that former Minneapolis Police officer Derek Chauvin, the officer responsible for the killing, was arrested this morning and charged with third-degree murder and second-degree manslaughter.
For the leaders and people of the community, charging the former officer isn't enough, they want a conviction – "It's a good start but it's not enough," many said.
After the press conference, protestors of different races surrounded the Government Center Plaza downtown. At the rally, there were other community leaders like the attorney of investigative affairs Joe Collins, Jamar Clark's sister, and Philando Castile's mother. Jackson and Minnesota native Royce White used this platform for their voices to be heard while others shared their testimonies. A mother whose son died in the Minneapolis correctional facility gave her testimony and spoke on how the entire government is corrupt – not only the police.
Mallory, whose husband was murdered in 2001, used her voice to talk about the need for universal change within the system.
"In order for us to seek change we have to get the corrupt individuals out of the system," Mallory expressed before adding, "the black community is in a 'state of emergency'".
It was nice to see the community come together to support an unfortunate but crucial cause that has affected our entire nation. This wasn't lost on Jackson, who led a plea for black people across the nation.
"We don't have a choice but to stop asking and demanding, it's time to start taking. We need everybody to stand with us, if you're not with us you're against us," voiced Jackson.