Houston, TX — Family, friends, city dwellers, and city authorities gathered at The Fountain of Praise Church to say goodbye to George Floyd, the Houston native that was murdered in Minneapolis two weeks ago.
Floyd, whose death has sparked protests and rallies across the world, was killed during an arrest for allegedly using a counterfeit bill. Former Minneapolis Police officer Derek Chauvin knelt on Floyd's neck for nearly nine minutes while he was handcuffed and lying face down on the street, pleading for air. Fellow officers J. Alexander Kueng and Thomas Lane helped Chauvin to restrain Floyd while Tou Thao prevented bystanders from intervening. All four officers were fired after security footage was made public.
Chauvin has been charged with second-degree murder and second-degree manslaughter, while the other three officers have been charged with aiding and abetting-second-degree murder.
Even though the use of masks and social distancing was obligatory, the masks couldn't hide the attendees' irritation from barbarism. Only 15 people were allowed to enter at the church at a time and they could stay inside no more than 10 minutes after viewing the body.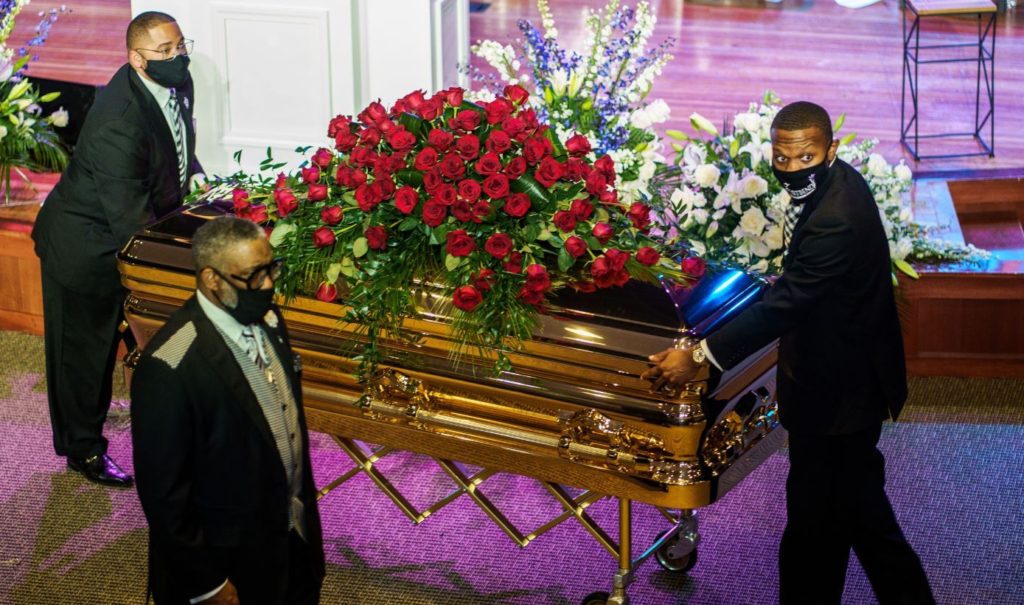 The memorial was held on Monday afternoon and it was live-streamed worldwide. The family will be hosting a private funeral on Tuesday.
While it was a cloudy and very hot day in Texas, it was also a very sad one too. Despite the humid day, people started arriving at the church early in trucks and began to line up. Some came up with shirts that had written in them the popular hashtag #blacklivesmatter and the rest came up with casual clothing.
Once inside the church, you could feel a very warm environment. Gospel songs played in the background as people lined up one by one just to be with George for a few minutes to pray by his casket.
Among some of the people who went to the memorial were Texas Gov. Greg Abbott, Houston Mayor Sylvester Turner, Sen. Amy Klobuchar (Minn.), the Rev. Jesse Jackson, actor Kevin Hart and rappers Master P and Ludacris.
Dozens of people gathered at the church, but the children certainly stood out from the crowd. Parents in attendance assured that it is important that they know the situation that the country is experiencing so that they know this type of situation cannot continue to happen.