San Diego, CA — "You either have to go big or go home."
Coming from Dale S'Amante, aka "The Wing King of San Diego", this statement couldn't be any more true.
With the 3rd annual San Diego WingFest, S'Amante – the founder and organizer of the event – knew this had to be bigger and better than the first two. With that vision in mind, he set out on just that. The first two were held at the Del Mar Fairgrounds; the 2019 incarnation was held at the Broadway Pier in beautiful downtown San Diego.
Not only was the venue more fitting for the event, the vendors for the event were also all-star quality. S'Amante reached out to seven of the best local chicken wings joints that San Diego has to offer, as well as one of the best in America, Wingstop.
It didn't end there. On top of all the delicious wing options, there was also beer and liquor selections from local breweries like 10 Barrel, BootStrap Kombucha, Calidad, Henebery Whiskey and more. Let's start off with the main event: the chicken wings.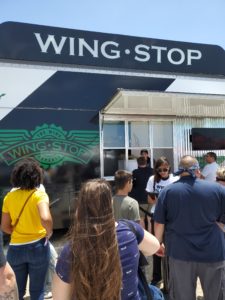 The first stop was the Wingstop truck. As a starving college student, nothing made me happier than 60-cent wings on Monday and Tuesday nights. The best part about their inclusion to the festival was that there were giving away their wings FOR FREE! According to the manager, Jana, this was all part of a much bigger plan.
"We were looking for an opportunity to make more of a local presence here in San Diego," Jana said about being involved with Wingfest. "We knew once we get chicken in people's mouths, we know they'll come back."
Jana said their goal as a company was to give away about half a million wings in 2019.
The two flavors they were offering were Lemon Pepper (their most popular; rap mogul Rick Ross loved it so much he became a franchisee) and their limited edition flavor, Ancho Honey Glaze. I personally thought the Ancho Honey Glaze had a balanced amount of sweet and spicy; my wife was more a fan of the lemon pepper.
We made our way to 10 Barrel's tent next to try their mustard and buffalo wings. Known primarily for their extensive craft beer selections, they are definitely no slouch when it comes to their wings. The mustard wings had a nice, tangy yet smoky feel due to the jalapenos, while the buffalo wings were just the right amount of flavor and heat. Next up for us was Punch Bowl Social. Described by my wife as a classier version of Dave and Busters, this restaurant served up a a couple of special edition flavors specifically for this event: Flaming Cajun and Island Heat.
After trying out Miguel's BBQ and Social Tap Eatery (their Jamaican jerk wings were to die for), we made our way to Cross Street Chicken & Beer.
The first thing we noticed as we walked up to their tent was a championship belt. However, this wasn't just any championship belt. The belt was given to them by San Diego CityBeat, who crowned the restaurant for the "Best Wings in San Diego" in their Best of 2018 edition of the weekly magazine. Upon the first bite into their 'Seoul Spicy' wings, it wasn't hard to understand why.
The first thing that came to my attention was the perfectly crispy skin and Korean spices in the sauce; after my tongue took a taste of the exquisite flavor combination it felt like I opened my third eye. My wife tried their 'Main Squeeze', which was their take on lemon pepper wings. When it comes to wings, my wife is a first-class wing connoisseur; she said they were so good you'd want to put your last name on it.
I spoke with Tommy, the mastermind of this ultra-popular chicken and beer restaurant, to see how this idea came together.
"In Korea, chicken and beer restaurants are like Starbucks; they are literally everywhere," Tommy said. "So when we came to America, we wanted to make something similar. And the best wings in America come from the South, so essentially we wanted to combine the best of what the South has to offer with Korean-style flair."
His inspiration came from Willie Mae's Scotch House in New Orleans, which he says make the best chicken wings in America.
After SD CityBeat named Cross Street the best wings in San Diego, Tommy was initially concerned about whether they could live up to the hype; the restaurant hadn't even been open a full two years. But his fears were put to rest fairly quickly.
"We have two hour waits almost every weekend, and we have had times where we run out of chicken," Tommy said about the success of Cross Street. "We get our chicken fresh every morning, it's never frozen."
And his word was true; their tent was so popular that they ran out of chicken by the halfway point of the festival. But it wasn't all bad news: Cross Street left the festival with the "Best Wings in San Diego 2019" trophy for the best wings.
There was also a wing eating contest at wingest sponsored by Wingstop. Competitors had to take out 15 wings, including two of the hottest pepper on the planet…the Carolina Reaper.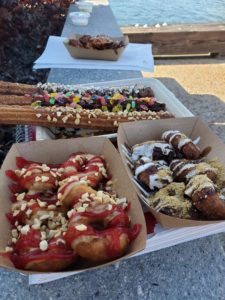 At the end, I ended up going for some dessert at Donut Hello, a fairly new venue that serves up craft mini donuts and churros. I probably spent more than I should have there (I left with three churros and two dozen mini donuts), but the money was well spent.
With such offerings as their 'Pebbles and Bam Bam' (cinnamon sugar churro dipped in chocolate and covered with Fruity Pebbles) and their 'Julian Apple Delight' donuts (topped with Julian apple jelly), each bite into their decadent desserts was worth the potential trip to the dentist.
All in all, the third annual San Diego Wingfest was an event worth celebrating, and if this was any indication, there will be plenty more in the future.