Pasadena, CA –– As I approached the restaurant, I was tickled by the lovely area of Pasadena as I welcomed by beautiful weather and a very eye catching sign of the Bacchus Kitchen. This jazz bar, restaurant, and catering service, is ran by the delightful Matt Witek, who is also a current drummer in a few jazz trio's. Once a month, Bacchus Kitchen welcomes top tier jazz performers to put on a wonderful night of sound and enjoy a delicious three course dinner put together by Chef Claud Beltran, a Pasadena local.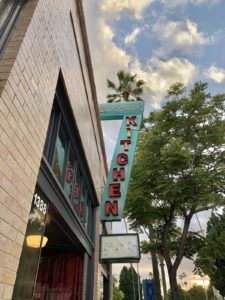 Tonight's menu consisted of a fennel gratin, watercress, saffron aioli; followed by a herb-marinated chicken breast, creamy cheesy polenta, eggplant caponata. Lastly, we enjoyed a chocolate terrine, cara cara orange, dulce de leche.
While enjoying my dinner, I had the pleasure to sit by Jeff Hamilton, a jazz star drummer himself. With many jazz nominations and accolades in his career, he also teaches and composes. Hearing from him first hand about the jazz world was very insightful. He told me everything from how jazz artist begin their careers to how top tier jazz artist maintain their careers and to what cities have the best jazz clubs. Hamilton also shared funny stories about his experience teaching.
But, the main focus tonight, was to listen to pianist and top tier performer, Larry Fuller, who was accompanied by his trio.
Larry Fuller is a New York City based pianist. Referred to as a "swing beast" as his piano skills are versatile and very swing style based. Fuller was apart of multiple trios before his own, including Jeff Hamilton's trio back in 1994 and later in 200o with Ray Brown whom he performed with until Brown's passing.
Fuller just released an album called, "Overjoyed" which follows his previous critically acclaimed album back in 2014. Watching the trio perform was a beautiful experience with great sound as well as watching the connection between the three perform.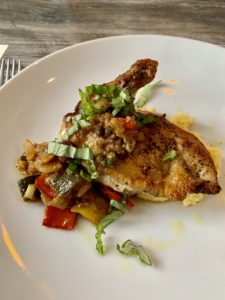 His drummer and bassist were always on point with his piano keys. With each key, bang of the drum, or string played, you could see the emotion that was going into it through their hands, face, and body. As the audience, you could see each member of the trio playing with emotion each moment to produce the best sound in the room. The audience couldn't help but clap and snap away at moments that brought them joy.
With a standing ovation, the night was coming to an end. Fuller thanked everyone and humbly went over to join the company of his dear friend, Matt Witek.
I was honored to be exposed to the jazz world and to receive such a warm welcome by everyone involved. Bacchus Kitchen is a must go to. Bringing all kinds of performers and quality musical experiences along with delicious food and tasteful wine options, this place is a keeper.
Podcast: Play in new window | Download