Portland, OR — Top chefs from the east and west coast came together last Friday night at Headwaters. James Beard Award-winning Chef Vitaly Paley and Chef Bill Telepan created a phenomenal 10-course sustainable seafood dinner called the 'Coast-to-Coast Grand Seafood Supper'.
Headwaters is a seafood-forward restaurant located in the historic Heathman Hotel in downtown Portland. The Oregon-inspired menu they serve is a collaboration between Paley and executive chef Tim Eckard. Telepan is the executive chef at Oceana Restaurant in New York City.
The Coast-to-Coast Grand Seafood Supper started with a beautiful ice-sculpture with fresh oysters, house-made cocktail sauce, and mignonette. As guests began to arrive, cocktails were being poured and welcome appetizers were served around the room.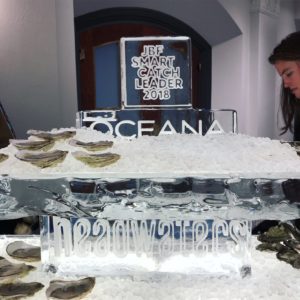 Appetizers included lobster & foie gras lettuce wraps, Kaluga caviar with sweet onion sour cream and chive blini, summer truffles and day boat octopus corn dogs with smoked rooftop honey mustard. The dinner hadn't even started yet, and I was already blown away by the quality of ingredients and care in the presentation.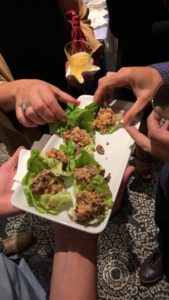 After about twenty minutes, the doors to the dining room opened, and we all sat down at circular tables where our name cards were placed. A 2016 Lingua Franca AVNI  Chardonnay from the Willamette Valley was poured into our glasses, and both chefs came out to introduce themselves before the dinner officially started.
They had so many different ideas going back and forth for this coast-to-coast dinner and had a hard time narrowing it down to a few courses. After thinking about it, they both decided, "Let's just do all of them!" Thus, the ten-course dinner was born.
The first course was created by Chef Telepan and featured Wild Columbia River King Salmon Crudo with sweet corn and shell bean salad. It was so fresh, and something I could see myself eating at the coast on a hot summer day.
Chef Paley created the second course, and it was called "A Taste of Home."  It featured day boat Oregon albacore tuna tartare, wild plum sauce, extra virgin olive oil, and svanetian salt. This was also extremely fresh and flavorful.
The third course went back to Chef Telepan. We had smoked McFarland Springs trout, potato & chive blini, sweet onion sour cream, and house-cured trout roe. I loved everything about this dish.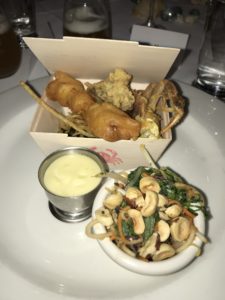 For the fourth and fifth courses, a 2016 Eyrie Vineyards Pinot Gris from the Dundee Hills in Oregon was served. Chef Paley created a raw "Clam Chowder" for the fourth course. It featured butter clams, new potatoes, crispy bacon, and hot sauce. It came out in a clamshell, and I thought that was visually creative. Chef Telepan was in charge of the fifth course and used Taylor Shellfish Farms Geoduck to make this next dish, which had chilled whole-wheat noodles, mushroom, scallion, and garlic sauce.
To accompany the final dishes, the 2015 Cameron Abbey Ridge Pinot Noir was chosen. Chef Paley created the sixth and seventh courses. The first was called the "Captain's Treasure Chest". In it were fried soft shell crab, coconut crusted abalone, beer-battered Alaskan halibut, green papaya slaw, and malt vinegar aioli. The second was Aromatic Salt Roasted Spot Prawns with drawn butter and charred lemon. Both of these courses were mouthwatering and phenomenal.
Chef Telepan's final dinner course featured black cod, eggplant, heirloom tomato, and herb oil. I was so full by this course — but I ate every last bite because it was so tasty.
Both the avant dessert and main dessert were created by Pastry Chef Megan Jeans. The avant dessert was a delicate peach and basil sorbet, which tasted heavenly. The dessert was a honey cake with lemon curd and Oregon berries. It was all so incredibly delicious.
The chefs from Oceana and Headwaters are part of the Smart Catch program, which is part of the James Beard Foundation. Both restaurants are committed to serving sustainable seafood, and Friday's dinner featured sustainable food from the Atlantic and Pacific Oceans.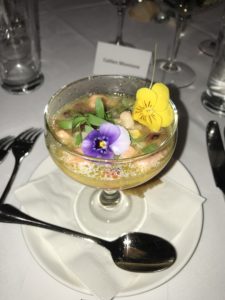 More seafood restaurants should follow in the footsteps of these Smart Catch Leaders, and take the steps to ensure the preservation of marine life.
The overall dining experience was one you could never forget. At the end of the dinner, all of the chefs came out to cheers and thank everyone for a wonderful night.