One of the top awards an individual can be honored with is being named the Most Valuable Player. In her third season in the WNBA, Seattle's Breanna Stewart has been named MVP. With Stewart finishing first in votes she is now the second player in Seattle history to win the award. The other Storm player to win was Lauren Jackson who won the award three-times (2003, 2007, 2010).
Thanks to Stewart's play, Seattle finished at the top of the league, snagging the No. 1 seed in the playoffs. She also finished with a career-high 21.8 points per game for second best scoring average in the league this season. The forward also finished third in rebounds with 8.4 per game.
The Storm concluded its regular season with an overall record of 26-8. Also impressive, Stewart had the most games this year – 22 – where she finished with at least 20 points.
After earning the top-seed in the playoffs, Seattle and Stewart have been prepping for its next opponent. While Connecticut battled with Phoenix on Thursday, the Mercury took home the win and will play against No. 1 Seattle tonight.
With an impressive year, Stewart wasn't the only Seattle player to win an award today. Veteran Sue Bird repeated as the Kim Perrot Sportsmanship Award Recipient and Natasha Howard won Most Improved Player.
This year marks the third time overall Bird has won the award as she also won in 2011 when she shared the honor with Ruth Riley. The award itself is named after the late Kim Perrot who was a key player in helping the Houston Comets win their first two championships. Perrot battled cancer for seven months before passing away in Aug. of 1999.
Like Perrot, Bird has exemplified the ideals of sportsmanship on the court when she plays with her ethical behavior, playing fair, as well as displaying integrity. This season Bird set a couple records. One included being named an all-star 11 times and now has played more WNBA games than anyone with 508.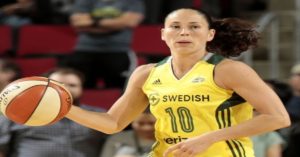 Bird averaged 10. 1 points per game this season and a career-high 7.1 assists. As her team begins their playoff run, Bird hopes to bring home a third championship to Seattle.
This year a variety of players could have won Most Improved, but Howard registered way more votes than the other potential winners. With Howard winning the award she becomes the first Storm player to receive the honor.
In her first year with Seattle, Howard started in 33 games whereas last year in Minnesota she never started. She had career-highs in points per game (13.2), rebounds (6.4), blocks (1.97), and steals (1.29). In comparison, when she was with the Lynx she averaged 4.3 PPG, 2.4 RPG, 0.62 BPG, and 0.53 SPG.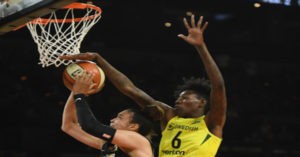 Howard's breakout season also including increasing her field goal percentage to 54.7 from 48.4 and increasing her free throw percentage to 79.8 from 73.3.
Stewart, Bird, Howard, and the rest of Seattle will take the floor tonight in its quest for a title. Tip-off is set for 5 pm ET against the Phoenix Mercury on ESPN 2.