Pasadena, CA — The Bacchus Kitchen played host to an intimate show on Monday night, as several guests were treated to the amazing talents of the Justin Kauflin Trio.
Along with the music, guests were able to enjoy a three-course meal. Starting off with a simple cheese salad, the patrons were then served chicken with potatoes and a tantalizing dessert of pineapple cake with mint & watermelon relish. The event itself was in a medium size restaurant with dim lighting, a perfect backdrop for the four-hour long concert.
The staff was extremely friendly and welcoming, and most of the patrons were at least over 50 years old and had a great ear for music. As I spoke with some of the guests, I discovered that the bass player, Katie Thiroux, and drummer Matt Witek were married in the Bacchus Kitchen. The bandleader and pianist, Justin, had begun performing professionally at the age of six but lost his eyesight at the age of 11.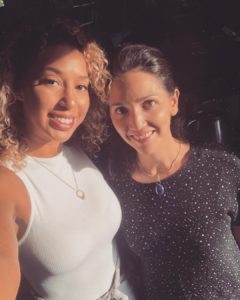 Justin played a few solo songs promoting his new album, Coming Home, which is out September 14.  The album, he explained, is about overcoming adversity. Over the course of the concert, Kauflin also discussed his love for fried chicken and continued making the crowd laugh throughout the night, even clapping in the middle of one of his performances.
It was a pleasure to have had the chance to experience my first live jazz event. The dessert was so good that I almost forgot about needing more sodium. My favorite song that he played was "Coming Home" because there were so many different emotions captured by the instruments. Listening Monday night even gave me the thought of buying the CD just to hear that one song.
Check out one of the songs for yourself, it was beautiful to listen to.
https://www.instagram.com/p/BmuepMHlPZ-/?taken-by=theballout
At the tender young age of 32, the Clark Terry-mentored artist has already become one of the most respected jazz pianists on the planet, as it has earned him a spot on the artist roster of legendary producer Quincy Jones. His talent has been discovered and I don't see anything stopping him anytime soon.  In the meantime, I'm going to tune into his documentary, Keep on Keepin' On.