Good morning world, and welcome to the Triple Double!
First, I want to give a belated Mother's Day shout-out to all the ladies out there who are making the world a better place. Your accomplishments and sacrifices are something that should be celebrated every day.
Now, before I start drinking this hot tea, I have some to spill of my own…and some people in Texas are not going to be happy about it.
1) FAILURE TO LAUNCH (AGAIN)
Let's put this out there for the record now so that people don't come at me now like I'm a biased Golden State Warriors fan: I've been a hardcore Los Angeles Clippers fan since 1997. The days of Brent Barry, Lamond Murray and Loy Vaught still run through my mind…I still get chills sometimes thinking back of the decisions that era made.
But where respect is earned, respect is given. The Warriors went into game six of the Western Conference Semi-Finals with no Kevin Durant, no DeMarcus Cousins, a cold Stephen Curry, and having to face a relentless Houston crowd. If they had lost last Friday then went on to lose game seven, it would have hurt but you could understand. They have been to the last four NBA Finals (winning three), and eventually stamina takes its toll.
This is where I have to start spilling the tea.
Last season, the Houston Rockets took the Warriors to the limit in the Western Conference Finals. Not only did the Rockets have the best record in the league, but they also had the deadly one-two punch of Chris Paul (who came over from the aforementioned Clippers) and regular season MVP James Harden. However, at the end of game five Paul went down with an ankle injury that kept him out the remainder of the series,a series that Houston eventually lost in epic fashion.
The entire off-season was spent with people talking about how the Rockets should have been the NBA champions, and how the Warriors were gifted the title again. Many people mentioned that if Paul had been healthy, the Rockets would have won the series and eventually the Finals, giving both Paul and Harden the one prize that has deluded them in their careers. Fast forward to last Friday.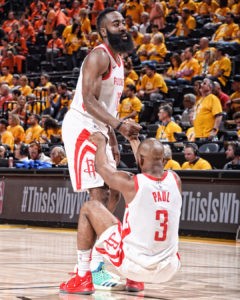 The Rockets had a fully healthy Chris Paul, a fully healthy James Harden, and a Warriors team that was nowhere near 100 percent. Stephen Curry, who is most likely the greatest three-point shooter in the existence of mankind, was scoreless in the first half. Yet, the so-called "next-in-line" couldn't get the job done. Harden faded into the ether (again), Paul played well but was ineffective in key spots, and the Rockets were unable to finish. Granted, Curry had a monstrous second half (including 16 points in the final five minutes of the game, matching the entire Rockets team), but this speaks more on Houston.
Last season I was willing to give them a bit of a hall pass because it was the first season that Harden and Paul teamed together, and both guys were out for significant stretches of the season. This season, though, it is more obvious that there are some issues, as Sean Devaney of the Sporting News pointed out. Paul missed 20 or more games for the third season in a row, had career lows in scoring, shooting, free throw attempts and PER and only declined in the playoffs, shooting 27 percent from the three-point line.
This does not get better for the Rockets; Paul is 34 and still has three years left on his contract… a contract that will pay him $38.5 million next season, 41.3 million in 2020-21, and a 44.2 million option for 2021-22 (let's be real, he isn't opting out of that). Next season, Paul, Harden and Clint Capela (who became a match-up against Golden State) will take up 85 percent of the team's cap space this summer and all of them are under contract through 2022.
As it stands, the Rockets missed their best opportunity to dethrone Golden State as the kings of the Western Conference. And while everyone assumes Kevin Durant is gone after this year, it's not like it would matter; the Warriors just proved they could still be the best team in the NBA without him. If the Rockets (who won the regular season series) weren't able to beat this version of the Warriors, I don't know that they can.
Oh, before I forget:
Another reward for the victorious Warriors: League sources say that DeMarcus Cousins — if he maintains his recent progress from a torn quad — is on course to make a return to the Warriors' active roster during the Western Conference finals

— Marc Stein (@TheSteinLine) May 11, 2019
If this bodes true, prepare for one final championship march in Oakland.
2) LOS ANGELES LAKERS…THIS IS YOUR LIFE
All within the last two weeks, the Los Angeles Lakers have become the literal laughingstock of the NBA.
They tried to lure former New Orleans Pelicans head coach Monty Williams to take over; he went to the Phoenix Suns instead. Then they went to former Laker alumni Tyronn Lue…he said "Thank You, Next". Both turned it down for similar reasons: they were only offered three-year deals, which made it seem like they only there to coach LeBron James through his contract and nothing more.
Then last Friday, a cadre of dedicated Lakers fans held a protest outside of Staples Center to air their grievances of the ineptitude of the team's management in recent years. And how did the management respond? On Saturday, the team hired former Indiana Pacers and Orlando Magic head coach Frank Vogel to a three-year deal, the same deal that both Lue and Williams refused.
Now, I'm not against the hire of Vogel; despite throwing up a stinker in his time in Orlando, he was a great coach during his time in Indiana. And if general manager Rob Pelinka and owner Jeanie Buss had made the decision on their own, this would be talked about a lot differently. But there are three issues here that I believe will spell doom sooner rather than later.
One, the decision to hire Vogel was blessed by two people who have no serious stake in this current franchise: Kurt Rambis and Phil Jackson. Rambis is the current senior basketball advisor, while Jackson is Jeanie's ex-fianceé. As executives for the New York Knicks back in 2014, the duo almost hired Vogel as their head coach.
But here is the issue with this: Rambis was a disaster as a coach (65-164 in his time with the Lakers, Minnesota Timberwolves and New York Knicks), so why he is getting a seat at the table makes no sense to me. In regards to Jackson…check out this GQ article to see why he should have been nowhere near this.
The second issue was (and will manifest quickly if history repeats) the hiring of Jason Kidd to be the lead assistant. Kidd was interviewed early in the process and management liked him, but not enough to be the head guy. Another reason why Lue and Williams refused offers was Pelinka's insistence that Kidd be their top assistant; an understandable reason for anyone to refuse.
It's nothing against Kidd; he's a fine coach and is a fierce competitor, something that falls in line with James. But if the Lakers liked him so much, he should have been the head coach from day one. Instead, you put Vogel in a seriously untenable position where he feels like he is coaching for his job at all times. Remember, it wasn't that long ago that Kidd tried to take over the general manager job from Billy King in Brooklyn…while he was the head coach.
The third and final point was something that Bomani Jones said best during Monday's episode of High Noon: why are the Lakers treating the LeBron James era as something to endure instead of using it as a bridge to the future?
In their possession is literally one of the top three basketball players of ALL F*#$%@! TIME! Yet, he wasn't as involved in the process as someone of his stature is owed. Why? Because internally they feared that allowing him a say would mean he's running the show. And if there is anything the Buss's don't like, it is ceding power.
Ultimately, time will tell whether Vogel was a good hire or a giant mistake. But as of now, there are too many red flags for any Laker fan to feel safe about this.
Tune back next week for a special Triple Double, where everything will be focused on the WNBA. I might even bring a couple of guests on for this column, so be ready!