Beverly Hills, CA — On Wednesday, IBF super middleweight world champion Caleb "Sweethands" Plant (18-0, 10 KO's) met with his soon-to-be opponent, the undefeated up-and-comer Mike Lee (21-0, 11 KO's) at the beautiful Beverly Hills Hotel in Los Angeles for their pre-fight press conference.
Lee, a Notre Dame graduate with a degree in business, has made boxing his business since 2010. Lee's approach on the podium when it was his turn to speak was very gracious and well spoken.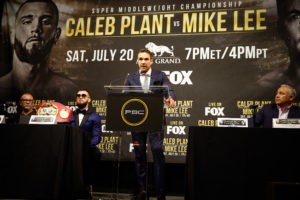 "He is a champion for a reason," Lee said of Plant. "And I respect any fighter that can stand up hear and what it takes to step into that ring in front of millions of people. You got to be a different kind of animal, and I am that animal. I'm gonna come there July 20th and I'm gonna come there with power."
He had confidence but was respectful and humble, acknowledging his warm regards for all the members of his team as well as the networks associated. Then Caleb Plant took the podium. He walked around the row of chairs and took the center stage and started his speech by thanking his manager, his head coach and father as well as the networks.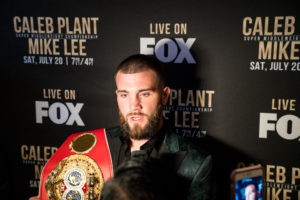 After that, Plant laid into Lee about his mental fortitude.
"Recently I seen in a video where Mike was talking with a reporter and he said, 'I'm always watching motivational videos trying to learn that mentality'… you see the reason he's trying to learn that, the reason he is searching for that is because he has not been through the necessary things that it would take to instill in someone at the proper level," Plant said. "All the motivational videos that he watches and books that he reads. The manifestation videos that he watches and books that he reads, I'm the very essence and meaning of that."
Plant's approach to his speech was said with some arrogance in contrast to Lee's.
"You can't learn mental fortitude because those things are earned. They're not learned," Plant went on to say. "You see he's been standing on dry water his whole life reading and learning how to swim but he's never been to the deep end. July 20th, he's in the deep end he's in uncharted territory. So I'm curious on how he plans on beating me. Does he plan on roughing me up? pressuring me and breaking me down?"
He went on to reminisce about his last opponent Jose Uzcategui before coming back to Lee.
"Does he plan on outboxing me with his hand and foot speed? Because all the things he has read and learned outweighs real life events? Absolutely not." Plant says, suggesting that Mike Lee doesn't have a chance in defeating him.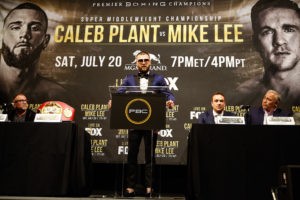 Plant then went on to talk about commitment.
"Commitment? I've been committed to the same thing for the past 18 years straight nonstop; I've been through hell and back (Plant has lost his daughter and most recently his mother). In rain, sleet or snow I stay committed to the same thing," Plant said with fire in his soul.
"You used to play basketball, did you commit to that? You played peewee in high school and college football, did you commit to that? You have a financial degree, did you commit to that? You do acting here and there, did you commit to that? Because you're looking at someone who has been committed to the same thing day in and day out. I am bred for this, I was created for this, this is the only thing I've done my whole life. July 20th, I'll be defending and keeping the thing that I've worked my whole entire life for. And that is written in stone."
Plant will defend his title against Lee on July 20th on the same night that Manny Pacquiao-Keith Thurman undercard. The Plant-Lee fight will be the main event of FOX PBC Fight Night and on FOX Deportes preceding the Pay-Per-View and beginning at 7 p.m. ET/4 p.m. PT. Pacquiao and Thurman will square-off in a welterweight world title attraction will be at 9 p.m ET.