Las Vegas, NV — The anticipated rematch is finally here.  The Middleweight World Championship will be held this Saturday, September 15, in Las Vegas.  Canelo Álvarez will face-off against Gennady Golovkin II. In 2017, these two fought in front of a sold-out crowd, ending in a controversial draw.
But now, it's time for a second chance — for both sides.
Not only is this fight big for GGG, he also has a chance to break Bernard Hopkin's record as he sits with a record of 38-01 (34 KO). This match is important for GGG as he has a chance to achieve a record of the most middleweight defenses in the history of boxing.
"It's very important for me to beat this record," GGG says.  "Basically, it's like two types of victory to beat Canelo and to beat the record.  For me, it's the most important goal at this point."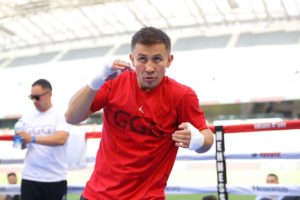 The preparation has not gone unnoticed as both sides feel that their teams have prepared them since the last bout.
For Canelo, this will be the first rematch of his career and he's ready for the challenge.
"I am very happy to have this tiebreaker. I'm very happy for this opportunity to make clear who is better.  This is the opportunity to show who is better. I know Golovkin (GGG) is not an easy opponent, and I know what I have to add to my strategy," said Canelo.
"My training camp is great," GGG stated. "My body, my speed, my power, my everything is coming back, I feel like I am 25 years old.  I needed the time, and now this is the last week [of training] for me."
The re-match has been in consideration for quite some time as HBO announced the rematch was going to take place on May 5, 2018.  However, that was put on hold when Canelo tested positive for two random urine test for a banned substance. Canelo was given a six-month suspension, which ended on August 17, 2018. With his suspension over, a new deal for the rematch was set, and now it is time for these two to meet in the ring.
"What I've always really wanted to do, I want to punish him," GGG stated on his long wait to fight Canelo again. "I want to have a fight and punish him for all the bad things that he and his team have done, so basically to put them — to size down and to put him and his team in their place."
Canelo, who currently holds a record of 49-1-2 (34 KO), is not worried about what the positive drug tests might do to his image or his credit.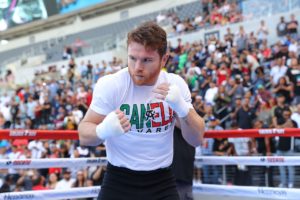 "I have nothing to show in that respect.  All I have to show is that I'm the best. In the first fight, it wasn't demonstrated because obviously, it ended in a draw.  But that's the only thing I need to show, that I'm the better fighter than him on September 15."
With a rematch, comes more intelligence and strategy within the ring with both opponents knowing more about each other this time around. Last time around, the judges thought GGG was more aggressive. Saturday night, Canelo will look to exceed or match the aggression of his counterpart.
The fight will be held in Las Vegas at the T-Mobile Arena. The much-awaited event will be produced and distributed by HBO Pay-Per-View starting at 8 pm ET, on Saturday.